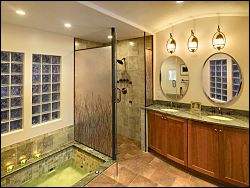 Today's hectic lifestyles create a demand for a place at home where you can relax at the end of the day and revive in the morning. More homeowners are now investing in luxury bathrooms as a private haven where they can "de-stress." To see how some of your neighbors have converted their bathroom spaces, visit our "Bathrooms Gallery".
Here are 10 "hot" trends in bathroom design that emphasize both comfort and aesthetics:
Heated floors. Cold mornings in Central New York winters make waking up harsh. Radiant heat eases the start of the day.

Multiple Showerheads. Minimally, homeowners are adding a handheld shower unit to their shower stalls. Multiple jets and rain showerheads help to sooth aching bodies.

Walk-in Showers. Walk-in showers are both attractive and functional. They are easy to enter and clean.

Dual vanities. Couples often prefer their own sink and storage spaces in a bathroom.

Technology. We are installing more flat screen televisions in bathrooms. People like to turn on the news and hear the weather report, traffic report and news of the day as they dress in the morning. We're also adding more outlets for coffeemakers and cell phone chargers.

Spa Features. Big tubs, some which can accommodate two people, are in demand. Many of our clients have been requesting sunken tubs and soaking tubs in their bathroom renovation projects.

Elegant lighting. Lighting is one of the most important features in a bathroom and attractive fixtures add to the ambiance. Chandeliers are now being used in bathrooms to bring light to the center of the room and add both interest and a touch of class.

Universal Design Features. Both growing families and baby boomers are considering safety and comfort in planning bathroom remodeling projects. Level threshold walk-in showers, shower benches, easy-to-access shelves and decorative grab bars are added for function.

Distinctive Architectural Elements. Sunken tubs, crown molding, glass block partitions and furniture-style vanities add character and a personal touch to today's homes.

Color. Paint can change the look and mood of a room. White bathroom fixtures can accept almost any color. Dark paint colors and jewel tones are the trend this year.
HGTV features a designers' portfolio of over 400 bathroom projects to inspire you. See how the trends we've noted compare to the projects showcased.
Which bathroom features would you add to your home?