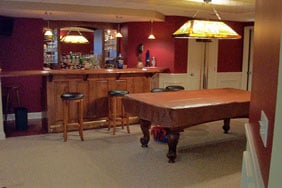 Home improvement specialists and realtors agree - one of the easiest ways to expand your home is to use the space in your basement. Basements generally contain large open space, which makes it perfect for creating a sizeable entertainment area, a guest bedroom with bath, a mini work-out area or even a secluded home office.
In Central New York we're seeing a lot of basement conversions that center around creating a highly functional entertainment area for family and friends - everything from wet bars and wine cellars to home theaters and saunas. And, homeowners are getting the most out of these areas by adding features that rival other areas of the house. For example:
Wet bars often include amenities such as wine chillers, beer and soda taps, dishwashers, refrigerators, ice-makers, foot-rails, wood counters, granite counter tops, bottle chutes, glass holders and custom cabinetry.
Media rooms have big screen or projection televisions, surround sound, special seating, sound-proofing and even popcorn makers.
Work-out rooms include treadmills, weight lifting equipment and stationary bikes as well as a flat screen TV connected to a Wii.
Bathrooms are usually added for convenience and the fact that they add value to the home, but many also include a steam room or sauna.
Basements can also be made to integrate with the main floor of the house by enhancing the appearance of the basement stairway.
This can be done by removing walls and opening up the stairway, or by replacing rails and stairs with higher quality materials.
One of the design challenges in basement remodeling is the lack of natural light. Many projects include the installation of egress windows to provide more light and an emergency exit. Egress windows are large basement windows that are partially set under grade level. They use a retaining system to hold back the ground and provide a means of exit in case of an emergency. New York State building code requires finished basements to have an emergency exit. Egress windows are not only attractive but they meet this state requirement.
When it comes to basement conversions, the possibilities are endless. The basement has evolved from a dark storage and utility area to a haven for family living. It can be one of the most cost-effective ways to increase living space since it doesn't require adding to your home's basic dimensions. And, it's a good investment. Here in the Northeast, we can expect more than 82 percent of the money invested in a basement conversion to be recouped when you sell your home.