A bathroom is often one of the smallest rooms in a home, yet one of the most complex when it comes time to remodel. From plumbing to wiring to ventilation to lighting to the right choice of materials and fixtures, there's no question that successful projects require thoughtful planning, skilled design and working with an experienced contractor.
We're often asked about what to expect during the remodeling process. So, we thought it would be helpful to walk you through a recent bathroom remodel and explain the steps we take to ensure our customer is completely satisfied with our work.
Initial Meeting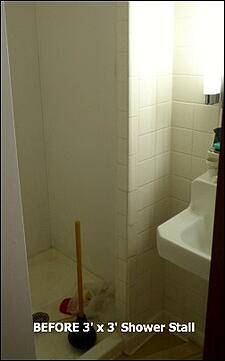 When we meet with a homeowner for the first time, we talk with them about their objectives and expectations. We listen and take notes. Often they will tell us that their desire is to have a larger bathroom. We discuss the possibilities for meeting their objectives.
The age and history of a home are also important to consider in remodeling. In older homes, there may be asbestos, lead paint (if the home was built prior to 1978) or structural issues to contend with. We always ask about the work previously done on the room and about past renovations that will provide clues about the condition of the framing, walls, electrical and plumbing.
Planning Phase
There is a lot of activity that occurs after the initial meeting to formulate a plan:
Initial Estimate. The first step is to provide a "ball park estimate" that gives a homeowner an idea of what the job will cost. We base this estimate by looking at other completed jobs that are similar to the project the client is considering. This is done verbally, since a detailed budget will take time to develop.

Proposal. We put together some preliminary drawings and contact the homeowner with a preliminary budget estimate. At that point, if the homeowners decide to move ahead, they pay a 5% retainer and we move ahead in developing detailed drawings, schedule a plumber and electrician to look at the space and price those aspects of the project, and provide a written proposal and detailed contract for the work.

Design. Bathrooms are often confined areas with many angles. The basics to consider in any bathroom remodeling project are the tiles for the floor and walls, the shower unit or tub, sinks and plumbing fixtures, lighting, cabinetry and counter surfaces. Too often homeowners don't think about "the mechanicals" involved with remodeling. The mechanicals are the framing of the room, electrical wiring, plumbing, heating and ventilation. We use licensed professional contractors for mechanical work. We make sincere attempts to locate mechanicals in concealed spaces, but there are times that even experienced professionals are surprised at what they find behind closed walls and will have an "I can't believe someone did that" moment. We explain to our clients that plans may change once the walls are opened due to unforeseen issues with mechanicals. We ask that they be flexible and open to the possibility of modifications during construction. We assure that all mechanical work complies with today's codes and standards.

Selection of materials and products for the project. All of our Project Consultants work with homeowners in selecting materials that fit the design, style and budget of their projects. We work with tile and cabinet makers, including Dobkin Tile and Jim Bishop Cabinets, and can show you samples in your home or in our office. We often take our clients to Best Tile, one of our suppliers, to visit one of the most extensive showrooms in the area. Ferguson's Supply and Busch Products are also local suppliers we commonly use. We go with you to choose products and make notes of your selections for ordering, pricing and installation.
Ordering Materials and Scheduling the Project
Ordering materials, especially custom cabinets and unique items, can take several weeks to a couple of months. Once those materials are received, we're ready to schedule work on your project. A Lead Carpenter, who will manage the work at your home, is assigned to each project. Other workers will include additional carpenters, electricians, plumbers, tile installers, sheet rock installers and painters. Project Consultants meet at the job site with homeowners and the Lead Carpenter regularly during the construction.
Preparing the Home for Demolition and Construction
On the first day of construction the Lead Carpenter will prepare the site by covering flooring outside of the work area with protective covers and will isolate the worksite by covering entryways to adjacent rooms and hallways with plastic sheeting. This is to keep dust confined to the worksite. He may also use procedures for lead paint abatement when working on an older home built before 1978. He will take a sample of paint from the work area by scraping it off the surface and test for the presence of lead. Our carpenters are trained and certified in managing lead paint at a worksite.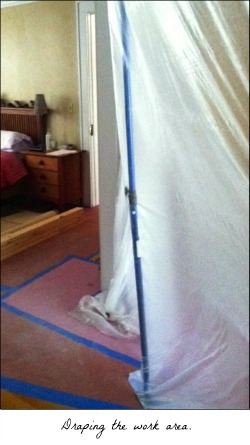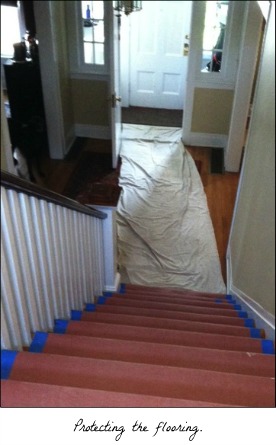 Construction Phase
Demolition. Demolition usually occurs quickly. Old fixtures are removed. Surface material on walls, ceilings and floors is removed to reveal the support beams, studs, wiring and plumbing. If there are unanticipated problems, this is when they will be revealed.

Mechanicals. New framing will be erected and electrical wiring, receptacles, outlets, lighting, ventilation and plumbing are installed. Mechanicals take time. This phase of the project may take several weeks.

Drywall. Drywall is installed after plumbing and wiring pass inspection. Special water-resistant board, Durock or a Schluter membrane system, is installed as a substrate for shower tile.

Moldings, trims and ceilings. Once the drywall is up, carpentry takes over. The Lead Carpenter will select a site where wood can be cut for trim work.

Installation of cabinets, fixtures, lighting and tile. Cabinets are installed before countertops. In a bathroom, the shower stall, sink(s), toilet and tub installation is coordinated with the tile installers. Tile is installed in conjunction with the installation of fixtures, depending on the type. Tile installation must be done in stages and can take several days.

Countertop installation. Counters are the last phase of the project.
Final Walk-through
This is our favorite stage of the project. Homeowners will recall the problems they had with the bathroom before the project and express their excitement about the changes. Our firm has been in business for more than 30 years. We seldom hear of problems after a project has been completed and we stand by our work if something unforeseen should occur. By the end of a project, we often feel a bond with the homeowners because of the experience we have shared together.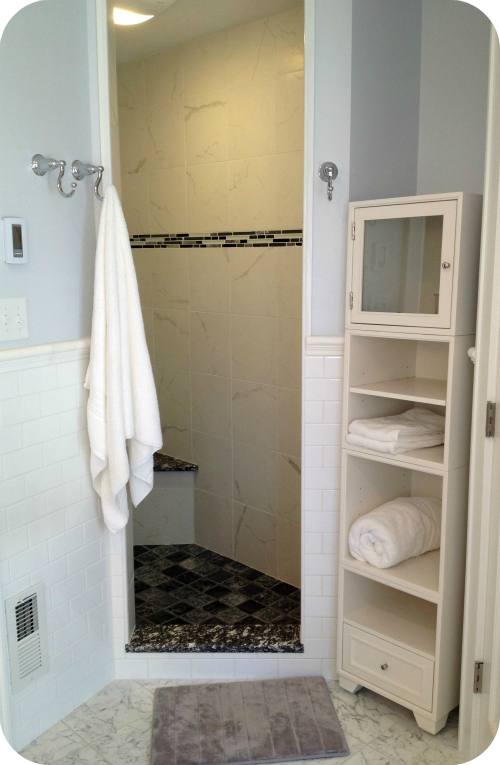 For more information on how long a bathroom remodeling project takes, check out our Remodeling Timeline.