The joy of the holiday season is that we celebrate these otherwise gray and cold early winter days in the warm presence of family and friends. We thought we'd share two home design ideas, one sentimental and the other practical, to help brighten your décor as you plan to open your home and heart to those you love.
Trim a Christmas tree with family memories. If you visited the Everson Museum's Festival of Trees your head is probably spinning with great decorating ideas! One of the best ideas however, is very simple. Decorate your tree as if it is a scrapbook with family photos and keepsakes. It will bring a tear to the eye and warm smiles every holiday season. Items to hang on the tree could include:
Framed photos of family members. Look for small frames for those wallet-sized photos that are part of the school photo packages we all end up buying from year-to-year. Include photos of pets and the family on vacation. Make copies of treasured family photos from the past and size them for small frames. You can make your own frames with scrapbooking papers and cutters. Glue a ribbon onto each frame for hanging the photos on the tree.

Children's gloves and mittens. Children's gloves are brightly colored and the perfect size for hanging on a tree. Just add a wire hook or string a piece of ribbon through the mittens with a yarn needle for an ornament that will be warmly remembered. Single gloves, where a child has long ago lost the mate, are the perfect ornament.

Holiday school craft projects. When you add these items to the tree for the first time or unpack them in later years, your child's face when he or she proudly presented it to you as a gift will be forever etched in your mind. Always pack these precious keepsakes with the utmost care because they are often delicate and made from paper, clay and glitter.

Baby shoes, booties and infant caps. Children grow out of these items far too soon and they never see wear or tear. Hooks or ribbons give them a new purpose on the tree.

Christmas cards and letters. Do you store away Christmas photo cards of family members? Why not add them to the tree? Special letters or cards received from a family member in the military with wishes for those at home can be hung on the tree to share the greetings with all who gather to celebrate the holiday.

Antique ornaments passed from one generation to the next. There is something very special about remembering "Christmas Past" during "Christmas Present", knowing that these keepsakes will be part of "Christmas Future". Departed family members seem to come alive again in the spirit of the season when you hang items that you remember sharing with them during the holidays.

A child's cherished toy. A thread-bare stuffed animal or a much loved doll will shine again on a Christmas tree.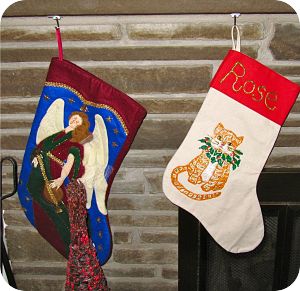 Deck the halls, doors, walls, mirrors, and mantles with Command hooks. Before Command hooks, indoor holiday decorating meant carefully hammering nails into wood and walls to hang wreaths, stockings, lights and garland. Command hooks can be installed temporarily without leaving a nail hole when removed. They hold items on glass surfaces, such as window panes and mirrors, too.
We only recommend products that we think work well. It's hard to imagine decorating for Christmas without these hooks and too often hardware stores sell out of them during this time of year. We found a coupon online good until 12/31/11 if you want to give them a try.
What are your tips for decorating for the holidays?