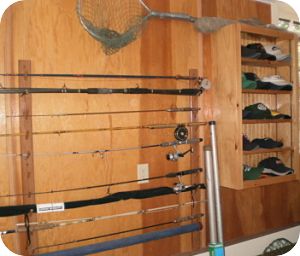 For many homeowners, a garage becomes a catchall for items that are used seasonally. We use our garages to store garden supplies, bicycles, athletic gear, lawn maintenance equipment, outdoor furniture, tools and even holiday decorations.
Now is the perfect time of year (before winter hits and you need the garage for your car) to organize your garage or add storage units for all the stuff.
Where does one begin?
Here are 12 ideas to organize your garage storage space and control garage clutter:
Clear out and sort the contents of your garage. Create piles and categorize the items you need to store such as garden supplies, toys, sports equipment, all of those holiday decorations, tools, paints and paint gear, firewood – the list goes on. Donate items that you haven't used for a while or no longer need to a local charity. If they can't be donated, make arrangements for their proper disposal. This is the often most difficult step in getting organized.

Survey your space and determine if you need to make repairs or convert areas for storage. Once the clutter has been sorted, carefully look at the space in your garage. What is the condition of the walls and floor? If you are staring at studs when you look at the walls, consider installing drywall to create a surface for hanging cabinets and storage systems. Is the floor cracked or crumbling? Is there a loft area that could be converted for overhead storage? Make a list repairs and areas that can be used for storage.

Start at the bottom and clean the floor. Seal the floor to keep dust down. If a floor is sealed during the initial setting of the concrete it will last for years, after the fact it will need to be maintained annually especially since we drive our cars on salt covered roads in the winter. Good floor drainage is especially important since we park cars that may be wet or snow covered in a garage. Cracks can be filled or repaired. You can repair small cracks, but consult a professional if you need to repair major cracks or to replace the floor. We prefer not to use paints, epoxies or flooring in garages because we have yet to find anything that holds up to road salt. If you do NOT use your garage in winter to store your cars, then we recommend commercial grade PVC or rubber flooring or masonry and epoxy products from Benjamin Moore.

Spruce up your garage. Create a bright space that people like to be in and it will be easier to stay organized. Sheetrock the walls and finish out the trim on windows and doors. Paint the walls and trim, and don't be afraid to add color.

Insulate the exterior-exposed walls and ceiling to keep out cold and add some type of heat. Your options for heating a garage include adding an electric space heater or a professionally installed gas heater. A warm garage gives you a space that can be used for projects and access to stored items year-round.

Update garage lighting. Replace overhead single bulb porcelain fixtures with large florescent lights. New florescent technology has solved the problem of turning the lights on in cold weather. Use florescent lights to illuminate the work area of your garage.

Need extra space for food storage? If you have a large family, buy food in bulk or need food storage for entertaining a refrigerator or freezer in your garage will provide that extra storage space. Place the unit near the entry door for easy access.

Does your garage have a pump room for a well? Use that room for some of your storage needs. Because these rooms require that the temperature be kept above freezing year-round and are often without windows and kept dark, you may have the perfect spot for storing garden chemicals, paints or even wine.

Add a utility sink in the garage. Homeowners often ask us to add a garage sink. A utility sink is great for cleaning up after painting, cleaning tools, cleaning mops, filling buckets to wash the car, spraying off mud or giving the dog a bath.

Add a generator or generator hook up. Central New Yorkers know that a power outage can occur at anytime. Those of us who experienced the Labor Day Storm of 1998 know firsthand the importance of having back-up power. Permanent generators are great but a less expensive alternative is a portable generator which can be stored in your garage with a hook-up on the garage.

Add loft storage. If your garage has a high ceiling, add storage by building a loft. Lofts can be accessed by a pull-down ladder. You can also add ceiling hooks and create overhead storage space by installing a loft shelf.

Use the vertical space in your garage for storage. Remember those piles you organized? Take an inventory and consider how you want to store those items. Make a rough sketch of the space noting where you want to store items.
You can add cabinets specifically designed for garages. Home Depot and Lowe's offer a number of ideas for garage storage cabinets, shelves and tool storage units.
Add wall storage systems to your garage. A great resource where you can view a variety of systems online is "Bing Shopping". Also, check out Sears, which for decades has sold tools and supplies for home workshops and now offers garage storage systems and more.
Use clear bins for storage so that you can easily see the items inside.
Pegboards will hold a variety of items that can be hung on hooks.
Most store-bought storage cabinets and storage systems require assembly. We have helped homeowners install these units in their garages and advise them on how to optimize their storage space.
The possibilities for garage storage seem endless. What items do you store in your garage and how do you keep them organized?