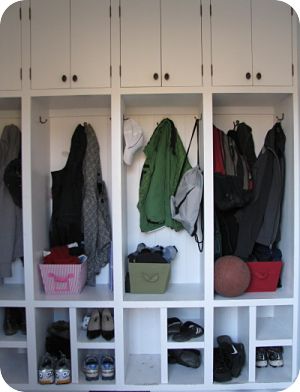 If you have school-age children you know that keeping them organized during the school year is a challenge. There are backpacks, lunch boxes, books, papers, athletic equipment and of course, jackets, coats, shoes, boots, gloves and hats. Where do you keep all their stuff so that your child doesn't miss the bus because he or she can't find something?
I can't guarantee your kids will make the bus, but now is the time to get ready for "school daze" clutter. The family entrance to your home is the place to start. That's the place where everyone slips off shoes, drops a backpack or whatever they have in hand at the end of the day.
Built-in Cubbies
Built-in cubbies are a great solution for organizing entryway or mudroom clutter so it doesn't migrate to other areas of your home. A cubby is a small, deep storage space. Schools have been smart about cubbies for decades. What better way to help kids stay organized? Cubbies are cabinets with large openings used for storage. In classrooms, cubbies have trays or baskets for storage with the name of the student on them. Why not apply this principle at home?
Take a moment to assess your entryway space. What are the dimensions? Do you have room for shelving or a bench? What do you need to store? How many people will be using the space? The objective here is to give each person their own space for their stuff, just like at school. For effective storage, a cubby should be at least 12 inches deep.
What are your options for building cubbies? If you are a "do-it-yourselfer" you can build cubbies but keep in mind that the project involves a moderate level of difficulty. You can find hall storage systems with cubbies at Target, Home Depot, Lowes or Pottery Barn. Custom-built cubbies will make the best use of your space. Since your entryway experiences a lot of traffic, it may be well worth the expense of hiring a professional to design and install storage units or purchase semi-custom cabinets and shelving. Cubbies can also be built into a hall closet to better organize the space.
Lockers
Entryway or mudroom lockers provide a place for larger items like coats, jackets, backpacks and athletic gear. They can be a long, narrow cubby with hooks or individual units with doors.
Locker design. Lockers should be designed to be easily accessed by users. If you have small children you will want to be sure the locker and hooks are placed at an appropriate height for the child to hang items. Lockers should be about 18 inches deep. Height can vary depending on users and storage needs although an optimal height is about 70 inches. Width can vary depending on the space and number of users.
How to install lockers. Building lockers is a moderately difficult project. If you don't have the tools or skills, you could hire a remodeling contractor to custom build the units. There are also modular locker units that you can purchase. These units require some assembly but will save work on cutting and finishing. You can find modular lockers in wood, metal and plastic. Cabinet manufacturers may also offer lockers. Talk with your contractor to determine a layout for your space and discuss installation.
Storage Benches
Benches are great for entryways. You can find ready-made benches online, in local department stores such as JC Penney, Sears or Pottery Barn or in home improvement stores. You can also build your own storage bench or have one custom made for your entryway.
Simple Entryway Storage Solutions
Also, consider these simple, cost-effective solutions to organizing your entryway:
Build a wall-mounted coat rack. Building a coat rack is an easy project and requires a 1" by 4" piece of plywood cut to the appropriate length for your wall and coat hooks or pegs.
Provide trays for boots and shoes.
How do you organize your entryway?