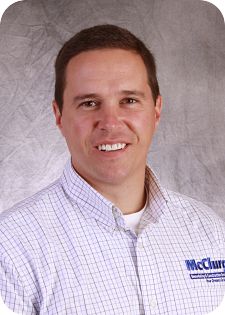 Today's guest blogger is Jayson Breckheimer, a Project Consultant specializing in Design/Build applications. Jayson has worked with the McClurg Team for a year. He previously owned and operated a home building and remodeling company for 9 years. Jayson attended SUNY Canton and has certificates in Construction Technology, Heating & Plumbing, and Electrical Construction and Maintenance, as well as an Associate Degree in Applied Science.
Summer is right around the corner and most Central New Yorkers are looking forward to spending time outdoors. A deck is the perfect place for outdoor grilling, dining, entertaining or just relaxing.
If you're planning to build or replace a deck, you'll want to consider appearance, durability, maintenance and costs when choosing deck materials. Decks are a good investment and have one of the highest paybacks when selling a home. Be sure to check out our blog "9 Tips for Designing the Perfect Deck."
Homeowners have a range of options when it comes to selecting deck materials.
Pressure Treated Wood
Pressure treated wood still remains the most popular deck material because it is a cost effective product with a life of 10 to 15 years. It requires annual cleaning and staining and can be rough causing splinters.
Exotic Wood Decking
Ipe, mahogany, abaco or other exotic hardwood deck material will last up to 15 years. These woods are easier to maintain but treating them with a sealer will help preserve the original color and prolong the life of the deck. Most of these woods are either red or brown when they are new. Without sealer they will fade to a silverish color. These wood materials are very hard and durable. It takes more labor to install them. Exotic wood materials will be significantly more expensive than pressure treated wood. There is a broad range of pricing for exotic woods and many are more expensive than composite decking.
Cedar Decking
Cedar wood has a natural preservative that reduces decay, but some new cedar wood is not as resistant as it was in the past. Cedar is easy to work with because it has a low density. Similar to exotic wood, it does not have to be treated with a sealer but will last longer and maintain its reddish color if treated. The price of cedar decking is comparable to exotic hardwood.
Composite Decking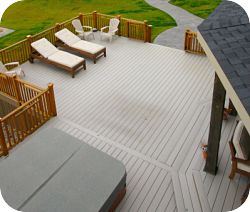 You will pay more for composite decking, compared to pressure treated wood, but it will hold up for 15 to 25 years. It requires regular cleaning to prevent mildew growth and may require staining depending on the wood content of the product. A few of the composite products we use for building decks include:
Vinyl Decking
Vinyl is the most durable deck material. It will last 25 to 50 years and is comparable to composite decking in price and requires the least amount of care, an occasional hosing will clean it off.
Decking Product Ideas
Deck product manufacturers have expanded their product lines to include lighting, furniture and storage options. Lighting can be integrated with the deck rails and controlled with dimmer switches. Furniture made of deck material will withstand sun, wind and rain. Special storage units are available to store deck furniture. These units are waterproof, match deck stains and offer an alternative to storing furniture in your garage. Bench and planter kits are also available to accessorize your deck.
Decks can be designed to integrate stone, pavers and brick into your outdoor living space. If your plans include a tiered deck and you plan to add speaker, recessed lights, a television or other devices or furnishings, deck drainage systems are available to protect these features.
Finally, there are great railing products available to finish off your deck. You may want to consider composite deck railings or vinyl deck railings, which are attractive, durable, rot-free and splinter-free.

I would welcome any questions you may have about adding a deck to your home. You can email me at jb@mcclurgteam.com or call 673-5041.