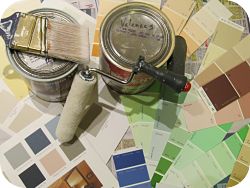 Painting is one of the best and least expensive ways to update your home. A new paint job can refresh the surfaces of your walls and trim, brighten ceilings and even change the entire look and feel of a room. Paint is relatively inexpensive and new products make the work easy with less odor, better coverage and quick cleanup.
Whether you do it yourself or hire a professional, here are some helpful tips and resources:
1. Color Selection
Choosing colors for your home is a matter of personal taste. You may want to paint the walls of your home to accentuate your furnishings or choose a favorite color that you've always liked. With new computer software you can now experiment with color before it goes on the walls. Benjamin Moore has a free online software program, Personal Color Viewer®, that allows you to try out colors in variety of "virtual" rooms or you can upload a photo of a room in your home that you plan to paint and add colors.
2. Choosing the Right Paint
When selecting paint products for interior work, you will need to decide if you want to use latex or alkyd paints. Hint: if the surface to be painted is currently latex, continue to use latex as alkyd paint will not adhere properly.
Latex paints are water-based and easy to work with. They are low odor, quick drying, easy to cleanup and relatively inexpensive. However, latex finishes are less durable than alkyd paint.
Alkyd paints are synthetic-based and adhere to surfaces better than latex paint. Some alkyd paints have vegetable or linseed oil in them but they are still referred to as oil base paints. They provide a rich durable finish, emit an odor and are slow to dry. If you use alkyd paints you will require chemical solvents to thin the paint and to clean up tools and brushes. You also will have to ventilate the work area.
Also, consider "green products" when selecting paints. Paint manufacturers are now producing paints that do not have volatile organic compounds that can be harmful to the environment.
3. Selecting Paint Finishes
"Gloss" is an important factor in choosing paint for your home. There are five types of paint glosses available:
Flat - a low glare finish for surfaces that do not require frequent washing. It's also the best at hiding flaws in walls.
Eggshell - a low sheen finish for walls. This finish can be used in areas that require cleaning such as kitchen and bathroom walls.
Satin - a pearl-like finish for walls and woodwork. It stands up well to moisture and is good to use in bathrooms.
Semi-gloss - a low sheen finish that has a satin, low glare shine and moderate durability. This finish is good on wood trim, doors and cabinets.
High gloss - the most wear-resistant finish, containing the most resin. The durability of glossy paints makes them ideal for use in areas subject to frequent use.
4. Primers and Fillers
We advise using a primer on any surface before you paint it the first time. Primers have a flat finish and provide the surface required for paint adhesion. Latex primers should be used if you are painting wallboard or cinder block. Using a primer is also helpful if you are changing the color of the room. To save yourself some work (and an extra coat of paint), use a primer tinted to the color of the paint you are using for the room. Fillers smooth uneven or damaged wood surfaces. Fillers come in paste or liquid form. Read the manufacturer's information or ask a professional where paint is sold to find the best product for your project.
Keep these tips in mind before heading to the paint store or talking with a contractor. If you have questions, always ask a professional.