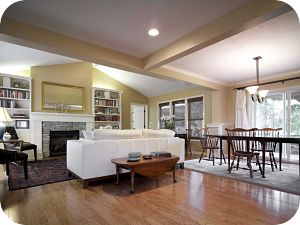 At the end of the day, I can't wait to get home and relax with my family. We like to watch a movie or a sports event, enjoy the warmth of a fireplace on a cold night, play board or video games or just sit down and read. With active and growing children, our family room probably gets the most use in our home, or at least it's a close second to our kitchen.
Because we spend so much time in our family room, we want it to store all the things we use there including our TV, audio and cable equipment, games, books, etc. As you might imagine, keeping this room neat is a challenge. But, with a little planning and creativity, we created a very comfortable family room that neatly houses all of our "toys."
Here are a few tips and storage solutions ideas for creating an indoor retreat in your living or family room:
1. Television placement. When organizing a living room or family room, one of the first questions to ask is "where should the TV go"? You need to consider the size of your TV and the distance it will require for optimal viewing. The size of a television screen is measured diagonally. For example, a 30-inch diagonal digital screen should be 6 feet from where you'll be sitting. For larger TVs, add 2 feet of viewing distance for every 10 inches diagonal. Place your TV so that the center of the screen is at eye level – 38-to-42 inches from the floor. The next dimension to consider is the depth of the TV. Flat screen LCD and plasma TVs are generally 3-to-5 inches deep. They are lightweight and can be hung on a wall or will fit on a cabinet or shelf. Rear-projection and picture-tube HDTVs have screens that range from 47-to-70 inches and a depth of 15-to-24 or more inches. They are heavy and require a shelf or cabinet that can support 200 or more pounds. Covering these TVs can be difficult because doors that swing can take up too much space. Consider sliding doors, tambour doors or custom cabinetry.

If you're considering replacing an older TV with a flat screen, you'll notice a big space change especially if you wall-mount your new unit. Such a change may require a different storage solution for your other equipment and give you more options for configuring the use of your room.
2. Audio and video gear. Many people want to integrate surround sound systems with their TVs for a home theater experience. To create a surround sound effect, the room will need at least 5 speakers. Speakers can be camouflaged behind a fabric screen or integrated into the room by the color choice you select. AV storage space should include ventilation so that electrical components such as DVRs, DVD players, cable boxes and satellite receivers don't get too hot. Don't stack components. Space them on shelves a few inches apart. If you are placing these items in cabinets, there should be vents in the back for air flow.
3. Fireplace storage. More people are placing flat screen televisions over the fireplace because it is often the focal point of a room. Built-in shelving next to a hearth can be used to store electronics, books, collectibles or firewood. If you have a wood burning fireplace or stove, consider using a free-standing rack to store wood in small quantities to have on hand and minimize the mess and bringing insects indoors. Also, check out HGTV's fireplace design ideas.
4. Collectibles. Storing collectibles can be a creative challenge. Collectibles are those things that reflect our lifestyle and passions. Collectibles can either create clutter or be an item of interest to those who visit your home. Organize your collections and display them in groups. Collectibles look best displayed in open shelves, etageres, open armoires and cabinets with glass doors.
5. Books, magazines and games. Books can be stored on shelves, on and under coffee tables and in cabinets. If you're storing books on open shelves, try stacking them in small piles and display photos, pottery, artwork and other collectibles with them. Store board games near areas where you use them. Magazines can be stored in baskets. Don't forget to cull them out every now and then to keep clutter under control.
For inspirational living and family room ideas check out our photo gallery and HGTV's Living Room Design Ideas. http://www.crutchfield.com/learn/videos/HDTV/screen-size.html

What storage solutions do you use in your living or family room?