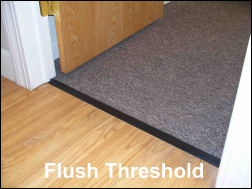 Over the course of time, we experience many changes in our lifestyles and our homes must evolve to adapt to these changes. If you're a parent of young children worried about home safety, a family caregiver attending to the needs of elderly parents, or a person with a disability, you'll want your home environment to accommodate your lifestyle.
"Universal Design" is a concept that considers the home environment of individuals at all stages of life by eliminating barriers and installing products everyone can use. Construction and design professionals realize that people go through changes and we work with homeowners to create attractive environments for all people to function in regardless of age, size or abilities.
Here are some general tips for making your home user-friendly throughout the years. I will be writing about "Universal Design" room-by-room in upcoming blog posts and welcome your questions and comments.
Entryways can present obstacles. One step-free entrance to your home will ease access and safety.
Add handrails to existing steps and porches. Falls often occur in these areas.
Use lever-style handles to make opening doors easy for all.
Install flush thresholds when installing carpeting and flooring to eliminate tripping hazards.
Wide doorways and halls simplify life for everyone. Doorways at least 36 inches wide make it easy to move furniture or appliances into the home and accommodate people with wheelchairs or walkers. Hallways at least 42 inches wide give a home a spacious look and make it easier to maneuver and move furnishings.
Install rocker light switches to turn lights on and off with ease. Place light switches 42 to 48 inches from the floor where everyone can reach them.
Place electrical outlets 18 to 20 inches off the floor.
Install thermostats no higher than 48 inches off of the floor.
Create a laundry area on the first floor. Purchase raised front-loading washing machines and dryers to avert bending and back strain.
Install lever-style faucets on sinks.
Install windows that can be opened and closed easily.
Consider single story living if you are building or purchasing an existing home.
For more information about Universal Design, check out the Web sites of the National Association of Home Builders and the American Association of Retired Persons.