When you look at the placement of appliances in a kitchen, have you ever noticed the sink, refrigerator and stove form a triangle? It's not a coincidence. In the 1950s, the University of Illinois conducted a study to determine the most "sensible" kitchen design for a four-person home. Researchers concluded the most efficient way for a "cook" to work was to organize a kitchen's three dominant food preparation areas into a "work triangle." The concept caught on and is still used by kitchen designers today. Kathy Petrocci, one of our Kitchen and Bath Project Consultants, notes that "small kitchens can work as well as large kitchens when functionality is achieved through applying the basic principles of the work triangle."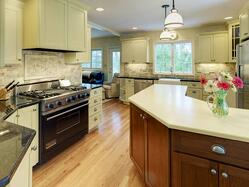 The kitchen "work triangle" is defined by the National Kitchen and Bath Association (NKBA) as an imaginary straight line drawn from the center of the sink, to the center of the cooktop, to the center of the refrigerator and finally back to the sink. The NKBA suggests the following guidelines for determining a work triangle:
The sum of the work triangle's three sides should not exceed 26 ft. and each leg should measure between 4 ft. and 9 ft.
The work triangle should not cut through an island or peninsula by more than 12 inches.
If the kitchen has only one sink, it should be placed between or across from the cooking surface, preparation area or refrigerator.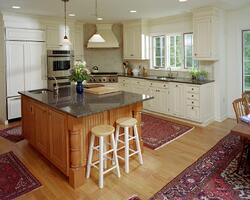 As kitchens have grown in size and with more appliances, the regular work triangle may not be practical for all. Most modern kitchens have a microwave oven, coffee maker and dishwasher (a luxury item in 1950s). Other appliances may include double ovens, wall ovens, range hoods or down drafts, wine coolers and even TVs and computers. When you think about designing a kitchen space consider the following:
Select your appliances first, factor the dimensions into the design. Gauge clearances for opening appliances. Double door refrigerators with freezer drawers will need clearance space as do dishwashers and ovens.
Include work aisles into the plan. Keep aisles 42 to 48 inches wide.
Each work area should have adequate counter space. A sink area should have about 36 inches of space or more. There should be counter space near a refrigerator for gathering items, and space near a cooktop to place ingredients and allow pans to cool down.
Place appropriate storage space near each work area. Pantry storage should be near the refrigerator. Storage for pots and pans should be near the cooktop and storage for mixing bowls and spices should be near the sink/prep area.
A receptacle for trash should be placed near the sink, not under it. A trash pull-out is more functional when placed to the right of the sink.
Finally, if you're planning to renovate a kitchen consider hiring a certified kitchen designer. There are many factors to consider which might be overlooked by a do-it-yourselfer. Taking the time to address all of the details with a designer will help to optimize your investment in your home.
Sources:
KitchenBathIdeas.com
Better Homes and Gardens Special Interest Publications, Kitchen and Bath Ideas January/February 2010
http://akitchenfantastic.blogspot.com/2006/01/work-triangle.html
http://www.kitchens.com/Design/Layouts/Work-Triangle.aspx