Bathrooms are often small spaces. A vanity, which includes the sink and surrounding cabinetry, can have a major impact in the room and become a focal point. When selecting a vanity consider details including the cabinet style and finish, counter surface, storage capacity, sink shape and placement, hardware, lighting, mirrors and the faucet. A vanity can be custom built to fit in the room or integrated with storage cabinets if space allows.
Here are six design ideas for bathroom vanities from projects we've completed for Central New York homeowners that may help to inspire your project:
1. Space Saving Ideas
In a small bathroom you can create an illusion of space by optimizing the area of the floor. A wall mounted vanity cabinet will reveal more of the floor as will cabinets with a "toe kick." A toe kick is a recess at the bottom of a cabinet base designed to allow you work closely at a counter and retain your balance.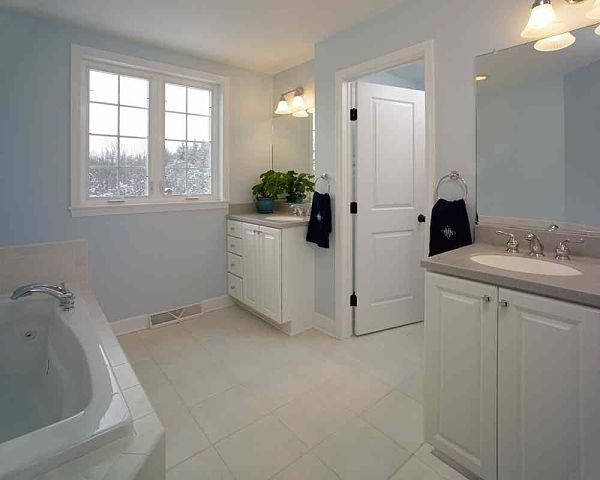 Two vanities with toe kicks in a couple's bathroom retreat.
2. Cabinet Storage
When planning bathroom storage we generally need places for grooming supplies, hair styling tools, cosmetics, towels and medications. Vanity cabinets hide plumbing. Drawers may be the best option for keeping small items organized. Depending on the size of the room, a vanity may also be combined with vertical storage cabinets or a "storage tower" to hold towels and bath supplies.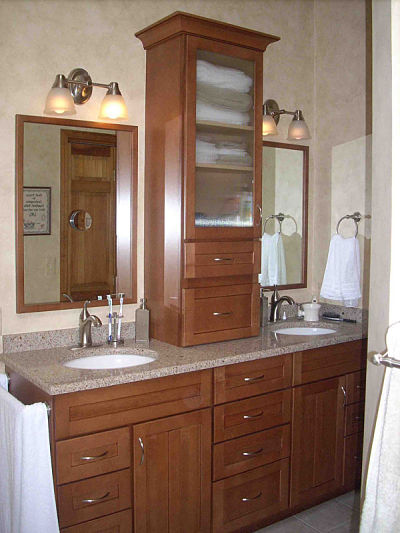 A storage tower provides space for towels and supplies and separates the dual sinks. A stack of drawers separates the base cabinets that conceal plumbing for the sinks.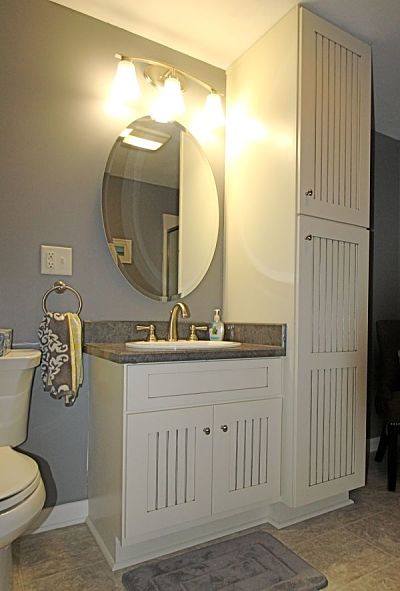 Tall storage vertical storage cabinets were integrated with a vanity. Painted cabinets in "Off-white" with an "Oyster Gray" glazed finish by Bishop Cabinets were used for the vanity and linen closet. An oval mirror with a beveled edge and an oval sink complement the vanity.
3. Sinks and Faucets
Sinks used with vanities can be easy care or decorative. Undermount and integrated sinks are the easiest to maintain. Drop-in sinks have a rim and are a cost effective option. Vessel sinks add style and an architectural element to a bathroom.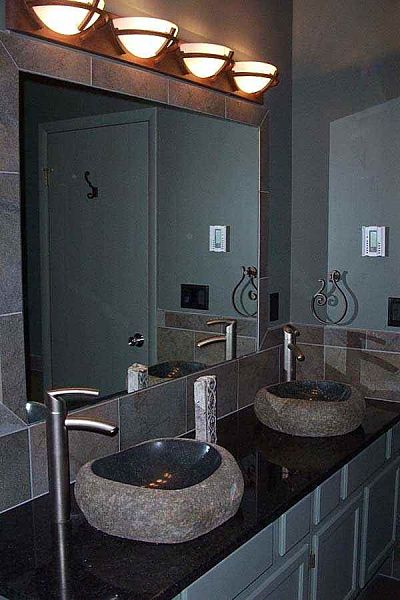 Unique stone vessel sinks appear to be carved out polished gemstones were placed on a black granite vanity countertop. Tall single-handle brushed stainless faucets, white cabinetry, stone look wall tiles and a contemporary light fixture complement the vanity.
4. Counters
Vanity counters need to be functional but they also can be stylish. Manufacturers of laminate counter surfaces are now producing attractive patterns that replicate stone and quartz products. Granite still remains the most popular counter surface among consumers with quartz a close second. In a bathroom, liquid soap can sometimes stain porous stone. Quartz is impermeable and requires less care.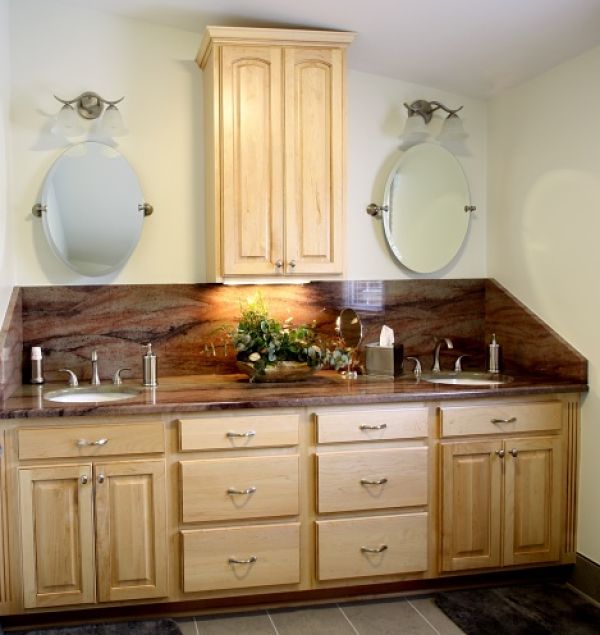 A slab of granite with striking color was the inspiration for the design of this his and her vanity. Under-mount sinks were selected to accentuate the stone. The wood cabinet is from Bishop Cabinets and the finish is "Natural Maple." The semi-custom vanity was made at a 34½ inches height rather than the standard 30 inches. The wall-mounted cabinet has under-cabinet lighting.
5. Furniture-style Vanities
Furniture style vanities have legs and expose flooring. They can have an open shelf for storage. Finishes and hardware complement the piece.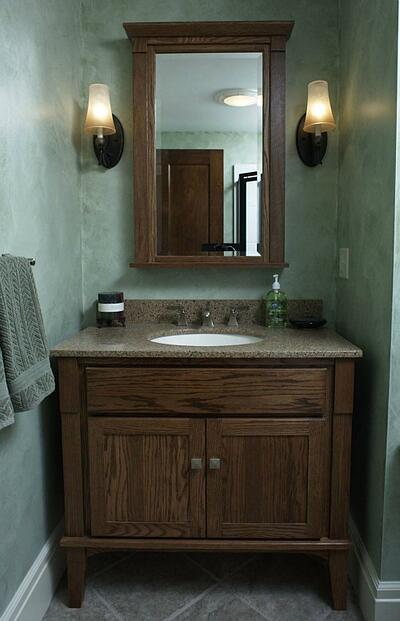 Open space on the sides and legs under the vanity replicate the look of a piece of fine-crafted furniture.
6. Custom Vanities
A custom vanity can be created by cutting a hole for a sink into a piece of furniture or styled by cabinet manufactures to provide the look.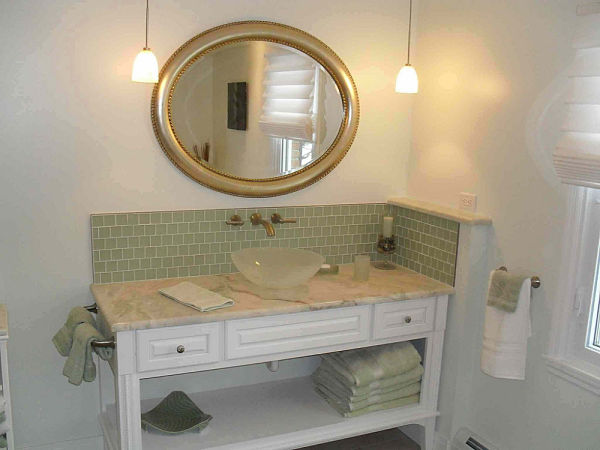 This unique custom vanity features a glass bowl sink with wall mount faucet set on a marble countertop. The vanity was designed to provide drawer storage for toiletries and shelf storage for towels.