One of the most important elements in a bathroom remodeling project is the shower enclosure. Glass shower doors and enclosures are necessary to retain water but they can also make a design statement in the room. Glass shower enclosures are popular among homeowners for many reasons including ease of maintenance and the visual impact they can make in a small area by creating an illusion of space.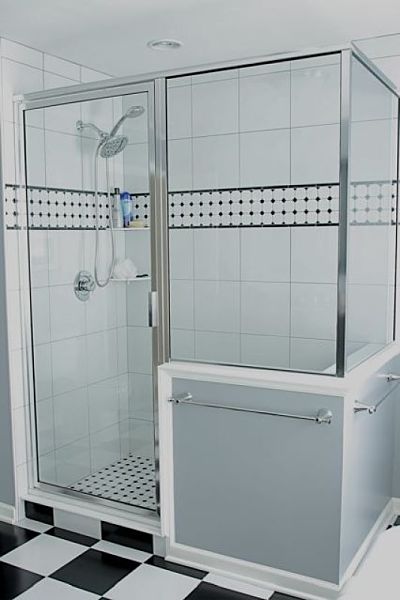 This project involved a complete remodel and expansion of a very small master bathroom. Clear glass was used for the custom walk-in shower enclosure and door. The glass reveals the tile pattern and accents.
If you are planning a bathroom remodeling project the first thing to consider is the size of the space you want to use for a shower. Stand-alone walk-in showers can be as small as 36-by-36 inches. Other common sizes of walk-in showers are 48 and 60 inches in width. If your project involves a tub/shower combination the standard length of a tub is 60 inches. A custom shower can be designed to conform to your bathroom space or it can be integrated with a tub.
Types of Glass Shower Doors
There are three basic types of glass shower doors:
Sliding or by-pass doors. Sliding doors use the least amount of space in a bathroom and there is no door swing to account for. They can also be installed with tub/shower units in place of a shower curtain to more efficiently contain water.
Pivot doors. Pivot doors are hinged and easier to clean than a sliding door. The downside is that the bathroom must have enough floor space to allow for a door swing. The photo above features a pivot glass shower door.
Neo-angle shower doors. These are doors designed expressly for corner showers.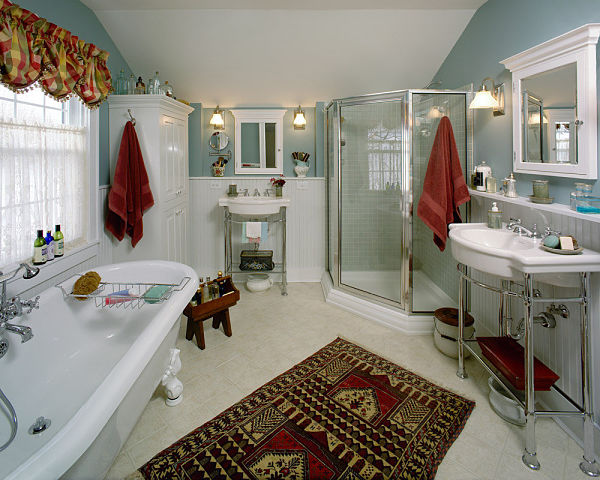 A neo-angle shower was selected for this master bathroom. Clear glass and the chrome frame of the shower stall complement the other fixtures used in the room.
Design Ideas for Glass for Shower Doors and Enclosures
There are a number of style options for the tempered safety glass that is used for showers:
Clear glass. Clear glass gives a small room a feeling of spaciousness. It also reveals the features inside the shower such as tile design and multi-head showers or body sprays.
Frosted or textured glass. Frosted glass and textured glass are selected for privacy as well as aesthetics. Frosted glass can include patterns and designs to complement the bathroom.
Glass blocks. For walk-in showers without doors, glass block enclosures can be used for privacy and water retention.
Glass shower doors and enclosures come with frames or can be installed unframed. Framed enclosures can be found in a variety of finishes. Unframed enclosures reduce corrosion and resist residue build up.
The following photos show how these three options were used in bath remodeling projects we designed and built for Central New York homeowners:
Clear Glass. This custom walk-in shower features an unframed glass shower enclosure with a pivot door that provides an ideal solution for a small bathroom space where the homeowners also have a soaking tub. The unframed glass makes the stall blend into the room.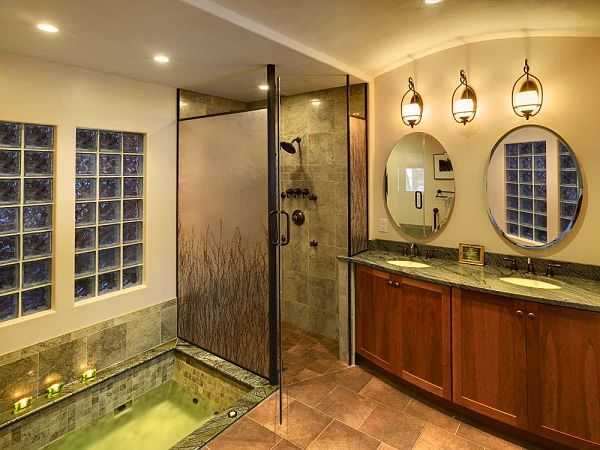 Frosted Glass. An Asian influenced design used in this master bathroom brings together elements found in nature. A frosted glass shower enclosure and door with a branch pattern was used for the walk-in shower. Glass blocks were used on the large double window for privacy.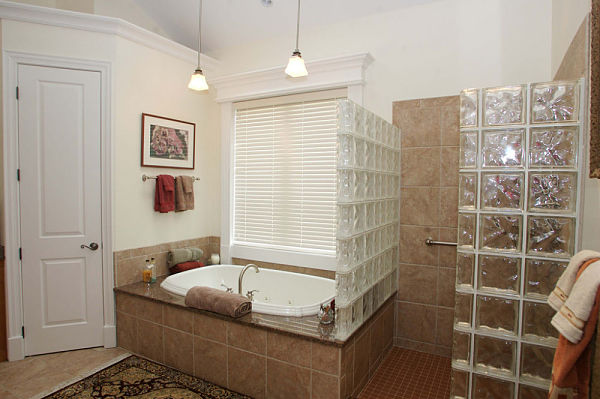 Glass Blocks. Privacy and water retention were important considerations when this master bath, featuring a walk-in shower without doors and whirlpool tub, was designed. Glass blocks were used to create a privacy screen and the contain water from the shower sprays.