Outdoor lighting is essential for any home. For safety and access it's important to illuminate entries, driveways and walkways. Lighting is also very important if you have an outdoor area for that you enjoy using for entertaining such as a deck, patio, porch or pool.
If you are considering ways to illuminate the exterior of your home, here are some awesome ideas from projects we've worked on recently for Central New York homeowners:
1. Post Lights
Post lights are great for lighting a driveway, dock, yard or garden. When selecting post lights you will find a variety of styles, finishes and bulb options. Some lamps will use dusk-to-dawn bulbs that are energy efficient, long lasting for outdoor use and automatically turn on at night and turn off during the day.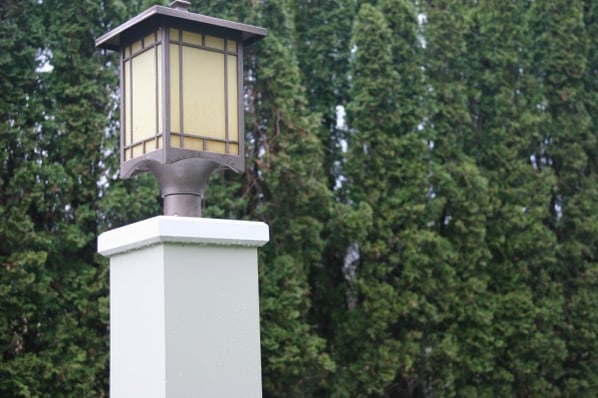 This Craftsman-style light fixture was installed on a post to illuminate a long driveway on a dark street.
2. Path Lights
Lighting can be used to illuminate pathways and gardens. Both electric outdoor lighting and solar lights are designed for this purpose. The quality of solar lighting has been improving with more sturdy casing and brighter bulbs.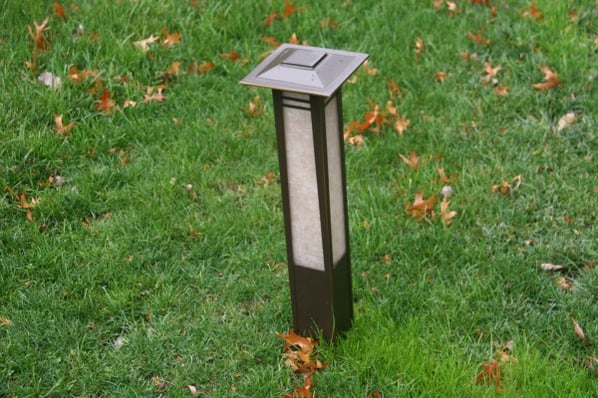 A series of these lights were used to light a path from a home to a dock.
3. Ceiling Fan Lights
If you have a sheltered deck or porch, a ceiling fan light can be an asset on warm days and nights by providing a cool breeze and illumination.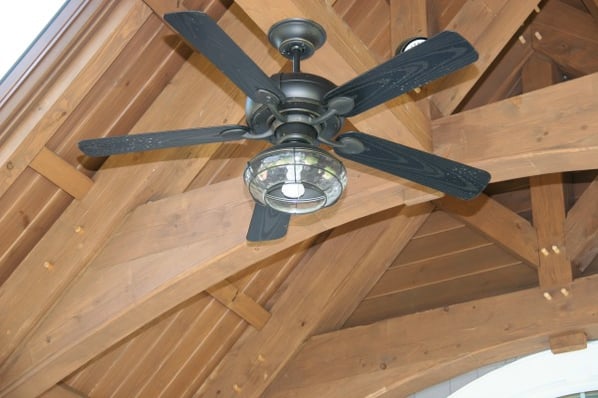 A fan light was used in combination with other task lights in this lakefront porch addition.
4. Recessed Lights
Recessed lights can be installed on porches and covered decks and patios. They can be placed over task areas such as outdoor kitchens or to illuminate dining and gathering spaces.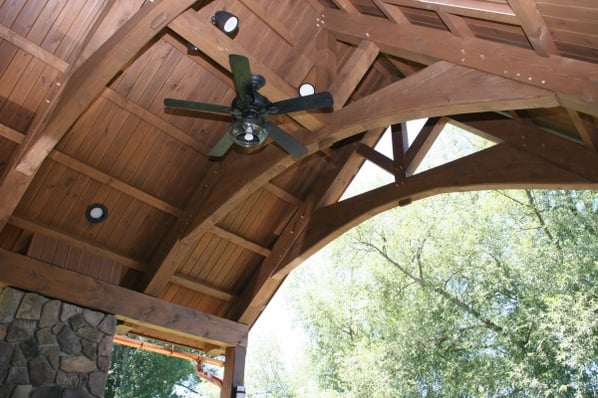 Recessed lights were installed in combination with spotlights that use LED bulbs on this covered porch addition.
5. Spotlights
Spotlights are available in many sizes for different outdoor uses. Some can be installed with motion detectors and will light up when people or animals enter the premises.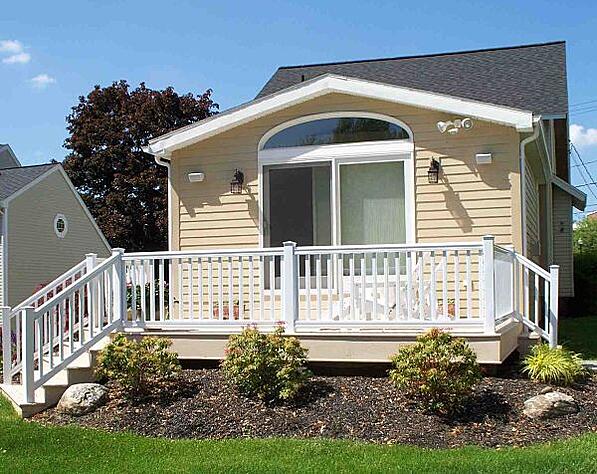 This backyard composite deck area is illuminated by wall sconces and spotlights with motion sensors.
6. Wall Sconces
Wall sconces are among the easiest fixtures to install in an outdoor area. They can be placed to illuminate home entries, patios, porches and decks to provide both functional and decorative lighting.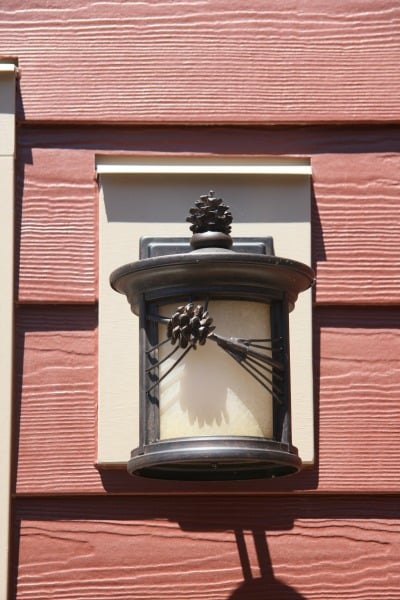 This decorative black metallic sconce was used for a deck addition.
7. Deck Lighting
Deck lighting can be both functional and decorative. Lights can be mounted onto posts, rails and stairs.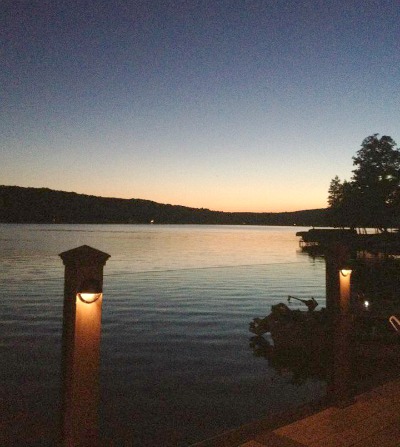 These deck lights are mounted on posts and used to illuminate a deck at night.
8. Hanging Light Fixtures
Hanging light fixtures can be used where there is a tall roof or support beam such as in an entryway, porch, pergola or gazebo.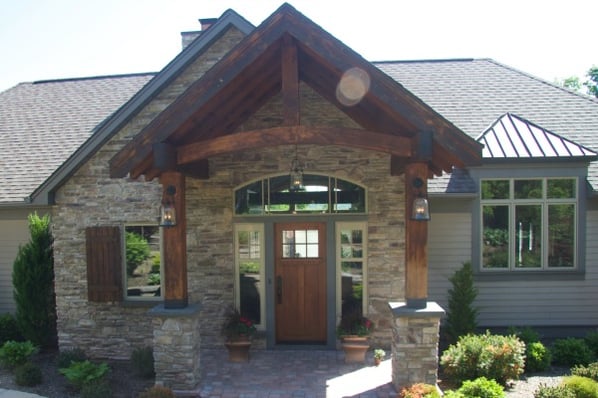 A hanging fixture was used along with wall sconces to illuminate this entryway.
9. Skylights
Skylights can be added to porches and covered decks to disperse natural light during the day and provide a view of the sky at night.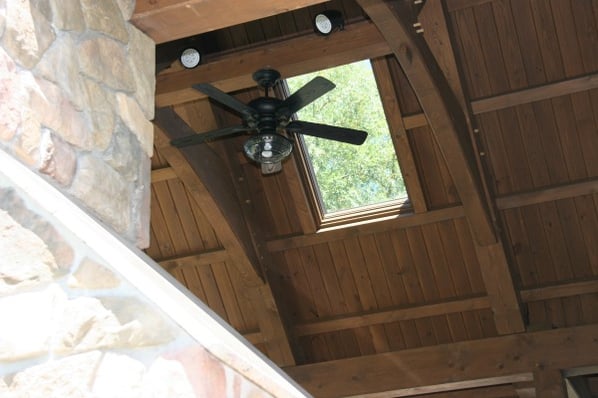 A skylight was placed near and outdoor fireplace that is part of a covered deck addition.
10. Candles and Lanterns
Outdoor lighting includes candles and lanterns for ambiance and when citronella candles or oils are used they help to keep insects at bay.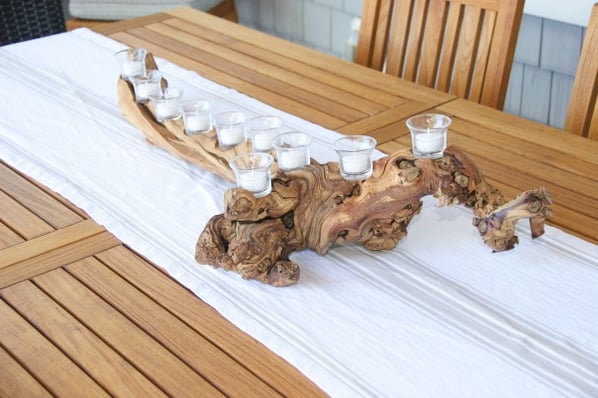 A crafted candelabra made of burled wood provides soft lighting for dining.