Next week marks the beginning of May and Deck Safety Month®. Now that the snow has melted it's time to check your deck to be sure it is ready for the summer months ahead.
Here are seven areas of a deck that should be routinely checked every spring for problems:
1. The ledger board that attaches a deck to a house.
Problems can occur when a deck is not bolted properly and a collapse can happen when a deck ledger separates from the house. Check for loose or missing bolts, nails, screws and fasteners. Look for corrosion on bolts and deterioration of the wood surrounding the bolts and fasteners.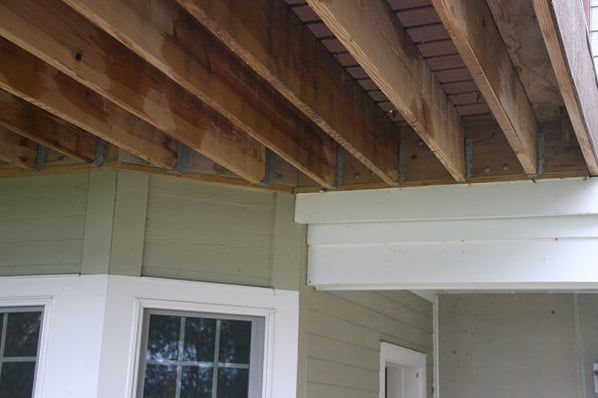 The ledger board is the board that's bolted to the house. The floor joist boards are connected to the ledger board with metal fasteners.
2. The flashing between the deck and a house that helps to prevent water damage.
There should be some type of membrane or metal flashing between your deck and your house to prevent water from doing damage to your home. Look for signs of water damage where the deck meets the house. Also check under the deck for flashing to see if it's still in place.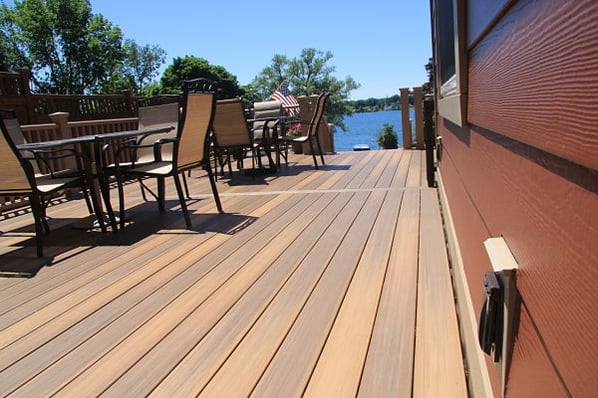 Check along the wall where the deck connects with the house for signs of water damage. On an elevated deck flashing can be viewed from beneath the deck.
3. The posts that form the foundation of a deck.
Check the posts to be sure they fit solidly into the piers and can't be moved. Posts should be secured with galvanized metal connectors or poured into concrete. Be sure the connectors are in good condition and are not rusting.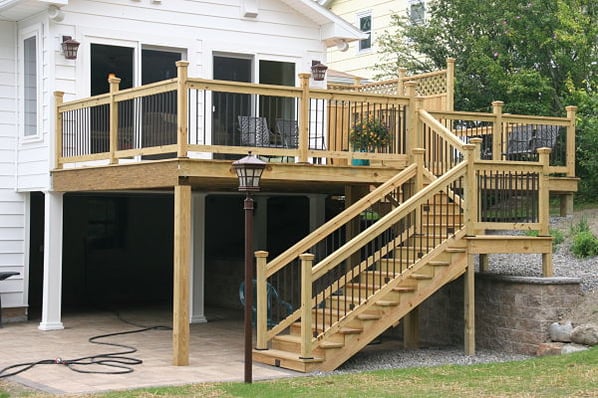 This elevated deck has posts of varying heights.
4. The framing and deck fasteners.
The main structural framing members of a deck are support posts, beams and floor joists typically connected with bolts or galvanized metal hangers where posts meet beams and beams meet joists. Check nails and fasteners for signs of weakness and corrosion.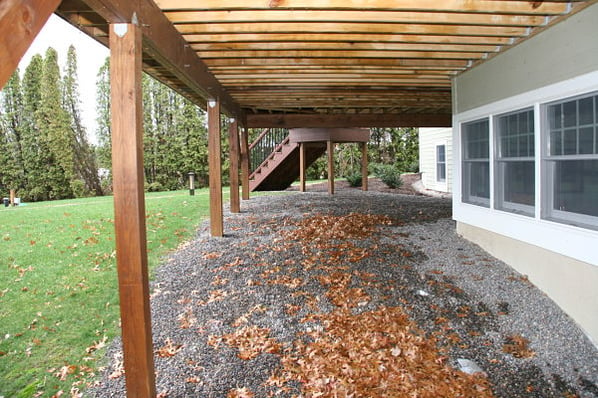 Joists, beams and metal hangers like the ones on this deck should be checked for stability and signs of corrosion.
5. Signs of split boards and rot.
Many decks are constructed from pressure treated wood that will crack and rot over time. Check for large splits on decking boards. Use a screwdriver or awl to check boards for rot or weakness.
Check wood ledger boards, posts and joists. Some types of wood are not compatible with some types of metal and can cause the metal to corrode which is why it is important to check for rust on fasteners or metal hangers.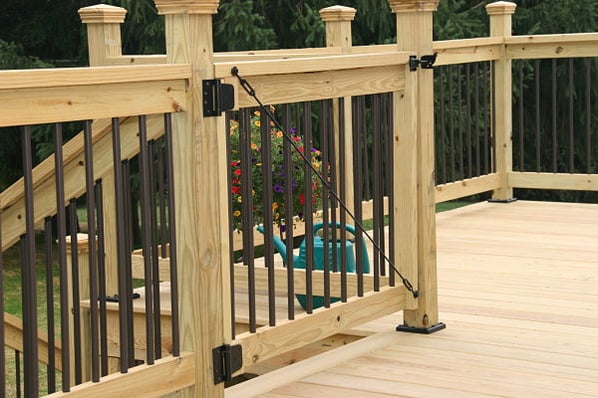 Deck boards should be smooth and free of cracks.
6. The railings, balusters and handrails.
Check railings and balusters to make sure they are not loose and handrails to make sure they don't wobble. Rails should be able to support the weight of a 200-pound person.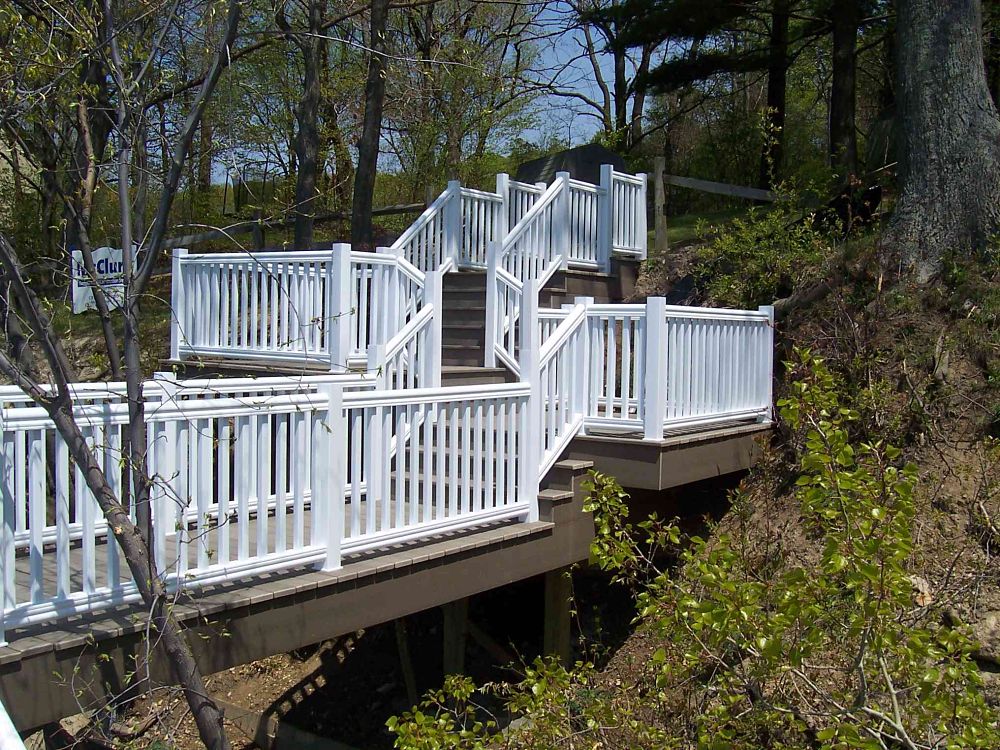 Balusters and rails can become loose during winter. Check them for stability.
7. The stairs.
Check deck stairs for signs of rot and cracks on stringers, risers and treads (i.e., the top surface of stairs). Also check the treads to be sure that they are not loose or uneven.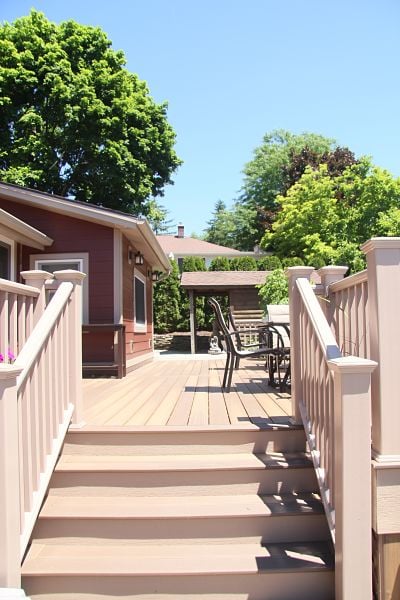 Stairs should be stable and treads free of tripping hazards.
Checking these seven areas of your deck should help you find common maintenance problems. However, sagging beams or joists, gaps between connecting points, excessively bouncing or moving deck or stairs are the signs of a structural problem and you may want to contact a home repair professional for a further assessment.
A professional deck inspection will evaluate the structure of a deck in more detail. A professional will review the size and spacing of structural members. They will also look at fasteners and metal hangers to determine if appropriate construction materials were used. There are different types of metal hangers that should be used where structural members meet and they should be installed with specific types of nails. A professional will be able to spot problems before they become hazardous.
Download our Free Deck Safety Inspection Checklist to use as a guide for checking trouble spots on your deck.
Deck Safety Month® is a registered trademark of the North American Deck and Railing Association.