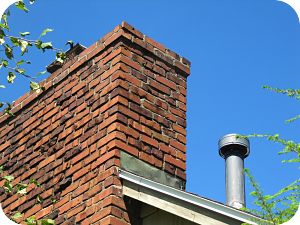 As summer draws to an end, this is the ideal time to get our homes ready for winter. One thing you'll definitely want to check is your chimney, especially if you have a wood-burning fireplace that you will be using when cold weather hits.
If you burn wood regularly you should have your chimney inspected every year to assure your fireplace is safe and to prevent a fire in your home. A home fire can occur when creosote, a bi-product of burned firewood, builds up. Creosote is flammable, which is why it is important to clean your chimney every year. According to the Michigan State Extension Service, "most problems with creosote are due to poor chimneys with a low draft and cold walls."
You should also check the flue of your chimney to be sure it is not blocked, dirty with creosote buildup or cracked. The flue vents your fireplace and prevents carbon monoxide from entering your home.
It's a good idea to have a professional check your chimney. The Chimney Safety Institute of America (CSIA) notes that the National Fire Protection Association Standard recommends: "Chimneys, fireplaces and vents shall be inspected at least once a year for soundness, freedom from deposits and correct clearances. Cleaning, maintenance and repairs shall be done if necessary." The Institute certifies chimney sweeps and maintains a locator list of CSIA Certified Chimney Sweeps.
Even if you don't burn wood often, you should check your chimney once a year for blockage since animals such as squirrels, rodents and birds may build nests there.
CHIMNEY INSPECTION CHECKLIST

Creosote build-up. The easiest creosote to remove is the light dull-gray, brown or black soot you'll see inside your chimney chamber. The more difficult and dangerous forms of creosote are those that look like road tar or a shiny, glaze-like coating. To check for creosote, first make sure there is no downdraft from the chimney, which may indicate blockage. Next, take a flashlight and a fireplace poker and scratch the surface above the damper opening. CSIA recommends that open masonry fireplaces be cleaned when 1/8" of soot builds up and sooner if glaze is present. Factory built fireplaces should be cleaned when any appreciable buildup occurs. This is the amount of buildup that can cause a chimney fire or a fire that could spread to the rest of the house. Be sure to check the flue for creosote.
Cracks in the flue, chimney liner and firebox. The firebox may have areas where the mortar is deteriorating.
Blockage due to debris or animal nests.
Broken are cracked bricks on the exterior of the chimney and cracked or missing mortar.
Exterior staining. This may be due to flue gasses seeping through the chimney.
Be sure that the chimney cap is free of damage and secure.
COMMON CHIMNEY REPAIRS

Although we do not provide chimney inspection or chimney sweep services, common chimney repairs we do include:
Repointing or rebuilding the brick exterior of the chimney and firebox.
Flue repair when cracks or creosote buildup is present.
Chimney cap repair/replacement.
Chimney flashing repairs.
IMPORTANT CHIMNEY SAFETY TIPS

If you burn wood, be sure the wood is properly aged and not green.
Avoid the temptation to burn Christmas tree branches and wrapping paper since these items burn hot and can cause a fire in your chimney.
Regularly check the outside of your chimney for any visible damage.
Clean your chimney after you've burned two cords of wood or when you notice creosote buildup.
Be sure your carbon monoxide detector is working. Carbon monoxide is a bi-product of burning fuel and can cause illness or death if inhaled in significant amounts. Carbon monoxide detectors are your first line of defense is there is a problem with ventilation of your home.