McClurg's 3-Step Custom Home Construction Process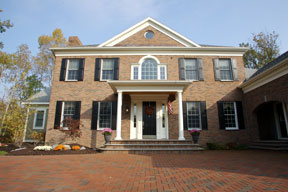 When you work with the McClurg Team, you'll always know what to expect.
To ensure your complete satisfaction, we follow a proven 3-step process for all new home construction projects:
Step 1 - Consultation and Estimate
Initial Appointment/Interview
The Project Consultant - your contact through job completion - meets with you to discuss your needs and schedule, and present the McClurg Team qualifications. We'll answer your questions and strive to thoroughly understand your requirements.
Preliminary Budget
After collecting information during the initial appointment, the Project Consultant meets with one of our estimators to develop a preliminary budget range for your project. The Project Consultant then calls or meets with you to discuss the preliminary budget and ensure we are meeting your expectations before proceeding to a written estimate.
Estimate Presentation
The Project Consultant presents our preliminary project specifications and estimate to you. We may also present alternatives for meeting your requirements and adding value to your project.
Step 2 - Project Design
Preliminary Construction Agreement
Next, a written, general description of your project is drawn up for your review and approval, at which time we'll request a 5% retainer and schedule your project. Then, we finalize your design and you make product selections with the guidance of your Project Consultant and design team, while our subcontractors and suppliers submit quotes for your project.
The Project Contract
The Project Consultant presents to you a detailed contract, along with any pertinent drawings or attachments. Once you approve the contract, a McClurg Production Team is assigned to your project.
Step 3 - Project Construction
Pre-Construction Meeting
You meet the Project Manager who will be in charge of construction, and your Project Contract specifications will be read through line-by-line and we'll review your drawings. You will also receive a written schedule.
Project Construction
During construction, your Project Manager will be your main source of information. The Project Consultant will visit to review progress, answer design questions and prepare change orders if anything is added or taken out of the contract.
Final Walk-Thru
Your dream is reality! Your Project Manager and Project Consultant walk you through the finished project and ensure your complete satisfaction.