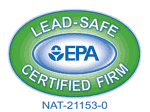 Nineteen employees of McClurg Remodeling and Construction Services have been designated U.S. Environmental Protection Agency (EPA) Certified Renovators for successfully completing training on Lead Safety for Renovation, Repair and Painting. The company is also an EPA Certified Renovator business.
The EPA certification is required to work on pre-1978 homes, which may contain lead paint. Employees were trained on how to test for the presence of lead in paint, how to establish a safe work environment for workers and home occupants, and how to properly clean and remediate the site.
The following employees earned the EPA Certified Renovator designation for lead safety:

Joe Conte
John Cramer
Tyler Dixon
Dave Furness
Tim Green
John Griffin
Jeremy Henderson
Pete Henderson
John Holmes
Brian Johnson
Jim Kelly
Jeff Livingstone
Jeff Loefstedt
Tom McGraw
Joe Policastro
Donn Schuldt
Mike Smith
Jerry Thayer
Jim Welsh

McClurg Remodeling & Construction Services has served Central New York homeowners and commercial customers for more than 30 years. Residential remodeling projects include kitchens, bathrooms, exterior living spaces, basement conversions, additions, large-scale renovations and interior and exterior alterations. Smaller household repair projects are handled by HomeRepair by McClurg, which provides a wide range of services including door and window installations, drywall repair, rail and step replacement, roof and deck repair, and tub and window frame caulking.