GuildQuality's 2014 Guildmaster Award Honors McClurg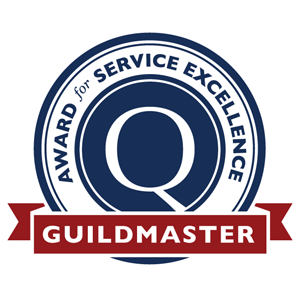 MARCELLUS, NY (June 2, 2014) – McClurg, a design-build remodeling and home repair contractor serving greater Central New York, today announced it has been awarded a 2014 Guildmaster Award for exceptional customer service. GuildQuality, an independent customer satisfaction surveying company for the residential construction industry, presented the award.
McClurg was selected as one of 200 North American remodelers, home builders, developers and contractors recognized by GuildQuality for superior delivery of customer care.
Over the past few months, GuildQuality reviewed numerous survey responses submitted by customers of Guildmaster candidates. In granting awards, GuildQuality considers two primary metrics for each candidate: the percentage of customers who would recommend and the percentage of customers who responded. McClurg achieved a recommendation rate from more than 99% of its customers who were surveyed through GuildQuality.
"We are very pleased to earn recognition as a 2014 Guildmaster Award winner," says Brian Ciota, McClurg's Vice President and Co-Owner. "This is a very special award because it is based on independent comments from our customers, which we also make available on our website. The entire McClurg Team is passionate about providing exceptional customer service. The Guildmaster Award recognizes that we are achieving our customer service goals."
For more on the 2014 Guildmaster Award and qualifications, visit www.guildquality.com/guildmaster/.
About McClurg
McClurg is a design-build contractor specializing in residential and small commercial remodeling, home repair and replacements, and new home building. We have served Central New York homeowners and commercial customers for more than 35 years. Residential remodeling projects include kitchens, bathrooms, exterior and interior renovations, living spaces, basement conversions, additions and outdoor living spaces. Smaller household repair projects include door and window installations, rot and structural repair, drywall repair, rail and step replacement, roof and deck repair, and much more. Visit us at www.McClurgTeam.com.
About GuildQuality
GuildQuality helps builders, remodelers, and contractors manage their most valuable asset - their reputation. GuildQuality members rely on its service to gather customer feedback, measure satisfaction and continuously improve their business. Supported by comprehensive reporting and marketing tools, GuildQuality helps its members stand out in a competitive market. For more information, visit www.guildquality.com.