McClurg's 3-Step Insurance Restoration Process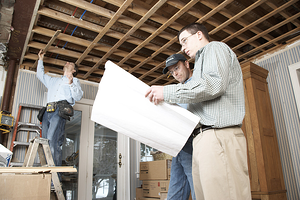 When you work with the McClurg Team, you'll always know what to expect.
To ensure your complete satisfaction, we follow a proven 3-step process for all insurance restoration projects:
Step 1 - Evaluation, Consultation & Insurance Estimate Agreement
Phone Interview/Insurance Agreement
When you call in you will speak with one of our Project Consultants, so they can become familiar with your home or building damage. They will also explain our process including our Insurance Estimate Agreement and schedule a site visit to inspect the property damage.
Initial Appointment/Site Visit
The Project Consultant will meet with you to review the damage and discuss your needs and schedule. They will also answer any questions you have about the McClurg Team and our process. Finally, they will review our Insurance Estimate Agreement with you..
Insurance Estimate & Negotiations
After collecting information during the initial appointment or subsequent appointments, the Project Consultant along with one of our estimators will be working on your behalf with your insurance company to develop an insurance estimate for your project.
Estimate Presentation/Final Insurance Settlement
The Project Consultant will present the final Insurance Estimate for your approval before coming to a final agreement with the insurance company. We may also present alternatives for meeting your requirements and adding value to your project.
Step 2 - Project Design & Contract
Material Selections
Your Project Consultant and our design team will work with you to make product selections as need to complete the work in the Insurance Estimate. If you are interested in redesigning some spaces before going to contract we can do that as well.
The Project Contract
The Project Consultant presents to you a detailed contract, along with any pertinent drawings or attachments. Once you approve the contract, a McClurg Production Team is assigned to your project.
Step 3 - Project Construction & Completion
Pre-Construction Meeting
You meet with the Project Manager, who will be in charge of construction, and your Project Contract specifications will be read through line-by-line and we'll review your drawings. You will also receive a written schedule.
Project Construction
During construction, your Lead Carpenter/Project Manager will be your main source of information. The Project Consultant will visit to answer design questions and prepare change orders if anything is added or taken out of the contract.
Final Walk-Thru
Your project is complete! The Lead Carpenter/Project Manager and Project Consultant walk you through the finished project and ensure your complete satisfaction.