When a homeowner first contacts us to discuss their remodeling project they typically ask about who will be meeting with them and what they should expect from the meeting. These are important questions and we thought it would be helpful to adress them in this article.
When you call us to discuss a project your first meeting will be with a remodeling Project Consultant. Our Project Consultants have decades of experience in residential design-build remodeling. Their job is to help you identify your project goals and expectations, and ensure that you receive exceptional customer service. Unlike some contractors, our Project Consultants work with you from initial appointment through project completion and post-project follow-up. They are good listeners and communicators. They know how to develop a project to meet expectations and budgets.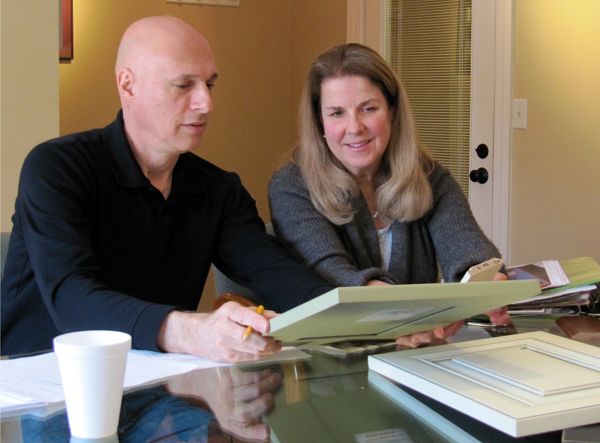 McClurg Project Consultant Vince Petralito meets with a homeowner to select cabinets for a kitchen remodeling project.
Remodeling is an investment of both time and money. When you decide to remodel it's important to select a contractor who is experienced and someone you feel comfortable with to do the work in your home.
Here is what you can expect when meeting with one of our remodeling Project Consultants:
1. The Initial Meeting
When you request an initial consultation a Project Consultant will be assigned to meet with you in your home. The Project Consultant will ask questions about your project, discuss your needs, budget and schedule, take measurements and photos, and make preliminary suggestions.
To prepare for this initial meeting it's helpful take some time to:
Make a "wish list" of things you want to include in the project. This list will be helpful to both you and the Project Consultant in creating a plan and setting a budget.
Set priorities. Establishing priorities can help you contain costs over the course of the project. To help you set priorities use our free Planning Guides on our website.
Collect ideas and photos. Many homeowners find it helpful to browse through magazines and books or research online to get design ideas for their project. You can clip magazine photos and bookmark webpages to share with your Project Consultant. You can even create an "ideas" book on Houzz or a Pinterest "board" to share your Project Consultant.
Develop a List of Questions to Ask. One of the first questions that people like to ask is how much will their project cost. The Project Consultant will most likely not be able to answer that question during the initial meeting but will take detailed notes regarding your project. Other questions you may want to ask would be "when can you start?" or "how long will it take?" You may also want to ask for suggestions about how the space can be optimized; product options such as cabinets, countertops and appliances; and any concerns about mechanicals (plumbing, electrical, etc.) or structural issues.
Establish a budget range. Prior to meeting with a Project Consultant t helps to have some idea of the budget you have to work with for your remodeling project. Our Project Consultants are knowledgeable about product lines, vendors and costs and can make suggestions to help you achieve your desired outcomes and keep within the budget limits you set for the project.
2. Project Budget and Estimate
After the initial meeting your Project Consultant will schedule a follow-up meeting with you to discuss a preliminary budget range and provide estimates for your project.
3. Project Design and Contract
Next, your Project Consultant will present a written description of your project. Once you approve the specifications your project will be scheduled and the Project Consultant will present the final design. Your Project Consultant will then assist you in making product selections, including meeting with suppliers to find the right items such as counter surfacing, cabinetry, lighting, fixtures, tile and other products required for your project.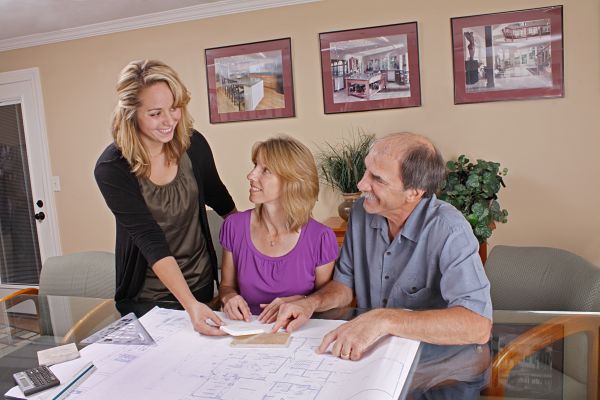 Homeowners meet with a Project Consultant to review design drawings.
4. Pre-construction Meeting

Prior to the start of your project the Project Consultant will meet with you and introduce you to the Lead Carpenter assigned to your project. At this time you can discuss arrangements you may need to make during the construction phase. For example, if your project involves remodeling a kitchen you may want to set up a temporary area for cooking and storing food. Your Lead Carpenter can be helpful in addressing these needs.
5. Communication Throughout the Project
Your Lead Carpenter is a liaison and is on site to address any concerns or questions you have as the project progresses through construction. Your Project Consultant will still stay involved to address any requests you have for design changes or additional work.
6. Final Walk-Through
The Project Consultant and Lead Carpenter will meet with you at the conclusion of the project to assure that your expectations have been fully met and that you are completely satisfied with your project.
7. Post-Project Follow-up
Your Project Consultant's involvement doesn't end with the completion of the project. If you have any questions or needs, your Project Consultant is always available to assist you.