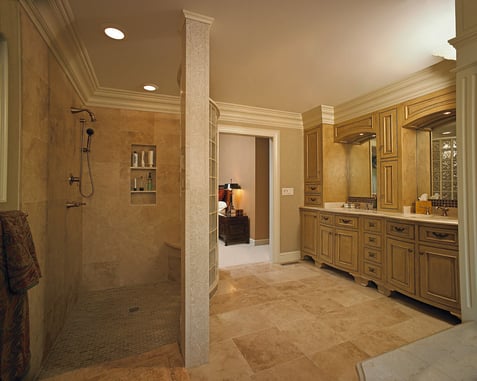 Does your master bathroom need an update? Whether you're looking for a full remodel, or just want to make a few changes, updating your tub or shower can be a seemingly small way to make a big impact. A walk-in shower can add a feeling of luxury to an otherwise utilitarian bathroom.
Considering that your master bath is likely one of the most frequently used rooms in your home, you're justified in transforming it into a space you enjoy being in. Below we've provided 4 walk-in shower ideas to make your bathroom feel a little more like a spa, and less like a necessity.
Install a doorless shower
If you're looking for a shower that will be beautiful as well as functional, consider a walk-in shower with a doorless design. There are plenty of advantages to this type of shower. Since it's designed not to require a door or curtain, a more open and well-lit space is created. You can visually add more square footage to your bathroom, without adding any space. No door also means one less surface to clean, so you can spend more time enjoying your bathroom and less time scrubbing it down.
For space-efficiency, if possible situate your doorless shower in one of the corners of your bathroom, so you can take advantage of the two existing walls. The type of showerhead you use can also make a difference. Since you're dealing with a more open design, rain-mount showerheads that aim downward can minimize any splashing into the rest of your bathroom. As a bonus, this style of showerhead also makes for a more luxurious look and feel compared to a traditional showerhead.
Take advantage of built-in features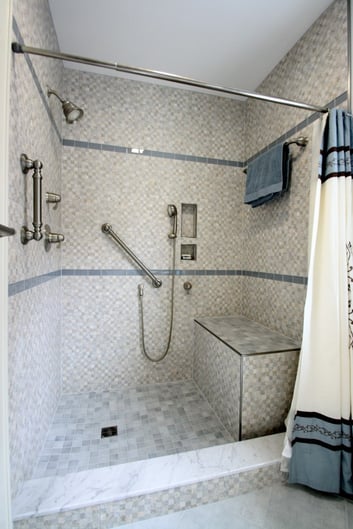 Built-in features don't just help keep your home more organized, they can also be applied to your walk-in shower to increase its functionality. Strike the perfect balance between organization and relaxation with built-in shelves and a built-in bench. Since walk-in showers tend to be more open, the last thing you want is clutter everywhere. Built-in shelving eliminates the need for a bulky shower caddy, and creates more space.
Whether you just want the option to sit and relax, or you plan on aging in place in your home, a built-in bench is a convenient added feature. Benches can be solid in design, floating with open space underneath, or foldable if you want to save even more space. Talking with a trusted design-build remodeler can help you determine which type of bench will work the best for your needs and the space you have to work with.
Incorporate your tub
Have a tub you don't want to part with, and don't mind taking on a larger upgrade? Then consider building a walk-in shower that incorporates your tub for a wet-room style bathroom. You can turn your entire bathroom into this type of space, or you can divide your tub and shower into one waterproof space and keep the toilet and sink areas separate.
There are plenty of advantages to this design. You can have the versatility of both a tub and shower, without having the two built into a one-piece combination. Having a wet-room can be a smart solution if you have a smaller space, but it's also a great option to give a larger bathroom a more luxurious feel. It's important to have a professional tackle this type of project. A trusted design-build remodeler can help you determine if a wet-room is a good fit for the space you have, and ensure that all the correct materials are used to waterproof floors and walls.
Add some luxury
If you don't want to take on a large remodeling project, there are many small upgrades that can be made to your shower that will give it that spa-like feel. Switching out your showerhead may seem like a small adjustment, but it can make a big impact. Consider a rainfall showerhead, a dual showerhead with hand-held capabilities, or installing multiple sprayers to turn your shower into a relaxing experience.
If you want to up the luxury factor, you can also turn your shower into a part-time sauna. To convert your shower, a steam generator can be professionally installed, which will allow you to switch back and forth from taking a traditional shower, to a steam bath. If you're worried about wasting more water, don't be. Steam baths actually use far less water than a traditional shower.
Looking for more ways to transform your house into your dream home? Contact the home remodeling experts at McClurg! We're proud to service the areas of Syracuse, Utica, Binghamton, Rochester and Watertown New York.