Is it time to remodel a bathroom in your home? Do you have a bathroom that has long needed renovation or do you just want a comfortable personal space? Why procrastinate? Here are the top five reasons homeowners plan a bathroom remodeling project:
1. Replace worn or outdated bathroom fixtures.
Bathroom fixtures get a lot of use and eventually fall into disrepair. Leaky sinks, faucets, showerheads and toilets are common problems but shower stalls and tubs can wear out too.
If you have a glass shower enclosure with sliding doors you may have found it difficult to maintain due to build up of residue or you may have problems with the doors staying on track. Whirlpool tubs with decking that were very popular in the 1980s may also be at the end of their fixture life. Cabinetry in bathrooms also wears out due to the constant exposure to moisture. Replacing a shower, tub and cabinets requires remodeling.
New products such as shower wall panels are attractive, durable, easy to maintain. Tubs have improved, including whirlpool tubs with air jets, which reduce the problem of clogging, and free-standing soaking tubs. Toilets now come in different heights for comfort and have options such as dual flush buttons to conserve water and gentle close seats. Touchless faucets operated by sensors help conserve water. Bathroom lighting fixtures have changed dramatically and there are now a variety of bulb options.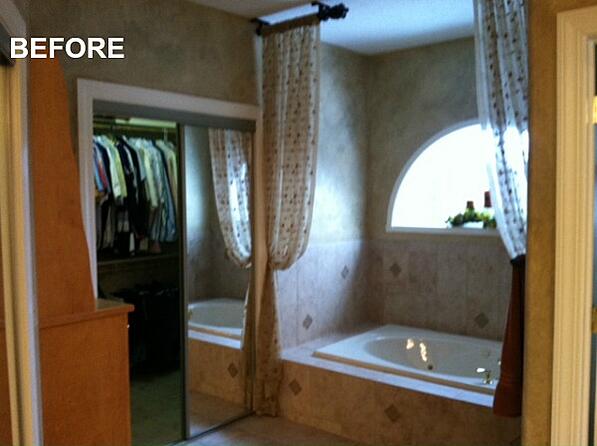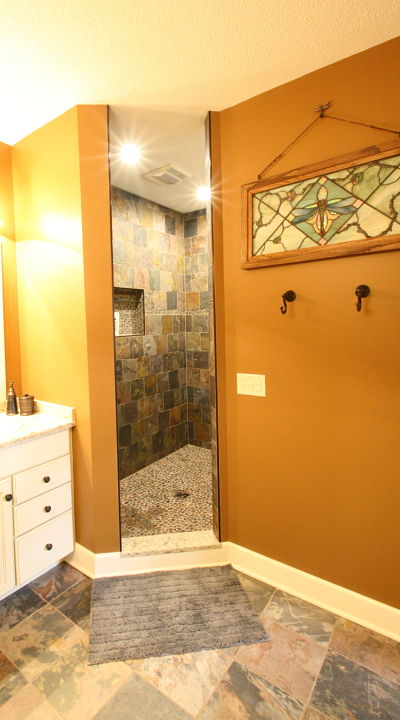 AFTER: The owners of this home wanted a functional and stylish master bath that was easy to maintain and suited to their lifestyle. They seldom used a whirlpool tub that was collecting dust in the room. The old configuration, which included a small shower with sliding glass doors placed near a commode in an enclosed area, didn't meet their needs.
2. Adapt to lifestyle changes.
Generational issues should be considered when remodeling a bathroom. Universal Design features benefit both young families and empty nesters and everyone in between.
A busy family with growing children may need a Jack-and-Jill bathroom for the kids, a walk-in shower with a handheld showerhead and safety features such as low threshold or grab bars in the shower.
Accessibility, comfort and safety are also important to older adults who want to remain in their homes for as long as possible. Consider "Universal Design" when planning your bathroom remodeling project.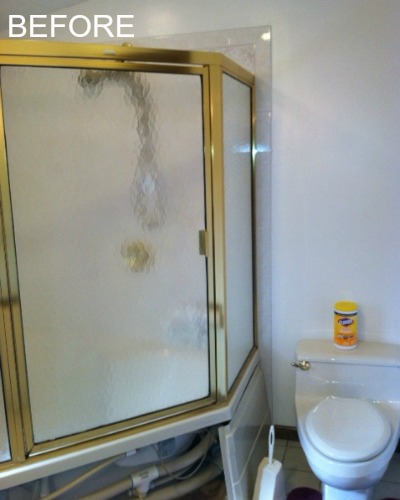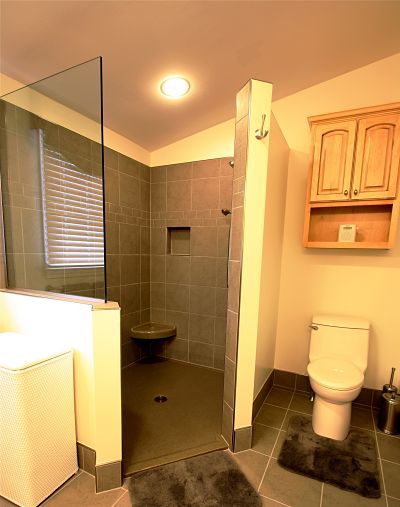 AFTER: Universal Design elements were used throughout this project for function, safety and comfort. Among them are a comfort height toilet, low threshold entryway in the shower, a handheld shower, a shower seat, lever handle faucets in the shower and vanity, rocker light switches, base cabinets with toe-kicks, a grab bar in the shower, improved lighting and slip-resistant tile flooring
3. Add features for comfort and enjoyment.
Bathrooms are personal retreats and there are many products that add comfort or create a spa-like environment. Consider some of the following amenities for your bathroom:
A private toilet area
Dual sinks or vanities
Comfort height toilets
Heated flooring
Multiple showerheads or wall jets
A shower seat
A soaking tub
Touchless faucets and toilets
A heat lamp
Remote control shower and tub controls
Media equipment
A dressing room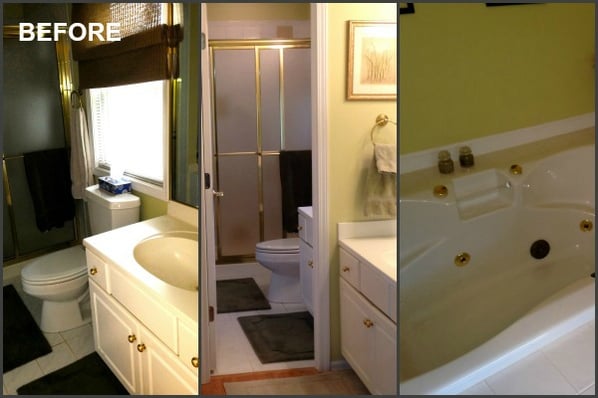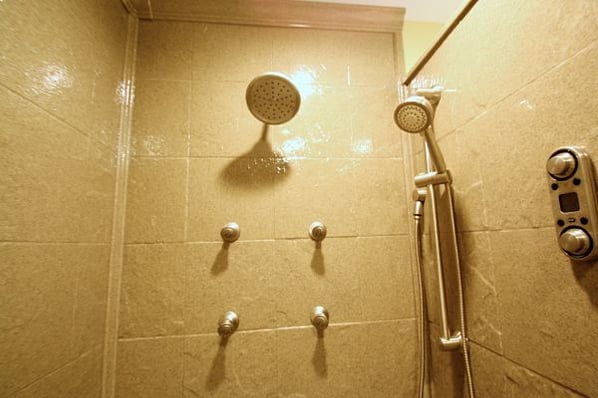 AFTER: Amenities in this master bathroom remodel include a doorless walk-in shower with spa features that can be turned on by a remote control unit. In the original bathroom the toilet was located under a window, a second vanity was located in a dressing area outside the bathroom and a large whirlpool tub was rarely used.
4. Create a personal space that reflects your lifestyle.
If your bathroom doesn't function for you, change it. Many people prefer a shower to an oversized tub or find that dual sinks take up space needed for storage.
The aesthetics in our homes are also important, especially in areas that are often used. This is true not only for a master bath but also bathrooms used by other family members and guests.
Your choice of tile, glass shower enclosures, shower fixtures, cabinetry, counter surfaces, sinks and light fixtures allows you to design a space that reflects your unique lifestyle and tastes.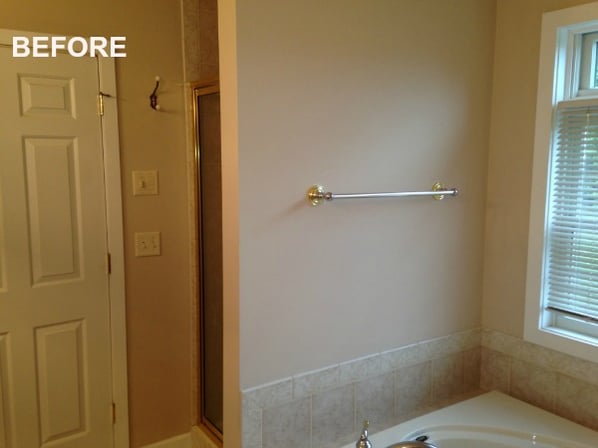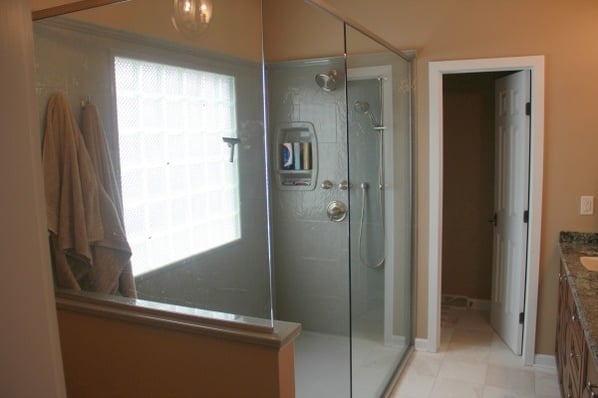 AFTER: This stunning and practical master bathroom remodel features a doorless walk-in shower, diamond pattern glass block privacy window and heated floor. The original bathroom included a small shower, an entry door that opened against the shower, a large seldom-used whirlpool tub with a deck and a glass window.
5. Create a larger bathroom or master en suite.
Generally bathrooms are small spaces. The average size of a bathroom in many older homes with a combination tub/shower unit is about 5-by-8 feet (40 square feet). This may not be enough space if you want to add a walk-in shower, a dual vanity or a free-standing soaking tub to the room. In newer construction the average bathroom size is much larger, approximately 8-by-10 feet (80 square feet).
Many homeowners tell us that a master en suite is important to them for relaxation, comfort and privacy. An en suite refers to a bedroom with an adjoining bathroom. Space for a larger bathroom or master en suite can usually be attained by reconfiguring an existing interior floor plan or by building an addition to your home.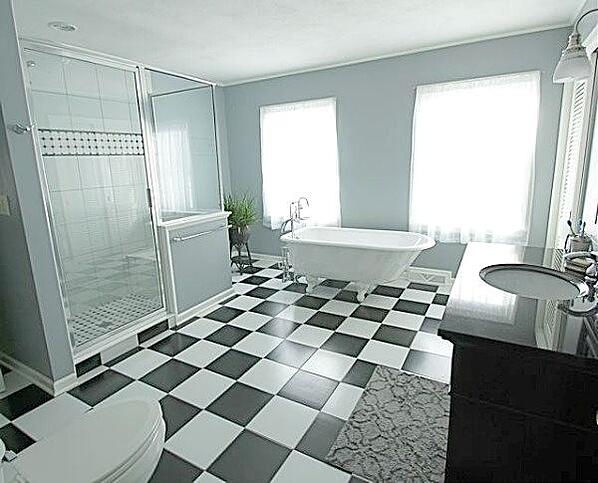 The layout of this bathroom in an older home was completely changed and new fixtures were installed. The original bathroom was completely demolished, including the wall framing and ceiling. A wall between the bathroom and storage closet was also removed. Expanding the master bath into an adjacent closet space and hallway increased the square footage from 56 square feet to 255 square feet (15-by-17 feet). The ceiling height was raised to eight feet.