The decision to build an addition onto a home is often based on intrinsic value. Most people who decide to build a home addition love their house and where they live. It's worth the time and investment to expand their living space to satisfy their needs.
When we meet with Central New York homeowners to discuss building a home addition, we ask them about their objectives and always want to hear their ideas. We encourage them to prepare a wish list for the initial consultation and to set priorities to help us plan their project.
Here are the top five reasons Central New Yorkers build a home addition:
1. Expand Kitchen Space
A kitchen update is one of the most popular remodeling projects because a kitchen is the most used room in any home.
In older homes, kitchens were generally designed for women who did most of the cooking and were small efficient spaces. Family meals were often served in an adjacent dining room. This is no longer the case.
Modern appliances, new technology and casual lifestyles have changed the function of a kitchen. A kitchen is now a gathering place for a family or a center for entertaining. In many homes there is more than one cook, especially since the "foodie craze" has changed the way people prepare meals and expanded our interest in cooking and our pallets.
When a kitchen cannot be expanded by reconfiguring the home's existing space to accommodate the needs of the homeowners, it's time to expand. A kitchen addition is often the best solution.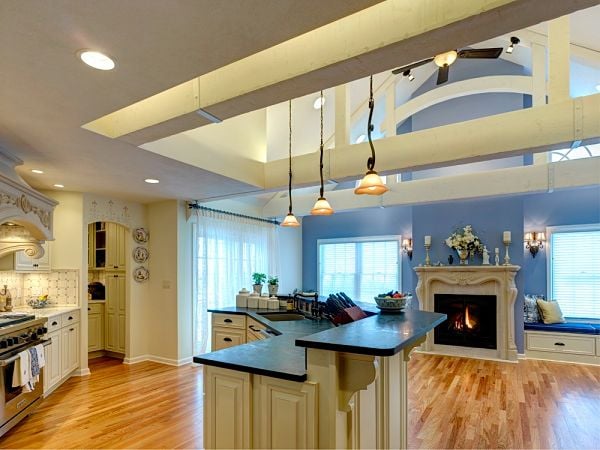 Buttresses and beams were used for this second story main level kitchen addition and great room that opens onto a raised deck. On the exterior, the roofline blends seamlessly into the home.
2. Add a Master Suite
A master bedroom and bath addition is a popular remodeling project for personal comfort and enjoyment. Bathroom amenities such as a walk-in shower, a heated floor and spa features are often on wish lists.
More Baby Boomers are adding a master suite to their homes once "the kids" have left. Some consider a first floor master suite that is private and easily accessible. Others may want to expand a second level of the home where the suite would be near other bedrooms in the house.
A master suite addition is often high on the home improvement wish list of Baby Boomers. This second story master bedroom addition provides a quiet retreat.
3. Create More Space for an Expanding Household
If you have a growing family or a multi-generational household, you may find that you need more space in your home and larger rooms and more storage to accommodate everyone.
Family room additions are often designed as multipurpose rooms to provide occupants of a home a place to relax and spend time together.
Homeowners are also adding entryway and mudroom additions with built-in cubbies and closets for outdoor clothing and personal gear to increase the storage space for family members.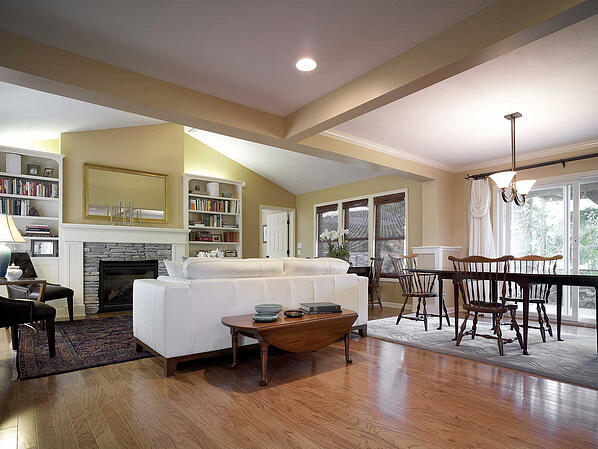 Family room additions are often designed as multi-purpose rooms with space for entertaining, media equipment and relaxing.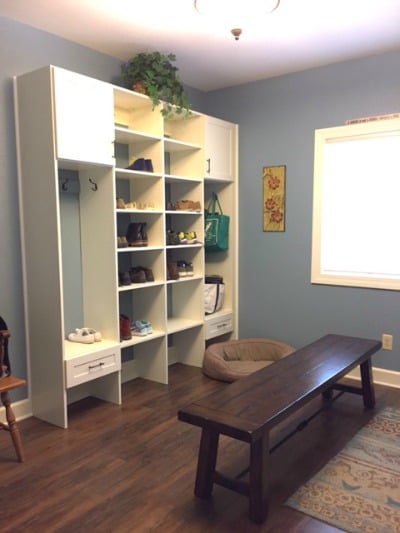 This mudroom addition provides organized storage for personal items.
4. Add Space for Entertaining
Lifestyle is an important factor in home design. If you enjoy entertaining, a place where people can gather in your home may be a priority for you.
Home additions can be configured to accommodate media equipment, game equipment, an area for dining or to display special collections.
Take some time to determine activity areas, seating and the type furnishings you plan to use in the room in your building plans.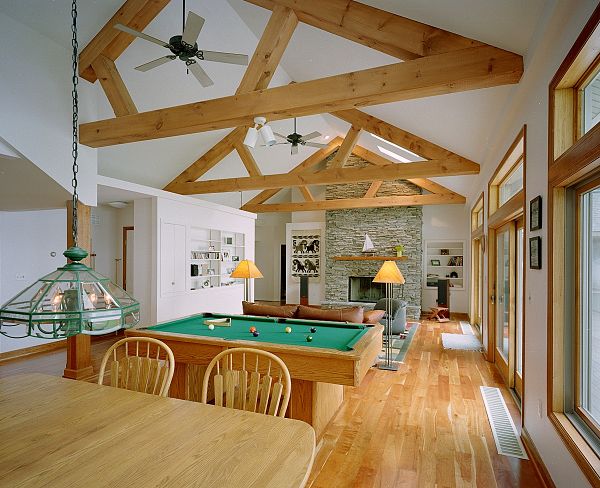 This multi-purpose addition to a summer home is ideal for entertaining family and friends. There is a fireplace, sound system, a pool table, display shelving, an area for casual dining and a great view of the outdoors.
5. Add a Sunroom or Deck Addition
In our climate, we have six cold weather months. A three-season sunroom addition can help extend the summer season and provide a bright retreat for relaxing or entertaining.
If your home needs more space, a year-round sunroom addition can be the perfect solution.
A deck addition can help to make the other six months more enjoyable.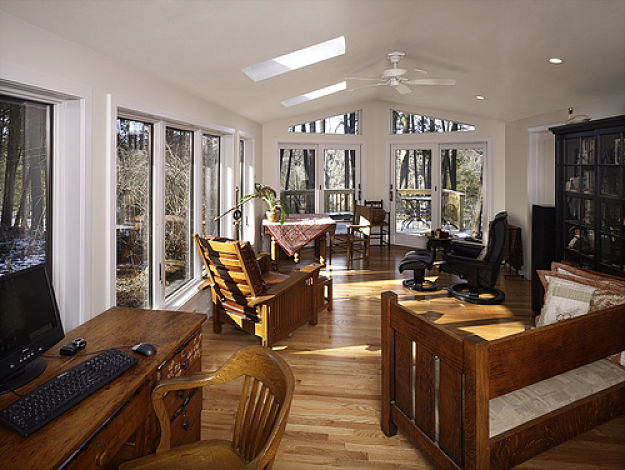 This year-round sunroom addition is unique in that it features many different angles. Natural light floods the room through all of the windows and doors, including the skylights in the cathedral ceiling. The end wall is angled out and includes two trapezoid windows above.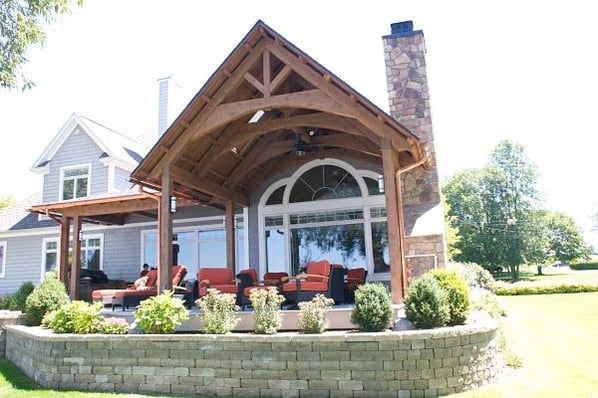 A covered deck addition built onto a lake cottage provides an outdoor living space with a kitchen, a fireplace, dining areas, group seating and a spectacular lake view. The steps, pillars and retaining wall were designed to complement the addition.