If you missed some of our home remodeling articles during the year, now is your chance to catch up.
Here are the top five most read articles for 2016:
Our picks for this year's best kitchen design trends were based on two factors: 1) what we were seeing across the home remodeling industry; and 2) what Central New York homeowners were asking for in their kitchen remodeling projects.
In this article we discuss our top six selections for 2016 kitchen design trends:
Transitional-style Cabinetry
Quartz Counter Surfaces
The New Laminate Counter Surfaces
Pullout Pantry Storage
Luxury Vinyl Flooring
Universal Design Features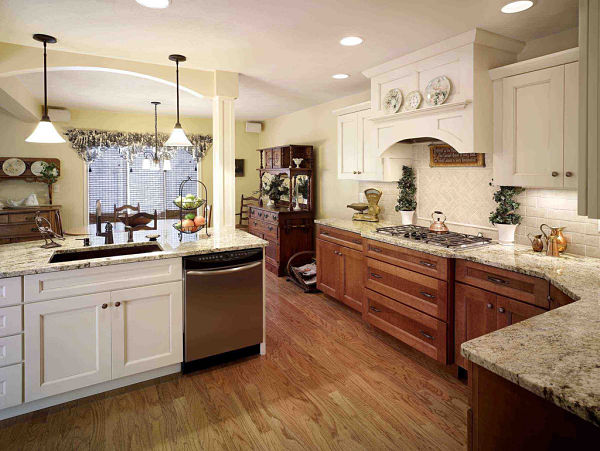 The look of Shaker-style cabinets is an enduring trend. Painted cabinets were combined with wood stained cabinets to create a classic look in this kitchen.
Slips and falls are the leading cause of injuries at home and often occur in a bathroom.
While no floor or shower base is "slip-proof," floors and shower bases with texture can be "slip-resistant."
There are many slip-resistant products available for floors and shower interiors in a variety of textures, colors and surfaces including luxury vinyl flooring, solid surface bases and tile.
In this article, we discuss three options for slip-resistant bathroom flooring and three options for slip-resistant shower bases:
Slip-resistant Bathroom Flooring Options
Luxury Vinyl Flooring
Ceramic or Porcelain Tile Flooring
Mosaic Tile Flooring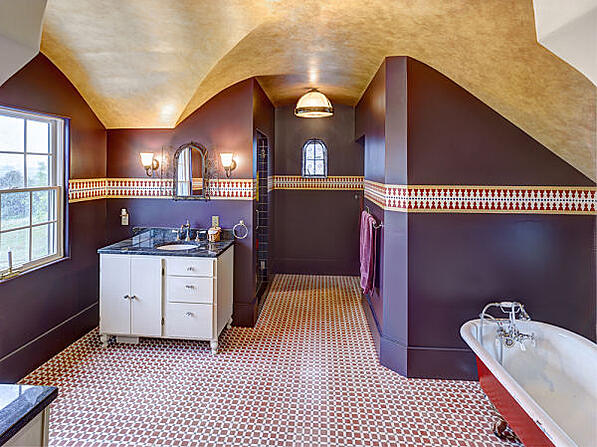 The master bathroom in this home has a colorful mosaic tile floor and wall border, a claw-foot tub painted red on the exterior, black granite vanity surfaces, a custom portal window, and a doorless walk-in shower with dramatic purple tile.
Slip-resistant Shower Base Options
Custom Tile Shower Bases
Custom Fabricated Shower Bases
Standard Manufactured Shower Bases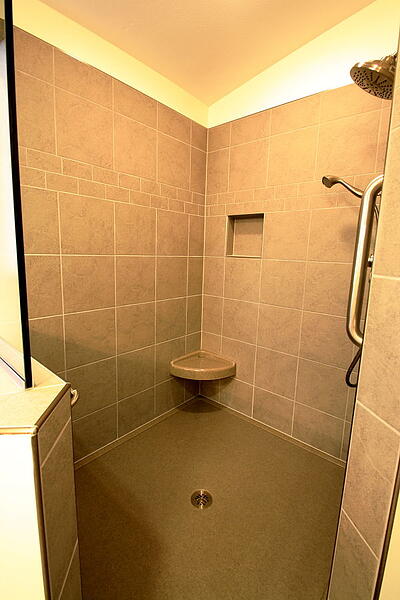 This doorless walk-in shower features a custom solid surface Onyx shower base, which was fabricated to fit the available space.
Bathroom design trends are influenced by the introduction of new products and features and the changing preferences of homeowners and professional designers.
In this article we talk about our top ten selections for best bathroom design trends in 2016:
Walk-in Showers with Upgrades
Strategic Storage
Universal Design Features (check out our Homeowner's Guide)
Water Saving Fixtures
Multiple Showerheads
Tile in Neutral Colors
Undermount Sinks
Integrated Tubs and Showers
Privacy Walls
A Walk-in Closet Off a Master Bathroom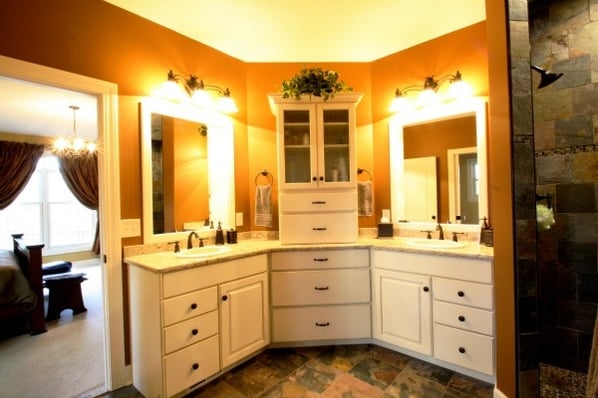 A custom storage tower and a base cabinet with drawers expand the storage area of a double vanity in this master bathroom. Note the custom doorless walk-in shower to the right.
Our second most popular home remodeling article for 2016 is one that we wrote to help homeowners know what to expect when meeting with a remodeler. After all, it's not every day that a homeowner decides to remodel a kitchen or bathroom or build an addition.
This article helps take some of the mystery out of the remodeling process and provides several valuable resources about how to plan and start various types of remodeling projects.
The article offers four tips to help homeowners prepare for their first meeting with a remodeling contractor:
Be prepared to discuss your needs.
Share ideas and information you have collected.
Be prepared to discuss your budget.
Ask questions.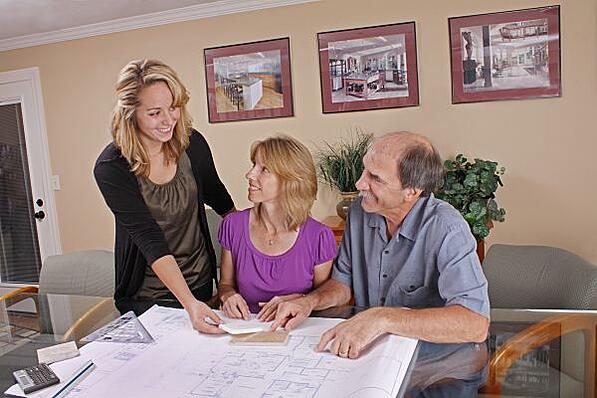 The initial meeting with clients is very important because it allows us to understand the clients' needs and expectations and it helps them get to know us and learn about our design-build remodeling process.
Our most popular article this year was about our selections for interior room colors. We have been writing about the hottest colors since 2012 and each article is a perennial favorite among our readers.
In this article we identify specific paint colors that were our top picks for the hottest interior room colors of 2016, which include:
Whites, which accentuate architectural details and unify rooms when used on walls, trims and ceilings.
Neutrals, which include off-white, gray and beige colors.
Blues, which remain ever popular.
Greens and Yellows, colors that people seem to like a lot but find somewhat difficult to select because of undertones.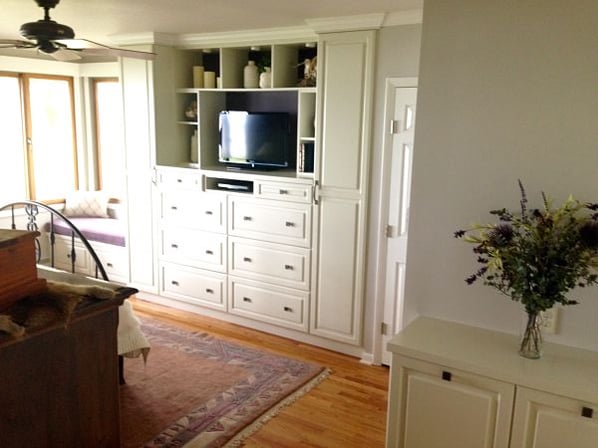 "Cloudy Gray" was used on the ceiling and "Balboa Mist" on the walls of this master bedroom. Both are neutral colors. "Simply White" was used for the doors and trims. Paint colors are Benjamin Moore.