While granite continues to be one of the most popular products for kitchen countertops, new quartz and laminate designs and a resurgence of interest in wood counters are the latest trends in counter surface products among both homeowners and kitchen and bath designers.
Today's quartz and laminate products are more durable, practical and stylish than counter surface products of the past. Sealants for wood surfaces have vastly improved, making butcher block countertops more attractive to consumers for use in kitchens and bathrooms.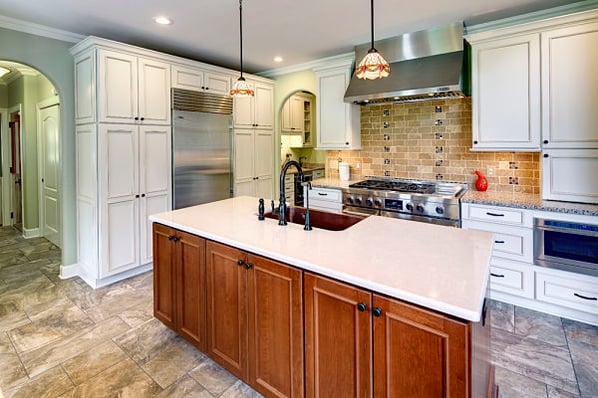 White Cambria quartz was used for this kitchen island, which includes a farmhouse style sink.
Quartz
Each manufacturer of quartz products offers unique designs, product features and even textures. Many will provide samples so that you can get an idea of how the product may look and function in your home. Every year new patterns are added.
Here are five popular quartz counter surface product lines to consider:
Wilsonart. Wilsonart offers a range of counter surface products including quartz, solid surface and laminate counters. The company features 50 quartz designs.
Caesarstone. This spring, Caesarstone will introduce two new collections in its line of quartz counter surfaces: Supernatural, which includes eight new colors for 2016, and Vivid White, a pure white surface. If you're looking for distinctive, unique countertops or vanity surfaces check out Caesarstone.
Silestone by Cosentino. Silestone has been produced for over 25 years and makes surfaces with "bacteriostatic" protection to prevent propagation of harmful bacteria. The company also offers textured surfaces in suede, volcanic and polished quartz.
Zodiaq by DuPont. DuPont is well known as the manufacturer of Corian solid surface counters. DuPont also produces a line of quartz counters, "Zodiaq", and is competing with other manufacturers by creating a line of surfaces that resemble marble and granite. Recently, 20 patterns were added to its palette of 52 patterns. Many of the colors are neutral off-whites, beiges and grays.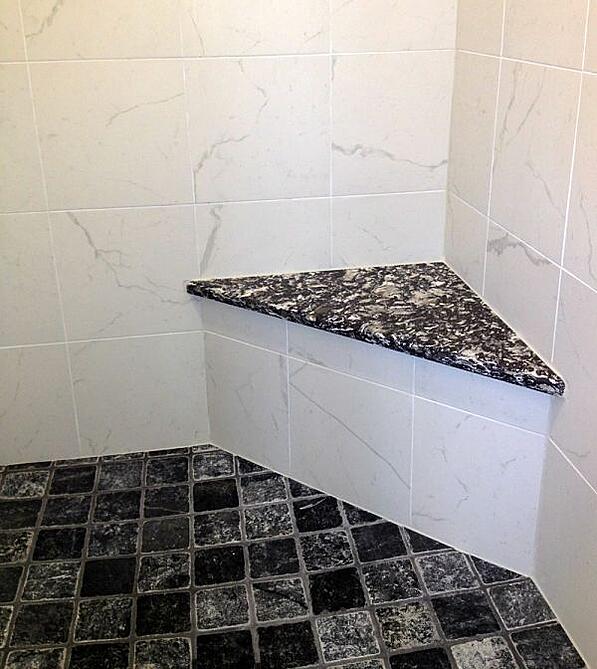 Quartz surfacing can be used for many applications. This custom-built walk-in shower features a quartz corner seat. Products for this project include: quartz shower seat (Cambria "Braemar"), marble wall tile (Dobkin Tile- Elegance: Perseo Statuario) accented by glass listello tile (Best Tile "Precious Gems"), and slip-resistant black tile floor (Dobkin Tile "Toros" Black Tumbled Marble).
Laminate
Manufacturers of laminate counter surfaces have dramatically improved their products to offer an affordable alternative to stone and quartz counters. The new designs resemble granite, marble, soapstone and slate.
Laminate counters also have new edge options that eliminate the unattractive dark cut lines. Two industry leaders, Wilsonart and Formica, have revolutionized laminate products.
Wilsonart. Wilsonart offers 525 different laminate designs. There are

41 granite-look patterns

in its high definition "HD" line, 106 patterns in its

"Premium" line

and 184 patterns in its

"Standard" line

. One of Wilsonart's latest innovations is

SOLICOR™

, a specialty laminate with a solid color core that offers an alternative to the traditional laminates with troublesome "brown lines." It is available in black, white, linen and Calcutta marble

.
Formica. Formica

continues to add exciting new patterns to its line.

Formica's 180fx Laminates

include 25 patterns that replicate the look of quartz, marble and petrified wood. The product comes in four finishes.

Formica has also engaged renowned home product designer Jonathon Adler to create a

new line of patterned laminates

that can be installed on counters and cabinetry

.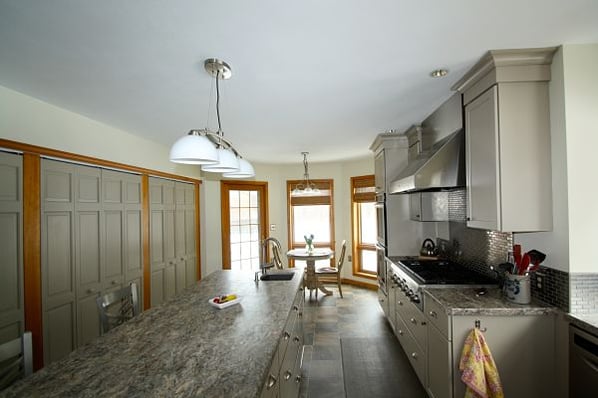 Laminate counter surfacing from Wilsonart in a granite pattern with a beveled edge was used for this kitchen remodel.
Butcher Block
There is renewed interest in wood counter surfaces. The grain of wood is attractive and adds style to a kitchen. Wood is also eco-friendly, a renewable resource and used as a "green" product in homes. Manufacturers' finishes have become more durable making wood counters easier to maintain and many products have warranties.
Butcher block counters are the most stable and can be made with hardwoods such as birch, walnut, mesquite, rosewood, maple, oak, Brazilian cherry and other imported woods to add beauty to both kitchens and baths.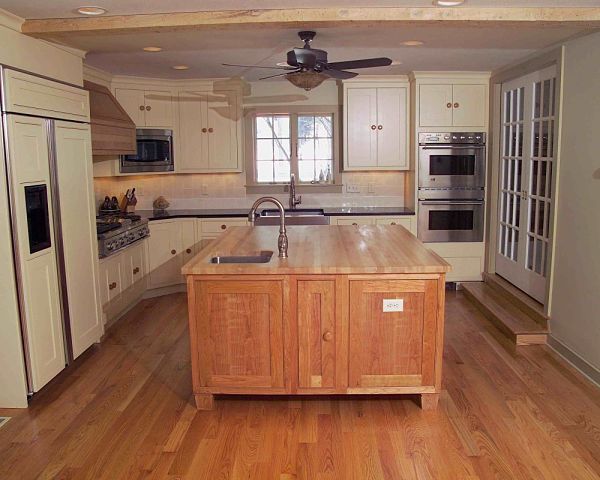 This large island with a prep sink features a butcher block countertop with a water resistant finish.