The National Kitchen and Bath Association recently announced the results of its 2016 Kitchen & Bath Design Trends Survey1. Over 450 NKBA members nationwide responded to the survey and identified the following design trends:
Transitional style will continue to be the predominate trend in both kitchen and bath design.
Gray, white and off-white will remain popular colors in kitchens as will light/dark cabinet combinations.
Simplified storage with pullouts, tilt-outs and rollouts is in demand.
Pet spaces are being requested by more homeowners when they plan a kitchen. They often ask for "feeding stations" in the design.
Accessible design (i.e., Universal Design) is a major consideration when creating plans for kitchens and baths.
Our picks for the best kitchen design trends are based on what we're seeing in the industry and what Central New York homeowners ask for when they build a new home or remodel. Here is our list of the top six kitchen design trends for 2016:
1. Transitional-style Cabinetry
Many Central New York homeowners like the look of Shaker-style cabinets. The simple clean lines complement almost any style of architecture. While white cabinets remain popular, stained finishes on wood are coming back.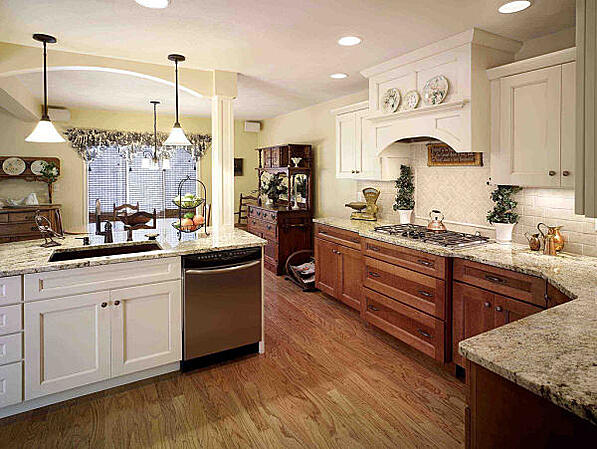 The look of Shaker-style cabinets is an enduring trend. Painted cabinets were combined with wood stained cabinets to create a classic look in this kitchen.
2. Quartz Counter Surfaces
Cambria is an industry leader among manufacturers of quartz surfaces and the company's new designs are exciting and stunning, especially in Transitional-style kitchens. Quartz is easy to maintain and less porous than granite, marble or other natural stone surfaces.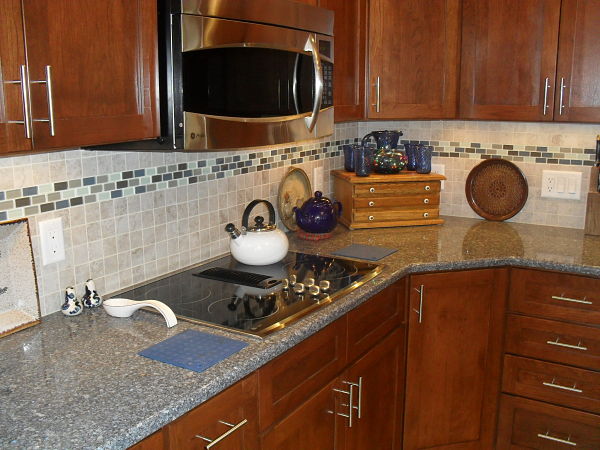 Quartz countertops connect the elements in a kitchen and the new designs can be a focal point because they have more linear definition. The gray quartz counters in this kitchen unify the backsplash, appliances, cabinets and hardware.
3. The New Laminate Counter Surfaces
Laminate counter surfacing is getting the attention of kitchen and bath designers because of the quality of products that manufacturers now offer. New colors, patterns, finishes and edge options for laminate countertop products have increased its popularity with homeowners, too. The "lines" of traditional laminate countertops can be eliminated.
Laminates can be fabricated in a shop or factory to include a post-form cover or to create a 4-inch backsplash. Consumers also have more design options when it comes to edging. A square edge is the simplest and least expensive. Beveled, bullnose and ogee edges are also options. Wood or metal edges can be applied to laminate counters to create a custom look.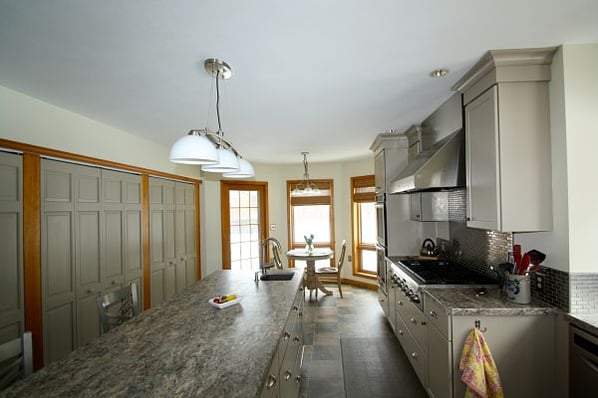 Laminate counters have the look of granite in this kitchen at a reasonable cost. Laminate patterns now resemble stone and some have textured and gloss finishes.
4. Pullout Pantry Storage
Pantries originally were free-standing cabinets or armoires. A free-standing cabinet can serve as a pantry in a kitchen with limited space or when working with a limited budget.
A closet can be turned into a pantry by adding wood, wire or pullout shelving. Pantry cabinet units with multi-layered swing-out shelves provide maximum storage.
A pantry can also be a tall floor-to-ceiling cabinet with narrow shelves placed next to a refrigerator or a narrow counter-depth pullout where you can see the contents in a glance. If you use base cabinets to store food items, add sliding shelf systems to ease access.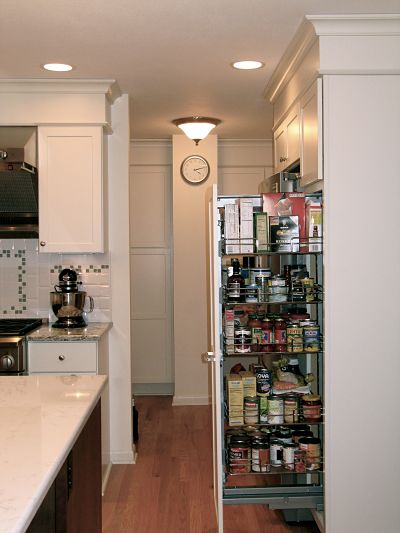 A pullout pantry was installed next to a refrigerator and the cooking area in this kitchen for storage of food supplies and easy access.
5. Luxury Vinyl Flooring
Luxury vinyl flooring is not your mother's vinyl flooring. It has the look of either wood or stone, is durable and easy to install.
The advantage of luxury vinyl tile over laminate flooring is its resistance to water, which makes it a good product for use in kitchens, baths, laundry rooms and basements. In a kitchen it is easy to clean when spills occur and it is "kind" when items are dropped.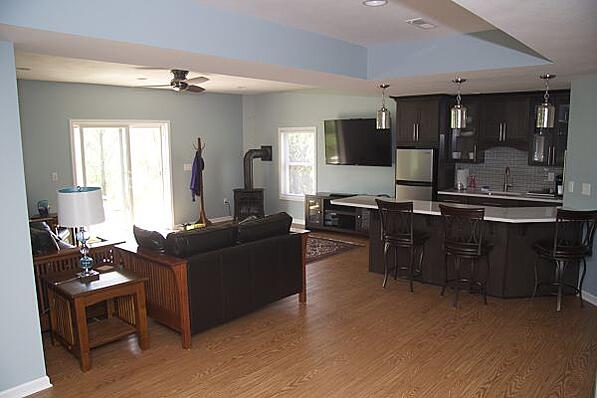 Luxury vinyl flooring has the look of plank wood flooring but is easy to install and maintain. Vinyl flooring was used in this basement remodel where wood flooring would be impractical.
6. Universal Design Features
Universal design is accessible design. Universal design features in kitchens include:
Doorways at least 36 inches wide for clearance and easy access.
Wide work aisles.
Multi-height, rounded edge countertops so household members can work either standing or sitting.
Storage with pullout shelves, carousels and adjustable height shelving.
A stovetop "pot filler" water fixture so you won't have to lift heavy water filled pots and carry them from the sink to the stove.
A garbage disposal switch in a location where it is easily accessible.
Built-in storage space for recyclables and trash.
Anti-scald faucets with lever handles.
D-shaped or pull-style cabinet and drawer pulls.
A side-by-side refrigerator.
A drawer-style dishwasher to reduce the need for bending.
Extra electrical outlets for small appliances, including under the counter for easy access.
Bright non-glare task lighting over work areas.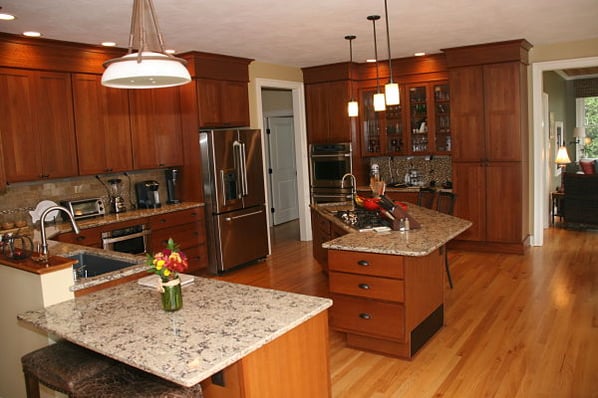 The Universal Design features in this kitchen are so subtle that you would not know that the kitchen was designed for a homeowner who enjoys cooking and uses a wheelchair. There are multi-height counters, wide aisles, toe-kicks at the base of the cabinets, accommodating appliances with accessible controls and extra outlets.
_________________________
1 Click here to access NKBA's press release announcing its 2016 Kitchen & Bath Design Trends.