The best home design trends are often concepts that can be sustained over the course of time and will preserve a home's value. At this year's Kitchen and Bath Industry Show, held in Las Vegas in late January, six kitchen design trends were spotlighted for 2015. These design trends, which can be used in almost any kitchen, are similar to what we're seeing here in Central New York. Here are our views on the best kitchen design trends for 2015.
1.

Cabinet Colors
For several years gray and neutral colors have been predominate among kitchen designers. This year the trend of muted tones in the kitchen will continue with strong saturated accent colors to create interest and a focal point. Cabinet makers such as Bishop Cabinets offer finishes in muted colors ranging from glazes over natural wood to white, beige, putty, taupe, gray and other colors.
Bright accent cabinets are also offered in cabinet lines. Parapan is a high gloss acrylic product that is being used for cabinets. Parapan cabinets and trims are available in many bright saturated colors. Black is also being used as an accent color. Other popular kitchen accent colors this year are green, blue and red.
If the cabinets in your kitchen are in good shape, accent colors and muted tone finishes can be added to cabinets by painting the exterior, interiors and trims for an updated look.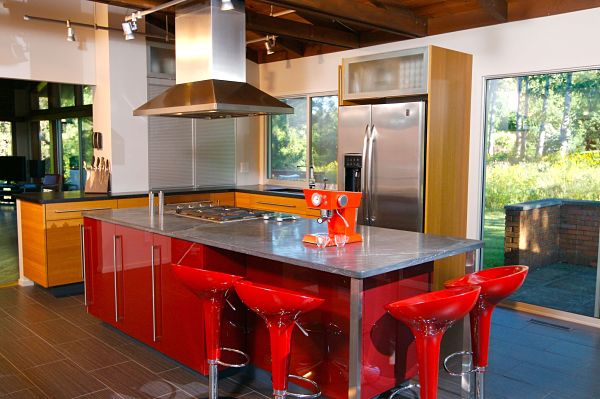 This award-winning kitchen features a bright red island with jet black granite surface. Cabinetry includes an aluminum tambour garage with exotic wood grain perimeter cabinets. The cable railing system, stainless steel exhaust hood and unique cabinetry give this kitchen an updated, contemporary feel. Plank porcelain tile was used for the flooring.
2.

Laminate Cabinets and Countertops
Laminate cabinets are in vogue again. In 2014 we noted the growing popularity of contemporary design in kitchens and slab door Euro-style cabinets. Many of these cabinets on the market are laminate. Laminate is easy to clean and durable. Manufacturers have greatly improved the laminate products and are now offering wood grain, color, metallic and concrete-look finishes. Thermafoil or "foil" is a type of laminate that is molded onto medium density fiberboard (mdf). When selecting laminate cabinets, it's important to read manufacturer's information regarding installation and care and to note warranties.
Laminate counter surfaces have also improved. Laminate manufacturers, like industry leaders Wilsonart and Formica, offer patterns that look like granite, quartz, marble, soapstone, limestone and slate. Some patterns have high gloss finishes and others are textured. Edge options make laminate more attractive and eliminate the brown edge lines associated with the product. Some laminate surfaces are now scratch resistant and maintain the sheen over time. The downside is that because laminate is plastic it is not heat resistant.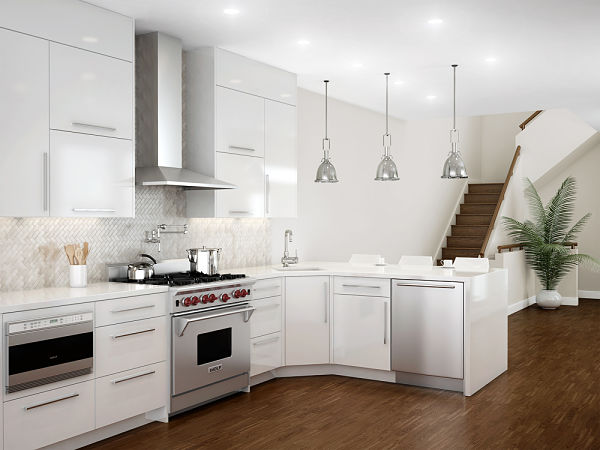 High gloss white foil and brushed stainless appliances and fixtures combine for a stunningly clean, modern look. Photo courtesy of Bishop Cabinets.
3. Cabinets With Clean Simple Lines
The shift from traditional style cabinetry to slab and Shaker-style cabinets continues to grow. The sleek uncluttered look of contemporary design is trending while transitional design, which combines contemporary and traditional elements, remains the most popular choice for kitchen styles among consumers.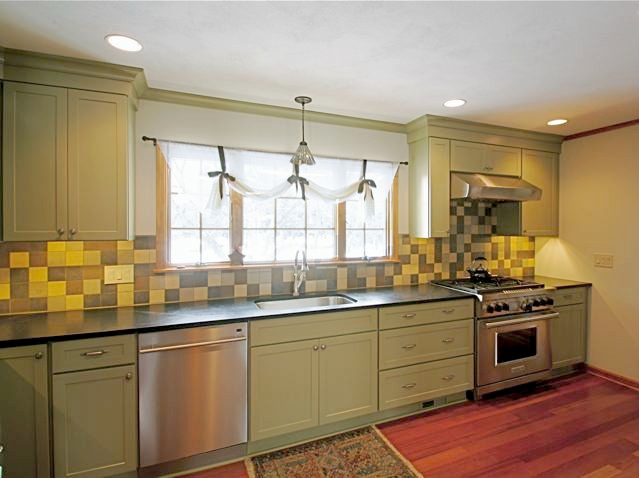 Shaker-style cabinets with a mint green painted finish were use in this transitional kitchen remodel. A Dobkin ceramic tile backsplash with four different tiles that complement the appliances, flooring, cabinets and counters brings color and interest to the space. Crown molding on the front wall gives the room an illusion of height and adds style to the cabinetry.
4. Optimized Storage Space
Today's lifestyles demand efficient kitchen storage. Whether you are planning a kitchen update or building a new home, storage is a major consideration. In older homes, closets adjacent to a kitchen are being converted for pantry storage while in more extensive remodeling projects a pantry is added when the configuration is determined.
Storage is not limited to pantries. Drawer inserts, carousels, pullouts, pullout shelving, door storage, open shelves and the use of narrow cabinets to optimize every inch of storage space should be considered in the plans.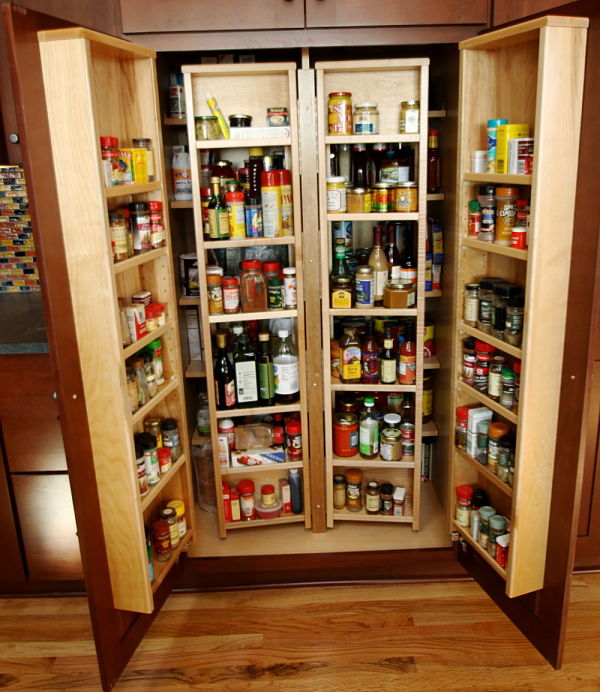 A chef's pantry helps organize supplies and keeps them at the cook's fingertips.
5. Use of LED Lighting
Light emitting diodes, LED lights, are ideal for kitchens. They are cool to touch, save on energy and have a life of about 20 years. There are now more options for LEDs including pendant lights and chandeliers, recessed light fixtures, under cabinet lights, lights for work areas, lights for appliances and decorative lighting.
6. Built-in Appliances
Built-in appliances that blend seamlessly with cabinetry add style to a kitchen. Refrigerators that stand alone can detract from the continuity of the design. Microwave ovens are an essential appliance and should not occupy counter space that can be used for food prep and cleanup.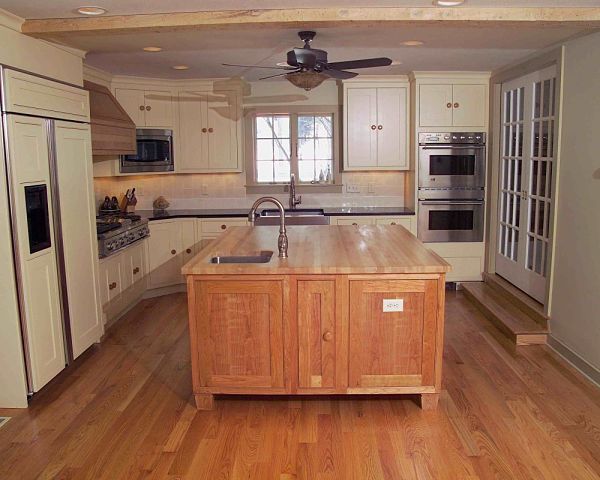 A refrigerator, cooktop, wall ovens and a microwave oven were built in with cabinets in this kitchen addition. Panels matching the cabinetry blend the refrigerator seamlessly into the design.