Dining rooms are often underutilized spaces. Many homes, especially those built 30 or more years ago, have a floor plan that separates the kitchen from the dining room. Capes, colonials, split-levels and even ranch style homes were built in this manner.
With today's busy and more casual lifestyles more homeowners are unifying kitchen and dining room spaces when they undertake a kitchen remodeling project or build a new home.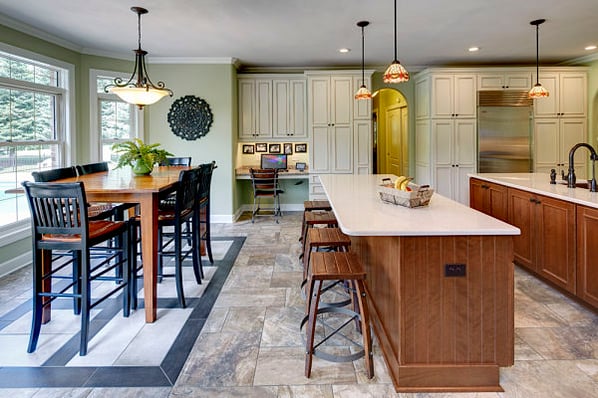 This kitchen was completely remodeled to include both an informal area for dining on an island and a space for a formal dining table. When the homeowners entertain there is ample seating for 10 or more people.
If you're considering renovating or remodeling a kitchen, or building a new home or home addition, here are some inspirational ideas for dining room spaces:
1. Removing a Wall
An interior wall may need to be removed to unify a kitchen with a dining room. It's important to determine if the wall separating the rooms is "load-bearing," i.e., a wall that supports the structure of the home.
Interior load-bearing walls generally run parallel with the front entrance of a home. However, this is not always the case. There may be a perpendicular wall that supports a second story load.
In some cases a contractor won't be able to determine if a wall is load-bearing until the sheetrock is removed from the ceiling to reveal floor joist and framing construction.
If the wall is load-bearing, the contractor will reinforce the structural support to open up the space. If it is not load-bearing, the wall can be removed without compromising the structure of the home.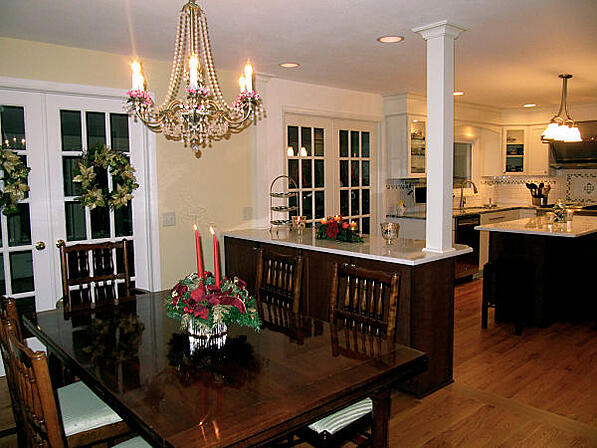 A wall between this kitchen and dining room was load-bearing. We reinforced the opening but the homeowner wanted to define the two spaces with a decorative column and peninsula. New hardwood flooring was installed through the first floor of this home. Threshold boards were laid to be decorative, again to define the spaces. A peninsula was added to provide storage for items used in the formal dining room and additional counter seating in the kitchen.
2. Widening an Entryway or Cutting an Opening into a Wall
Another way to unify kitchen and dining room spaces is to widen an entryway or cut an opening into a wall. This option will change the visual appearance of the space, the way it is used and can bring more natural light into an otherwise dark kitchen.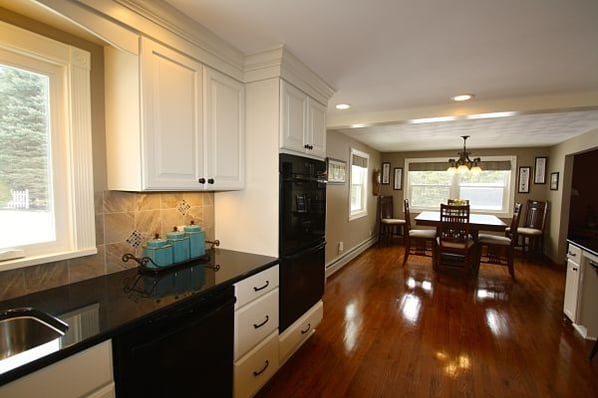 An entryway between a kitchen and dining room was widened in this home to unify the two spaces. Widening the opening changed the traffic pattern and lighting. The large picture window in the dining room also brings more natural light into the kitchen.
3. Creating an Open Floor Plan
Many people like to combine separated rooms when they remodel a home for daily use and entertaining. An open concept floor plan integrates cooking, dining and living room areas. In a small home, opening up these rooms creates more functional space.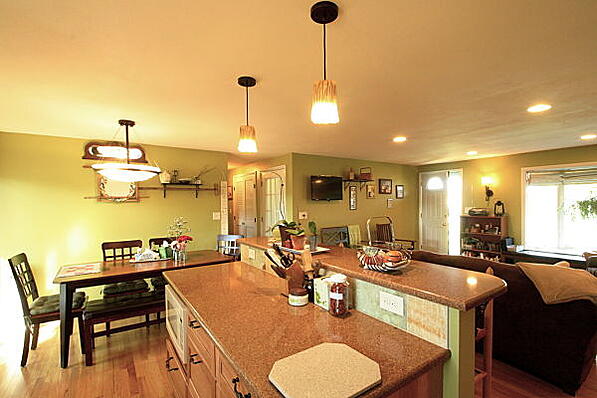 An open floor plan seamlessly integrates the kitchen, dining and living rooms to create the appearance of more space in this ranch-style home. A tiered island provides space for food prep, cooking, storage and entertaining.
4. Building a Home Addition
If a kitchen is too small or a floor plan requires expansion, a home addition may provide the best solution for adding the space needed.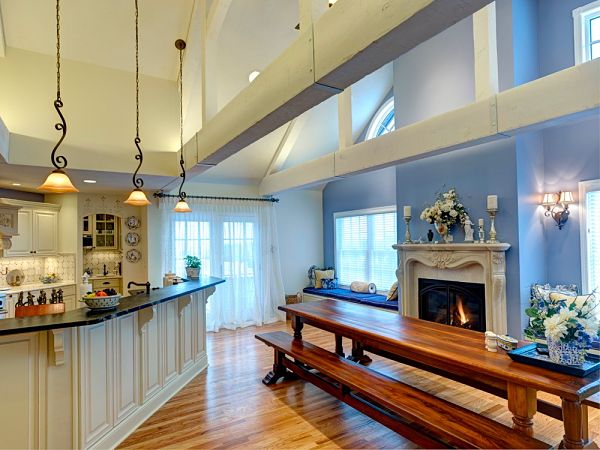 The owners of this home decided to build the kitchen of their dreams by constructing an addition that would provide ample room for informal dining and entertaining and open out onto a deck that overlooks a stunning valley view. The intricate architecture of the addition included hand-hewn beams that make a design statement, large windows and glass doors and a central island. Special items were ordered for the project including a cast stone fireplace and range hood, and custom hand-painted tile.
5. Building a New Home
Open floor plans are one of the hottest and sustained trends in new homes.
If you've attended the CNY Parade of Homes in recent years, you may have noticed the seamless integration of kitchen, dining and living rooms spaces. Most of us enjoy multifunctional living spaces that are comfortable and allow us to relax with family and friends.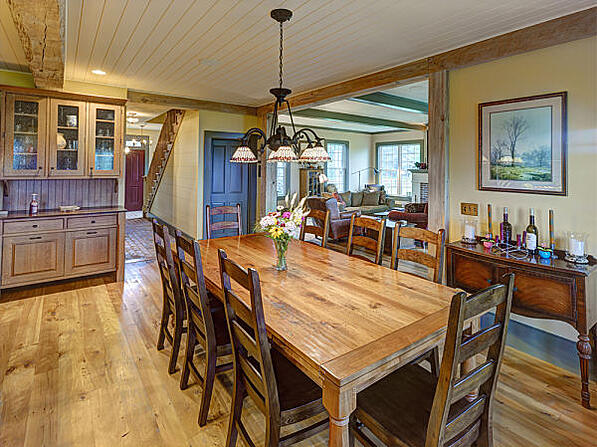 We built this one-and-a-half story home for a couple who are world travelers and love returning to their working Central New York farm. The open floor plan features a kitchen with island seating and an adjacent dining area with a table that seats eight people.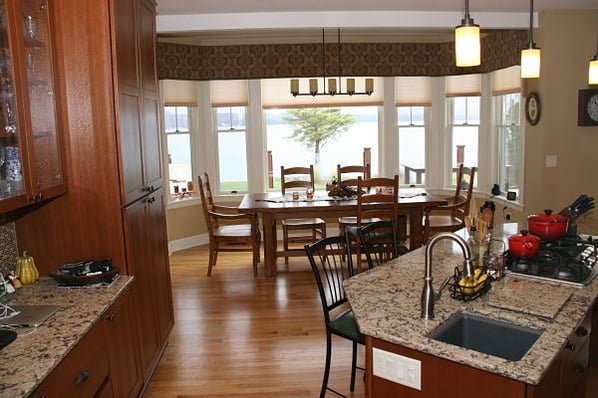 This lakefront home was built with universal design features including wide entryways and aisles and an open floor plan. The dining room is open to the kitchen and overlooks a fabulous lake view.