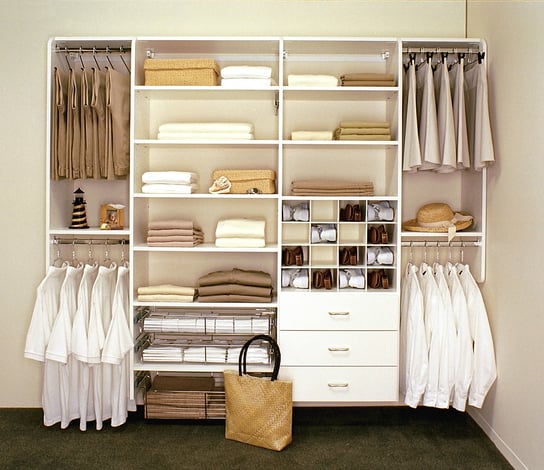 Before we know it, summer will be fading into fall and a new season will be upon us. You may be looking around your home wondering what happened to the spring cleaning you did. It wasn't that long ago, right? If you're feeling a little cluttered, there are plenty of storage options you can apply to each room of your home, so you can turn over a new leaf as we enter the cooler months of Fall and Winter. Just in time—since you'll likely be spending more time inside of your home than out as the temperature drops. If you're ready to reorganize and declutter, check out our home storage ideas below.
Entry Way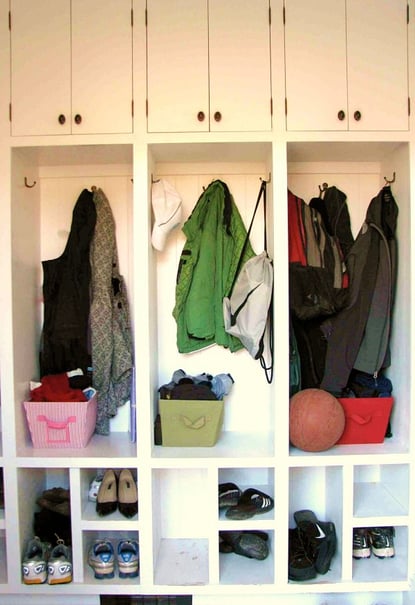 The entry way of your home receives the most traffic, and it's also the first area people see as they come into your home. With all the comings and goings, it's easy for this area to become cluttered with shoes, coats, and all the outdoor extras that need to be removed upon entering the home. This is especially true during winter time in Central New York, where cold weather gear like hats, gloves, and scarves become necessities.
A good organization system will keep the clutter at bay, and create a good first impression for any guests entering your home. Most entry ways aren't very large areas, so built-in storage and making use of your wall space is key. A bench with built-in storage serves a dual purpose: it creates a welcoming place for guests and members of the house to sit and remove their shoes, and space underneath provides a place for these shoes to live when they're not in use. A bench can also be designed to have a top that lifts, providing ample space for seasonal items like hats and gloves to be stored when not in use.
If you have the space, consider having built in cubbies and lockers installed, so each member of the family can have a designated space to place their shoes and coats. If you're lacking space, a simple coat rack can do the trick, but don't let the space above it go to waste! This can be a perfect spot to install a shelf. Baskets placed on the shelf can hold smaller items like keys and sunglasses, or provide a specific place to hold the mail so nothing gets misplaced. If you have a closet near your entry way, consider having the door removed and turning it into a storage nook with a built-in bench, hooks, and shelving. No matter your entry way situation, there's a storage solution to be had.
Kitchen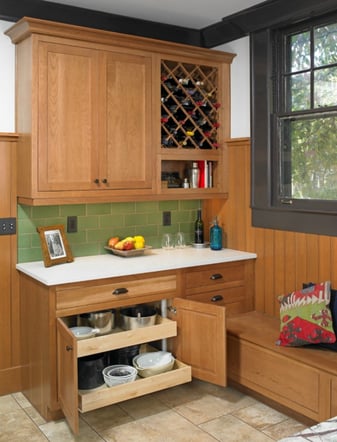 A well-organized kitchen can make for a far more pleasant cooking and dining experience. All the appliances and accessories that make up a kitchen can make for a lot of clutter, so it's important that each item has a designated space. No one likes having to dig around for that one spice they need in the middle of cooking a meal, or not being able to find the spatula for serving the cake right when everyone is eagerly awaiting dessert.
If you're willing to do a complete cabinet overhaul, you may want to think about adding open shelving that will allow you to see your cookware or dishware so you can find exactly what you're looking for. Open shelving will also allow give your kitchen a more spacious and airy feel, and allow you to show off your beautiful glassware. However, if you'd prefer more traditional cabinets or don't want to replace the ones you already have, there's plenty you can do to make more storage space.
Consider adding carousels inside of cabinets to make items more easily accessible, or revamp a drawer so it has built in cooking utensil storage if you want more counter space. Pullout drawers inside of cabinets can make pots and pans easy to grab so there won't be anymore any more clinking and clanging while digging out your favorite cast iron pan. Drawers as well as pantries can be personalized in many ways to suit your storage needs, so you can find everything you're looking for and retrieve it with ease.
If you have the floor space, consider adding a kitchen island. Along with giving you more food prep space, an island can be designed with drawers, cabinets, and shelving for additional storage space. It can be perfect for keeping the items you don't use as often, or you can have it designed to accommodate appliances like a microwave. Even if you don't plan on using the extra surface for food prep, an island can make a nice focal point for people to gather around in the kitchen to share a glass of wine and recap the day's events.
Bathroom
A messy bathroom can make your morning routine far more stressful than it needs to be, and make getting ready for bed a hassle. Keeping everything in its place and easy to find is a necessity, especially if multiple members of your household use the same bathroom. Unless you have a master bath, bathrooms can be on the smaller side, so clever storage techniques and finding space in unexpected places will allow you to maintain a sustainable organization system.
Whether you have a big or small space, built in storage can come to the rescue if you're trying to streamline your bathroom. Even small slivers of space, like the wall space in between your sinks if you have a master bath, or the empty wall at the end of your tub can serve as a blank canvas for cabinets or shelving. If you want to save even more room, you can have shelving units built into the wall, placing them in between wall studs. Consider covering your built-in shelving with a hinged full length mirror. Your guests (and household members) can admire their reflection without having to ogle all the toiletry items necessary for a well-functioning bathroom.
A bit of clever ingenuity goes a long way for small spaces. For example, if you have a free-standing sink, add a fabric sink skirt. This creates a stylish touch, but will also create another space for you to conceal things like cleaning products that you don't want left out in the open. A trusted design-build contractor can also help you get the most out of your space. If you have an irregularly shaped bathroom, having them install custom built shelving may be your best option so you can have exactly what you need for your storage needs.
Bedroom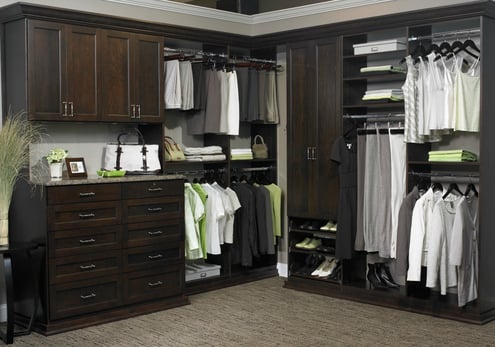 When it comes to the bedroom, your wardrobe items are likely what take up the most space. Finding a good way to store it all can be a challenge, especially if you have a partner that has a passion for clothing...or maybe you are the partner with a flair for fashion. If you can't bear the idea of paring down your shoe collection, not to worry—the bedroom is filled with areas that can be transformed into handy storage spaces.
First, you should look at your closet situation. If you've been dreaming of a walk-in closet, or you're trying to find a way to maximize the space in your reach-in closet, getting the help of a closet design professional can help you find a custom closet design that will fit your storage needs. Things like additional clothing rods, drawers, and adjustable shelving can transform your closet space into a place that will keep your clothing organized, and make it easy to pick out an outfit for the day.
Built in cabinets and shelving can also be a great addition to a bedroom for storing linens and accessories, and shouldn't be limited to areas like the kitchen. If you're a book lover, or enjoy reading before bed, built in shelving can allow you to extend your book collection from other areas of your home into the bedroom. Cabinets provide space to store extra sheets and blankets that you want out of sight, but close at hand.
Your bed can also provide storage options. Get a headboard with shelves and cubbies built in so you can forego the nightstand that takes up valuable floor space. Or get a bed frame that has drawers built in for additional clothing and bedding storage. Don't overlook your closet or bedroom door. Consider adding hooks to your closet door to hang bags or shoes, or attach a hanging hamper to the back of your bedroom door to get dirty clothes off the floor.
Living Room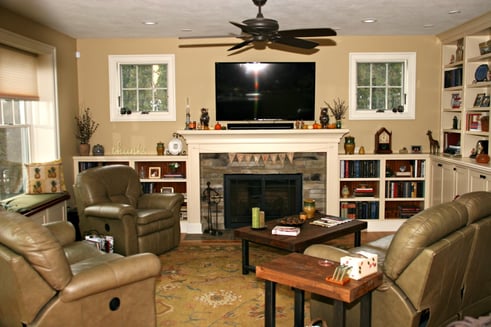 Whether you're watching TV, reading, or just catching up with family, the "living room" is a fitting name for a space where you spend a great deal of time. However, it's hard to enjoy doing any of the activities listed above if you're sitting on the couch surrounded by clutter. Getting your living space organized will not only keep the members of your household happy, it will also make your guests feel more at home.
Whether a TV or a fireplace is your main focal point, a built-in entertainment center can turn an empty wall into a multipurpose space for showing off family photos, your favorite pieces of art, or storing movies and games. Incorporating cabinets into your entertainment center can hide the ugly electrical components that come with a television or speaker system. Glass Doors can be a good option if you want to display valuable family heirlooms or antiques, but want to keep them protected and dust free.
If you're more likely to curl up with a good book than turn on the TV, built-in bookshelves will keep your collection organized without taking up floor space. If you don't want built in shelving, but are lacking in space, consider utilizing the corners of your living room—these spaces often go unnoticed but can be the perfect spot to have some open shelving installed to hold anything from collectables and photos to books and movies. Even simple additions can make a difference. Pieces of furniture like an ottoman with a lift top can provide a home for throw blankets that you won't use until the cooler months arrive, or provide a spot where you can keep that trivia game at hand but out of sight until game night rolls around again.
If you're looking for more storage ideas, or you're ready to speak with a professional to discover the best storage solutions for your home, feel free to contact us! We're here to help.