If you're considering remodeling your kitchen, chances are the existing space isn't meeting your needs or is in need of updating. A kitchen remodeling project can be a major undertaking. Where do you begin? Here are five important steps to follow to help you get started.
1. Begin With a "Wish List"
Create a kitchen project wish list. Use our A-Z Wish List Guide to help identify the items you'll want to include on your list. You may have been looking through magazines, books and online gathering ideas but it helps to identify specific items you need to achieve your remodeling objectives. Include small items on your list such cabinet hardware, LED lighting, a pullout garbage can, full-extension drawer glides, etc. The items you list will be things you may need to shop for and factor into the cost of the project. Keep the list on your computer or in a binder. You'll want to share it with your contractor to discuss your ideas.
In preparing your wish list consider the following:
What do you want to change in your kitchen? "Everything" is not a good answer. Be specific. Many people want to install new cabinets, counters, appliances and fixtures. Other needs may include a new backsplash, flooring and lighting. Extra storage is often listed by people who remodel.
Can your objectives be achieved within the existing floor plan of the kitchen or will you require modifications to the space? In some homes the layout of the current kitchen is highly efficient but in others it may make sense to add space by unifying the kitchen with an adjacent dining room or creating an addition. Note the changes, if any, that you would want to make in the present configuration because they will be important to include in a kitchen design. For inspiration, see our article "6 Great Kitchen Floor Plan Design Ideas".
What do you like and dislike most about your present kitchen? Make a note of these features to address with your contractor.
Are there appliances, cabinetry or other items you would want to salvage? Include these items on your list.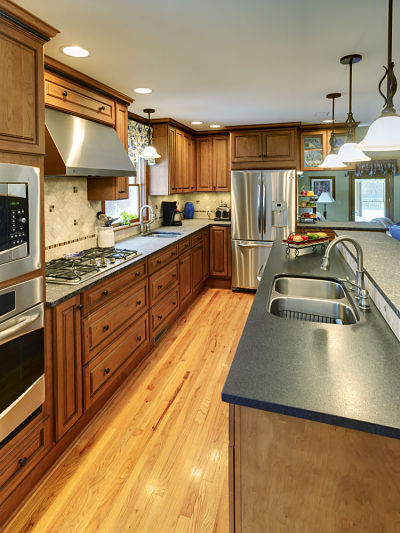 2. Assess Your Space
When planning a kitchen remodel, it's important to consider how the kitchen will meet the needs of your household. Take some time to address the following issues and make some notes. A kitchen design should be functional and take into account:
The number of people in your house and how they will use the kitchen. Are you a working couple who will need a message center and re-charge station for cell phones or computers? Will you need informal dining space or a place for the kids to do their homework? Do you have pets and need a space for bowls, leashes, a pet bed or litter box?
The needs of the primary cook. The way the primary cook works in the kitchen and whether he/she is left-handed or right-handed should be factored into the design to determine the placement of cabinets and appliances. Will there be more than one person cooking?
The items you store. In planning storage space make an inventory of the items you plan to store. Will you need deep shelving for large pots, pans or dishes? Are there that items you use every day and would want to have at hand on open shelves? How much drawer space will you require for utensils and baking supplies? Do you plan to store more or fewer items in the remodeled kitchen?
Physical attributes of users. Consider your own height and reach. It's important to have cabinets placed at a height where you can easily access contents. It's difficult to store items in base cabinets if you have to get down on your knees to retrieve them, and you may consider pullout shelves or deep storage drawers. Think about young children, too. It may help to place a counter at a lower table height for them. If there is a family member with a disability, what type of accommodations will they require?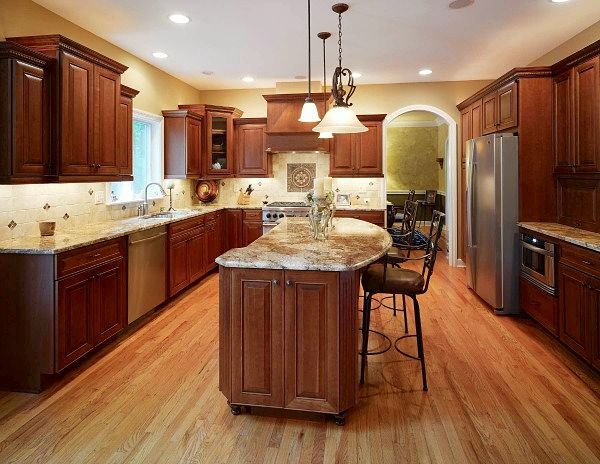 3. Determine Kitchen Work Areas

A kitchen is the "most used" room in any home. In addition to food prep, the design should address other activities you would want to use the space for such as informal dining, entertaining, beverage storage and preparation, mail and bill paying, laundry or watching television.
4. Define the Décor
Define your style. As you look at photos of kitchens, what type of kitchen appeals to you? Sleek and contemporary? Traditional with a twist? Country French? Tuscan?
Since cabinets will be the primary architectural element in the room it may help to look at cabinet styles. Here are two resources to check out: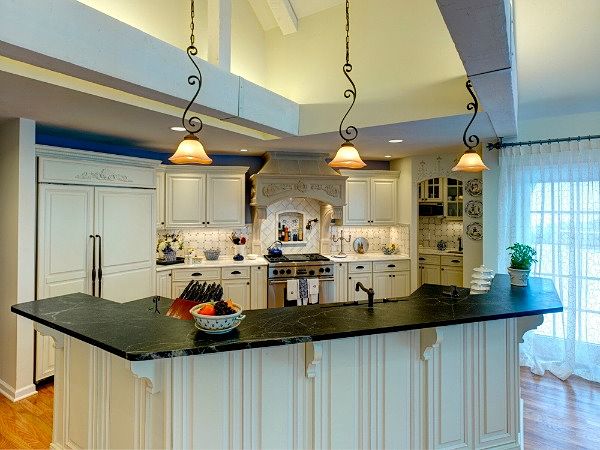 5. Research Kitchen Trends and Products
When you're starting a remodeling project it's helpful to visit kitchen showrooms and to browse online. You can learn a lot about trends by reading the kitchen design blog articles on our website. You may want to check out Houzz.com, a website that has revolutionized the residential remodeling business by showing the work of contractors and designers throughout the country and displaying products.
Pinterest, another social site for sharing photos, has also changed the way people approach home improvement projects. On Pinterest you can create your own "board" to serve as a reference for your kitchen remodel.
You can also learn more about design trends and products by attending one of our remodeling seminars.