One of the best ways to organize personal items is to custom design a closet space expressly for the things you need to store. There are two types of closets in our homes: reach-in closets and walk-in closets. Most closets come equipped with the standard rod and shelf and are often cluttered. Sometimes homeowners install ready-made storage systems only to find that they did not optimize the space for the items they need to store and still have clutter.
In creating a custom closet design take some time to make an inventory of the items you plan to store and try not to leave anything out. For example, if you are planning to store coats and rain gear in a hall closet take a count of the jackets, long coats, hats, gloves, purses, footwear, backpacks, lunch boxes, umbrellas etc. Rods, shelves, hooks and cubbies should be matched to these things.
When designing for an interior home space, it's important to consider two basic principles: "Function", the purpose the design is intended to fulfill, and "Aesthetics", design that is appealing to our senses. This is especially applicable to designing a custom closet to assure that everything has its place and the layout is visually appealing. The visual appeal makes it easier to access contents but also motivates the users to stay organized.
When planning a custom closet design, consider this list of ideas for components:
Ideas for Organizing Closets
Multiple rods. Clothes can be stored more efficiently if there are multiple rods in a closet.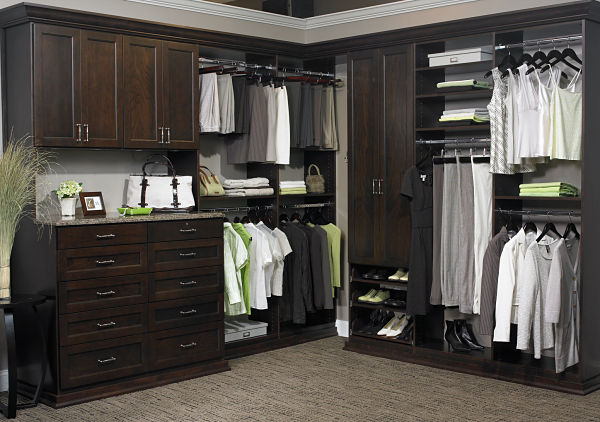 Efficient doors. Closets have four types of doors, three of which are space saving in terms of the floor space in a room - sliding, folding and pocket doors. However, a hinged door that opens into a room can provide extra storage space for small items or things you want to have at hand by adding hooks, door mounted clothes hangers, narrow shelves, tie/belt/necklace racks or pegs to the back of the door and can give more access to the entire closet.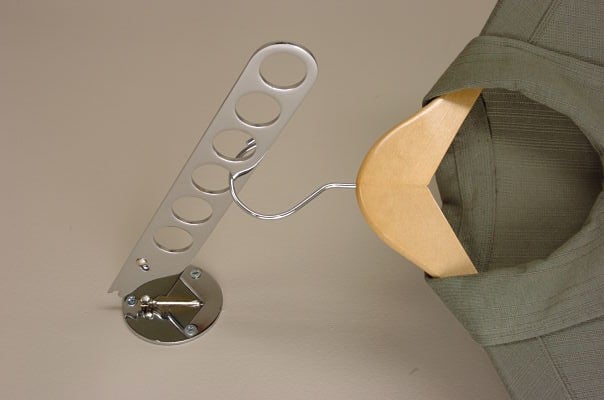 Drawers. Closet drawers are great for storing seasonal and bulky clothing items such as sweaters, knit hats and gloves and smaller things that take up space in an overloaded dresser such as socks, lingerie and under garments. Drawers with self-closing glides are a great feature.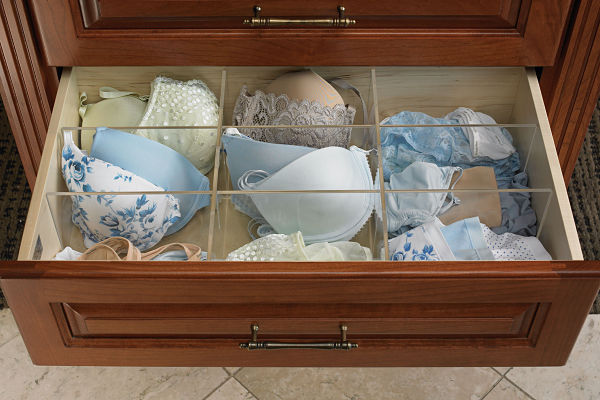 Framed adjustable shelves. Built-in storage units with adjustable shelves give you the flexibility in your closet as the items you need to store change with the seasons or over time.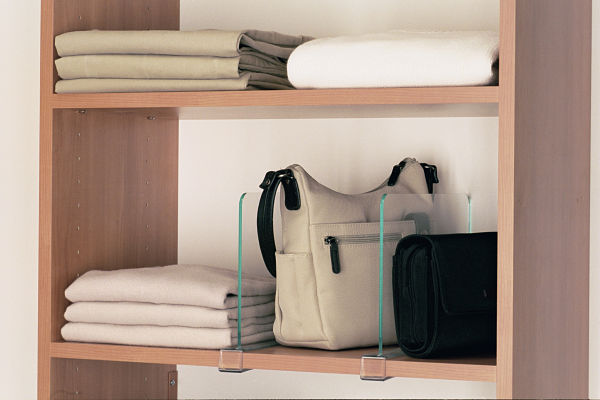 Various depths of shelves. Shelving should conform to the items you plan to store. For example, if you were designing a linen closet, you would need a shelf 24 inches to store large towels or bed linens. You may want to consider shelves that are 14 inches wide for smaller items such as hand towels, wash cloths and soaps that would be hard to find and can fall to the back of a deep shelf,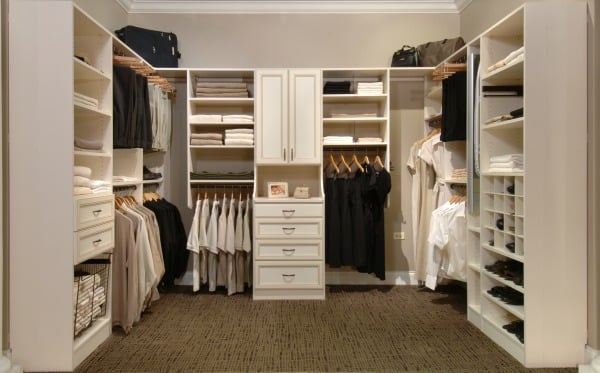 Racks. Racks are designed for shoes and ties. Not all racks are equal. Some ready-made shoe racks do not stand up to everyday use particularly wire racks that bend easily. It's important that racks are sturdy, durable and hold the contents for which they were designed.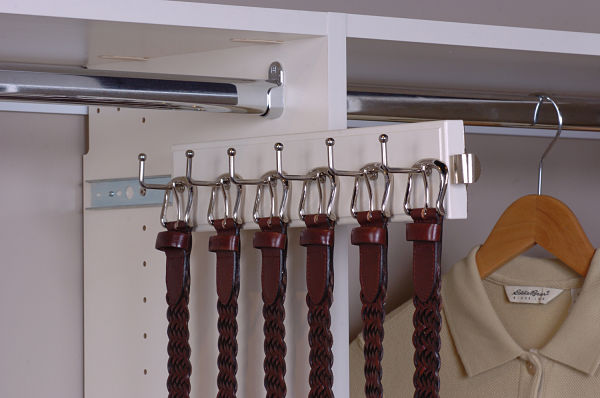 Cubbies for shoes. Cubbies work well for holding shoes, but it's important to clean them periodically from the pebbles and debris that may accumulate from the soles of shoes.
Pullout baskets and shelves. Many custom closet systems offer pullout baskets of various sizes and shelves. Pullouts are great because you can easily access the contents. Pullout baskets can be installed near the floor of a closet and serve as a hamper or a place to store bed linens. Clearance space should be allotted for cleaning dust that can build up on the floor in a closet.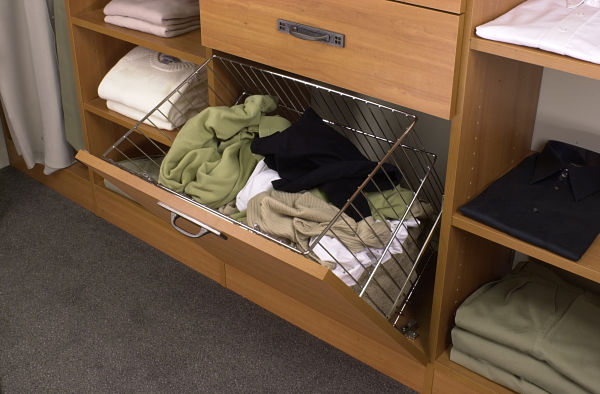 Accessories for storing small items. Manufacturers of closet systems have done their homework when it comes to understanding storage needs of homeowners. Closet accessories that you can add include jewelry trays, drawer and shelf dividers, locks for drawers, pull-out racks for ties and belts (which also can be used for necklaces) shelf edging to hold shoes in place, ironing boards and a fold up ladder designed to be store in the closet.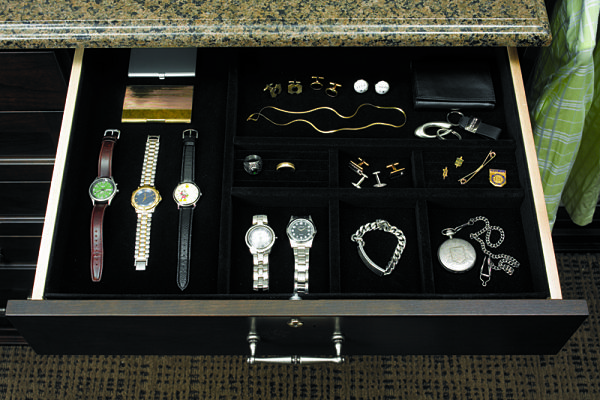 Lighting. It is important to note that if you are remodeling a closet space there are building specifications that govern the types of lighting that can be used in a closet. Incandescent bulbs can cause a fire in a confined space. Compact florescent bulbs are a safer alternative.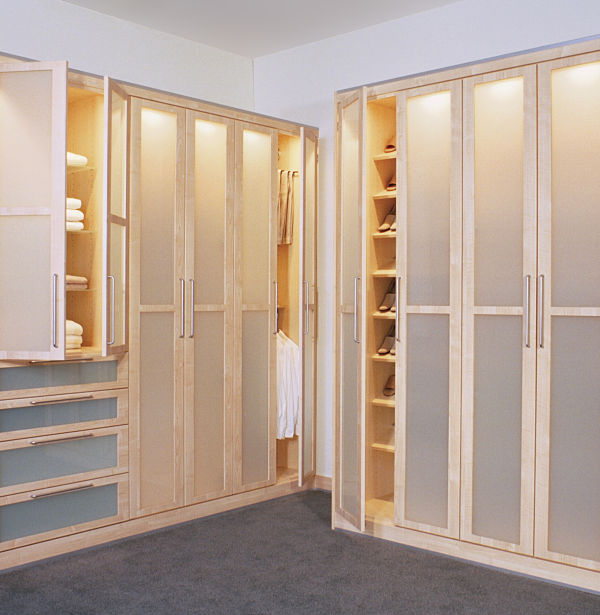 Additional Ideas for Organizing Walk-In Closets
Many newer homes have walk-in closets that provide more options for storage. Initially, to save on costs, these closets may have been equipped with two rods and two shelves.
Optimize storage on three walls. Walk-in closets generally offer three walls for creating storage, even if they include a window. In planning storage, consider the space drawers will need if fully extended, width of shelving and how to best use corners in the closet
Add an island. If you have enough space in the middle of the closet, consider adding an island. Just as in a kitchen, an island can contain drawers, baskets and shelves. Some closet islands have counter surface options including quartz and granite. The counter of the island is ideal for folding and laying out clothes.
Add an armoire or hutch system. Armoire and hutch systems add more drawers and decorative space. They generally are 22-to-24 inches deep and create a closet within a closet.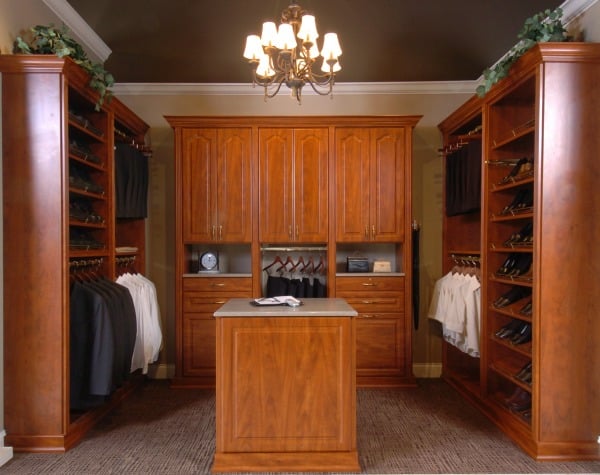 It may be helpful to discuss your storage needs with a professional who will be knowledgeable about the best products and design solutions to meet your needs. A closet design professional understands that "one size does not fit all". A design professional will assess the volume of the space that you have to work with and create drawings to optimize "the function and aesthetics" of your closet storage space.