Remodeling a small bathroom can be a challenge. In many homes a standard sized bathroom measures 5-by-7 feet. Bathrooms were designed that way because 5 feet of space is needed to accommodate most standard tubs. Powder rooms are often 4-by-5 feet to allow for a sink and toilet. The key to designing a bathroom in a small space is to make every inch of the room count for function, storage and aesthetics.
When planning a design for a small bathroom, consider building specifications for fixture clearances which will influence the design of the room. Check with your contractor who should know the specifications for your fixtures.
Here are five creative design ideas for small bathrooms:
1. Maximize Floor Space
A fundamental principle in designing a bathroom for a small space is to create as much open floor space as possible. Why? Open floor space makes a small confined area seem bigger and provides room for the occupant to move comfortably in the space. Look for cabinets with recessed toe-kicks and furniture-style pieces with feet that expose more of the floor.
Details count when you design a small bathroom. In the photo below, a furniture-style vanity was used to expose flooring in this confined powder room to create an illusion of open space. The simple Mission style of this vanity and the matching tall linear mirror provide a feeling of depth and height in the room.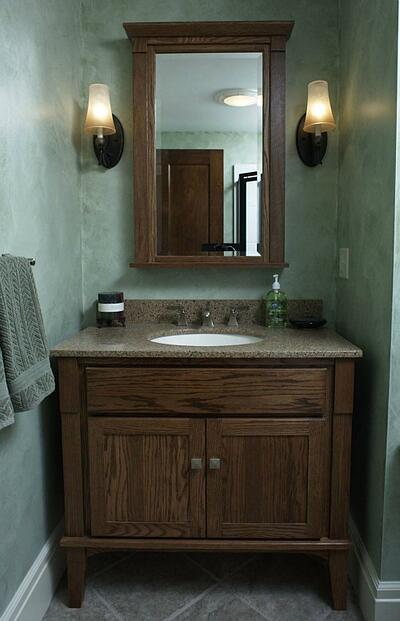 2. Minimize the Size of Fixtures
In a small room you can optimize floor space by selecting space saving fixtures such as pedestal or wall mounted sinks, free-standing tubs, smaller tubs, corner tubs, walk-in showers or compact elongated toilets. Select fixtures that are the same color and style to provide a sense of harmony and cohesiveness in the room.
The photo below shows a small bathroom off a master bedroom that has a wall mounted sink and compact commode designed to conserve space.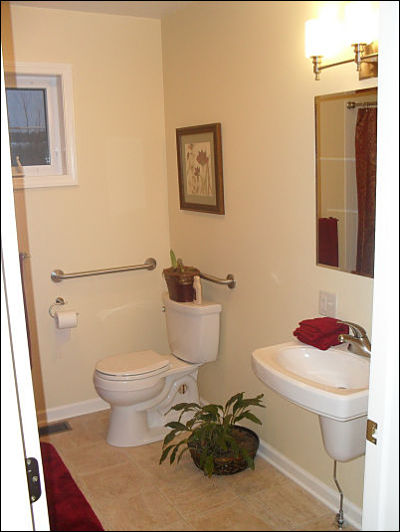 3. Optimize Storage Space
It's important to plan storage carefully and use every inch of available space for all the items you need to store. Consider recessed cabinets built into the wall and corner cabinets. Storage racks can also be used behind entry and cabinet doors. Open shelving can provide a place to store towels.
The bathroom in this photo features recessed cabinetry, hook and rack storage on the door and a vanity with base cabinet storage.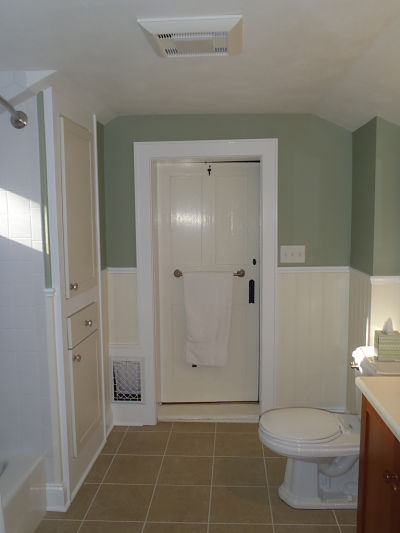 4. Use Space Saving Custom Cabinetry and Niches
Think about using cabinets with less depth that the standard 24-inch deep base cabinet. Semi-custom cabinets are available in 18-inch and 21-inch depths. Cabinets can also be fitted to the room. Corner cabinets and curved front vanities can save space. Niches are ideal for keeping supplies at hand.
The space saving curved cherry custom vanity in the bathroom below provides a larger opening for the adjacent walk-in shower. It is also an architectural element in the room that complements the arched ceiling. The curved design is echoed in the choice of sinks, mirrors and light fixtures.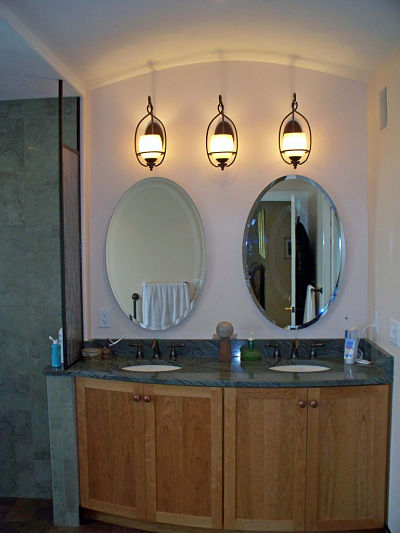 5. Create an Illusion of Space
Light colors, mirrors, lighting, linear fixtures, exposed flooring and a mix of textures help to make a room appear open and spacious. Think about each of these elements as you select products for your bathroom remodeling project.
This "his and her" bathroom has two mirrored medicine cabinets recessed into the wall that provide extra storage. Pedestal sinks open up the room creating an illusion of the room having more space. The linear tile accent adds interest and a focal point in the room.