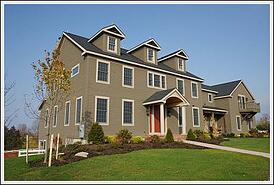 Each year we look forward to the publication of REMODELING Magazine's "Cost vs. Value Report" and to reviewing industry trends both nationally and within our geographic region — the Mid-Atlantic region. One of the most significant changes in the 2013 report is that the expected return on investment (ROI), which measures the difference between average construction cost estimates and estimated resale value, increased for almost all projects.
The six remodeling projects that provide the greatest return on investment this year are replacement projects and ranked as follows:
Entry door replacement (steel): (83% ROI)
Fiber cement siding replacement: (74% ROI)
Midrange garage door replacement: (71% ROI)
Upscale garage door replacement: (70% ROI)
Midrange vinyl siding replacement: (70% ROI)
Upscale foam-backed vinyl siding replacement: (70% ROI)
Other popular remodeling projects that had a significant increase in ROI for 2013 compared to the 2012 Cost vs. Value Report, include:
Deck additions: the return on a midrange composite deck addition increased from 58 to 61 percent, from 50 to 53 percent for an upscale composite deck addition, and from 65 to 69 percent on a wood deck addition.
Two-story additions: ROI for a two-story addition that adds a family room to the first floor and a bedroom and full bathroom to the second floor, increased from 59 to 61 percent.
Replacement windows: the ROI increased from 58 to 62 percent for upscale wood windows and from 61 to 64 percent for upscale vinyl windows, for midrange wood windows the ROI increased from 61 to 66 percent and from 63 to 64 percent for midrange vinyl windows.
Bathroom addition: the return on an upscale bathroom addition increased from 46 percent in 2012 to 49 percent this year.
While the report gives consumers a good idea about project costs, always consider these three questions when planning a remodeling project:
What do I gain by remodeling? Many people remodel to enrich their lifestyle and enjoy their home. To them, this is the true return on investment in their home.

How long do I plan to own this property? If you're planning to live in your home for less than five years, take on remodeling projects that freshen up the inside of the home and promote curb appeal.

How does the value of my home compare to other properties in the area? Generally, a remodeling project that is less than 20 percent of the average resale value in your area can be recouped when your home is sold.
The tables below compare remodeling costs to resale values for midrange and upscale remodeling projects in the Middle Atlantic region, which includes New York, New Jersey and Pennsylvania. According to REMODELING Magazine's report, different remodeling projects offer a wide range of payback. For 2013, ROI (shown in the tables below as the % of Cost Recouped at resale) increased for almost all projects. Both tables list projects ranked by the greatest percentage of payback.
(TOP 10 ROI PROJECTS SHOWN IN BLUE)
Midrange Project

Avg. Cost
Resale Value
% Cost Recouped
Entry Door Replacement (Steel)
$1,166
$967
83

Garage Door Replacement
$1,547
$1,104
71
Siding Replacement (Vinyl)

$11,860
$8,329
70

Deck Addition (

Wood)



$9,958
$6,914
69
Minor Kitchen Remodel
$19,400
$12,843
66
Attic Bedroom Addition


$50,973

$33,570

66

Replacement

Windows

(

Wood)




$11,164

$7,359

66

Replacement

Windows

(Vinyl)



$10,200
$6,530
64
Major Kitchen Remodel
$56,199
$34,725
62
Two-Story Addition
$159,561
$98,087
61
Deck Addition (Composite)
$15,584
$9,557
61
Entry Door Replacement (Fiberglass)
$2,798
$1,715
61
Master Suite Addition
$108,536
$62,696
58
Bathroom Remodel
$16,603
$9,384
57
Basement Remodel
$65,455
$36,807
56
Garage Addition
$51,129
$28,785
56
Family Room Addition
$84,224
$46,943
56
Roofing Replacement
$19,723
$11,104
56
Backup Power Generator
$11,825
$5,624
48
Bathroom Addition
$39,661
$18,840
48
Sunroom Addition
$75,497
$33,742
45
Home Office Remodel
$28,698
$11,035
38
Upscale Project

Avg. Cost
Resale Value
% Cost Recouped

Siding Replacement (

Fiber Cement)




$13,793

$10,150

74

Garage Door Replacement




$2,795

$1,965

70

Siding Replacement (

Foam-Backed Vinyl)

$14,456

$10,052

70

Replacement

Windows

(

Vinyl)



$13,385
$8,594

64

Replacement

Windows

(Wood)

$16,757

$10,458

62
Grand Entrance (Fiberglass)
$7,214
$4,200
58
Major Kitchen Remodel
$110,792
$59,346
54
Deck Addition (Composite)
$36,036
$18,985
53
Roofing Replacement
$37,353
$18,539
50
Bathroom Addition
$74,135
$36,687
49
Bathroom Remodel
$51,737
$25,538
49
Garage Addition
$83,925
$39,668
47
Master Suite Addition
$230,013
$106,851
46
NOTE: Estimates for project costs and resale values were developed by a Research Team for REMODELING Magazine. The value you can expect to recoup at resale from your remodeling project is contingent on what the contractor brings to the table. Price quotes will vary so it is important to consider a contractor's experience and the materials that will be used for the project. In selecting a contractor, review the portfolio of the contractor's work and ask to visit projects the contractor has completed.