It seems that remodeling a half bath should be easy. Install a sink, toilet and mirror and you're done, right? Think again. These small rooms are located in the mainstream of a home and tend to get a lot of use. The limited allotment of space requires careful planning when selecting and installing fixtures for aesthetics, privacy and function.
Half baths can be designed for both utility and aesthetics. Why not add some upgrades? Here are ten great upgrades to consider for your half bath remodel:
1. Pedestal Sinks
Pedestal sinks have sculptural styling and are great for small spaces. Bowls come in a variety of shapes and sizes. When selecting a pedestal sink, check out the rim around the bowl. In a small bathroom, there should be an edge wide enough to hold a bar of soap or a dispenser of liquid soap. Keep in mind that you may also want shut-off valves that match your faucets, which are sold separately.
2. Vessel Sinks
Vessel sinks range from $150 to more than $3,000 without factoring in the cost of a faucet and mounting surface. They are installed with one-hole cut into the surface, rather than a full cutout, and conserve counter space. Vessel sinks are used primarily for hand washing and work well in a powder room layout. They are stylish and versatile and can be mounted on cabinetry, a piece of furniture or on a shelf.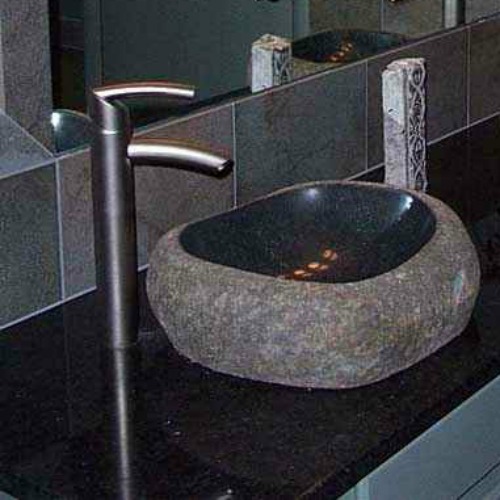 3. Sink Faucets
One of the latest innovations in bathroom sink faucets is the "touchless faucet". These ultra-modern faucets are equipped with infrared sensors mounted to detect hand movement. They have been used in public restrooms for years and now have home applications. The advantages of touchless faucets in a bathroom are that they conserve water, limit the spread of bacteria because you don't have to touch the surface to operate them, and they are set at a specific temperature to prevent scalding.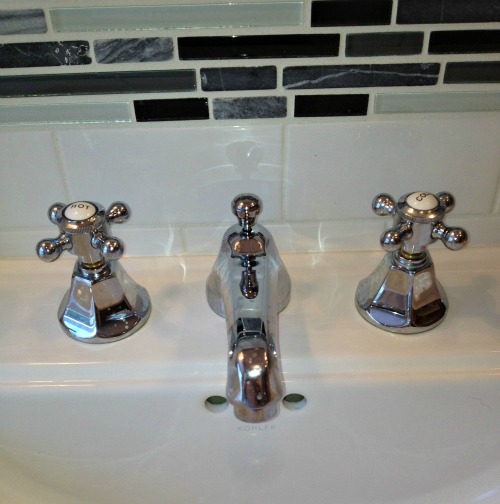 4. Furniture Style Vanities
Furniture style vanities come in many shapes, styles and finishes that can optimize the space of a small bathroom. A sink can be installed in a small narrow table as well as custom or semi-custom cabinetry sized for the room. Be sure to add a water-resistant counter surface if you are converting a piece of furniture into a vanity.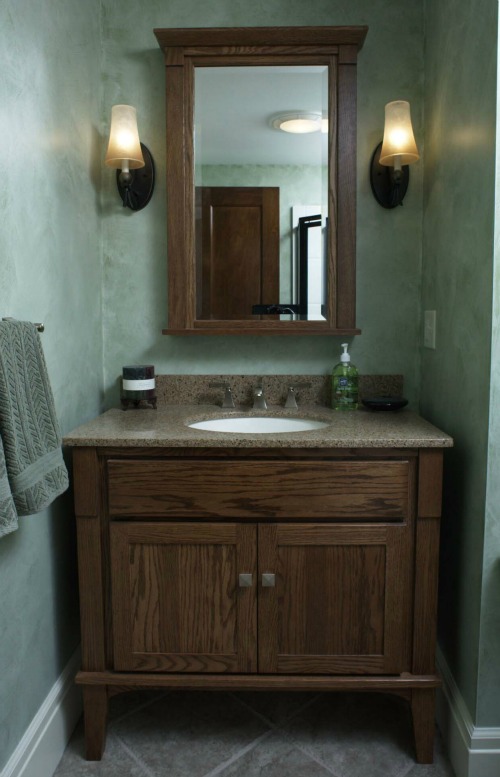 5. Counters
In a kitchen, counter surfaces can drive up renovation costs if you are using stone counters. However, a half bath requires a small amount of counter surfacing, maybe 2 or 3 linear feet. This may be the place for marble or other high-end surfacing. If you want to spend a little less, but still want a "stone" counter, consider low-maintenance quartz counters. Cambria quartz features 102 different designs to consider, including some that resemble granite and marble.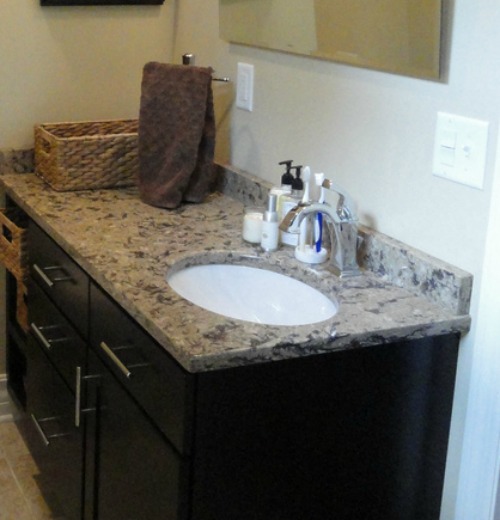 6. Mirrors
A mirror is an essential element in a half bath for both its function and impact in the room. A mirror can create an illusion of space in a small room by reflecting light therefore size, shape and placement are important. Most mirrors are oval or rectangular. If you're looking for something unique check out DecoLav's "Gabrielle" model. It is 30"x36", weighs 11 pounds and provides medicine cabinet storage for a small bathroom.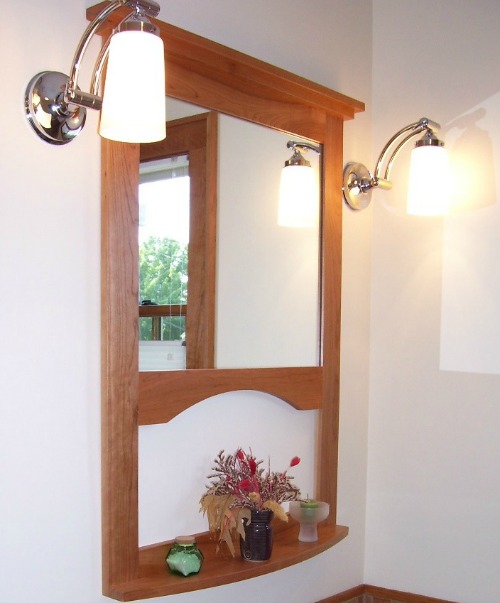 7. Toilets
Toilets come in one- and two-piece units. Bowl shapes can be round, elongated or compact elongated. For comfort, consider a toilet that measures 17 inches to 19 inches from base to seat. A seat can add an inch to the height of a base. The Kohler "Highline" and "Devonshire" models are 16 inches from the base to the rim, minus the seat. The "Devonshire" model is available in a range of colors and pricing varies with color choice. Kohler's "Cimarron" model is also 16 inches high and is a low-flow eco-friendly unit. Other products to consider are Mirabelle's "Bradenton" model, 17 inches in height and eco-friendly with a stylish base or "Galatia" model, a one piece unit with a depth of 26 inches and width of 13 3/4 inches, if space is tight. "Galatia" has a dual flush feature for ultra low water consumption.
8. Lighting
Bathroom sconces can provide lighting in two ways: uplights and downlights. Lights are placed above a mirror or on each side. One of the new concepts that works well in a half bath is Hinkley's "Daphne" model uplight strip fixture with bubble-light glass. If you're looking for eco-friendly lights, Tech Lighting's "Metro" model provides both up and down lighting and uses LED bulbs.
9. Ventilation Fans
If you're seeking an attractive solution for bathroom ventilation, Nutone makes a ventilating light fan with a ceiling mounted globe that provides 120 watts of lighting in a small room. Broan also offers stylish options. See our article "New Concepts in Bathroom Ventilation and Fan Lighting" for more details.
10. Bold Wall Color
People are often under the impression that a small room should be painted white to make it appear larger. The reality is that you can use color in a small bath to add architectural interest and to showcase the elements. If you're searching for "hot colors" see our picks.