Wall colors are very important to anyone who undertakes a remodeling project. A project may take weeks or months of planning, selecting features and products, and living with construction. Painting the walls and trims is the last step of the process and the point where homeowners add their personal touch to a room.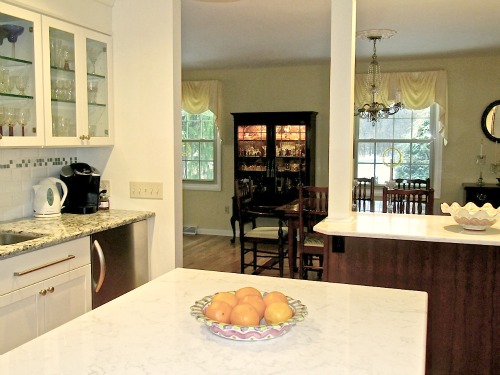 Kitchen wall is Mayonnaise. Dining Room wall is Precious Ivory.
Trim is Decorators White. All are Benjamin Moore paints.
After experiencing construction, most of the people we work with don't want to think about repainting the space for at least 5 years and are looking for "livable colors". If you ever painted a room and had one of those "What was I thinking?" moments with paint colors, here are six tips for selecting wall colors that will endure.
1. Trends fade fast.
The Pantone Color Institute creates fashion industry colors used by fabric, clothing, furniture, ceramic and other manufacturers as trends intended to pass quickly to create a demand for the next product. This year's Pantone Color of the Year is Emerald. Last year it was Tangerine Tango and in 2011 it was Honeysuckle (pink). These hot color trends in fashion are often used as accents. As wall colors they would be very bright and intense. Before selecting a wall color, ask yourself: "Would I enjoy this color for 5 years"?
2. Interior wall colors should work with the architectural elements of a home.
Consider the cabinetry, trims, flooring, counters, fixtures and ceilings of your home when selecting room colors. Are trims natural wood? Is there a stone or brick fireplace or wall in the room? Are there beams, crown molding, beadboard, or coffered framing on the ceiling? Paint colors should complement and accentuate a home's features. The interior designers at Pottery Barn consider the finishes and fabrics used on their products and accent pieces when they select Benjamin Moore paint colors. Another company matching paint to products is Cambria. Cambria's paint match tool lets you view samples matched with complementary Benjamin Moore colors. Very cool and useful!
3. Consider the lighting in the room when selecting paint colors.
Is there a lot of natural light and windows? Are there recessed lights, pendant lighting, uplights, accent lights, table lamps or fluorescent lights in the room? Lighting affects paint colors in a room because light bulbs can cast subtle colors such as bright white, yellow or blue. Luminosity will brighten or darken a room depending on intensity of light emitted, how light is reflected and absorbed, or the manner in which shadows are cast.
Bright lighting can make a color appear more intense in value while the same color will appear darker in a dimly lit area such as a hallway. When selecting colors, look at a chip of the color you're considering on a strip of graduated values. Use a deeper shade of the color in bright areas and a lighter shade in dark areas if you want the color to look the same from area to area.
4. Give colors a "trial" before committing.
Test colors in various areas of the room and in different light settings by purchasing a color sample and painting a large piece of board (ask your contractor to set aside some scrap boards or pieces of drywall), poster board or cardboard. Move the board around the room. Place it near cabinets, stonework, behind furniture, near flooring and next to counters and other paint colors in the home to determine how it will look.
5. Use color finder tools.
Paint manufacturers know that consumers are often hesitant about selecting colors so they do the work for you. Benjamin Moore's website lists 11 paint colors that are the top searches: seven beiges, two grays, one yellow and a blue. Manufacturers create foolproof palettes and allow you to view and test colors online. You will find color finder tools on the following sites:
6. Change the color of a room without painting.
If you use a neutral wall color in a room, like one of those in Benjamin Moore's list of top color searches, you can change the color scheme of the room without painting by your selection of room furnishings such as curtains, table runners, pillows, rugs, ceramics, wall art, painted furniture, vases and floral arrangements. If you love Honeysuckle Pink, Tangerine Tango or Emerald this is a great way to bring trendy colors home.