What is a "hot kitchen design trend"? When we develop our annual list of trends, we consider four criteria –
Products that are currently popular or are becoming popular with Central New York homeowners
Function (how products or applications work for the homeowner)
Aesthetics and style
Craftsmanship (how products are designed and constructed)
Here's our list of hot trends in kitchen design for 2013:
1. Quartz Countertops
Quartz is becoming more popular as a counter surface every year. The array of colors and textures is growing and it is easy to maintain. Cambria took center-stage at the 2012 Parade of Homes and was used not only for kitchen counters and bathroom vanities, but also for shower stalls, fireplaces and family rooms. Six new designs that rival granite were added to the Cambria palette in 2012. Cambria recently entered into an agreement with Benjamin Moore Paint and you can now match paint colors to counter surfaces on the Cambria website. A great idea!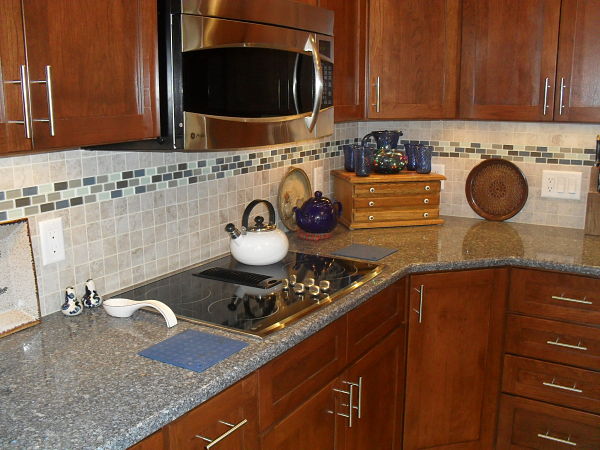 2. Glass Mosaic Tile
Glass mosaic tile comes in an assortment of colors and shapes that will add sparkle to a kitchen backsplash. You can use it as a linear accent, integrated into the pattern of field tile, or on its own. The products available are simply stunning and create a "wow" factor in any style kitchen.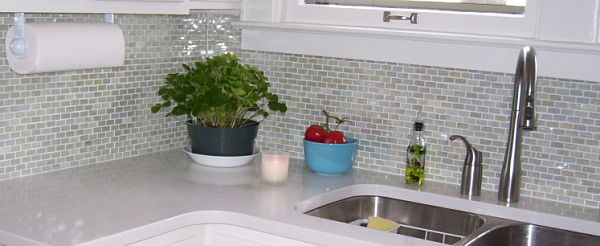 3. Stained Wood Cabinets
In 2012, dark stained kitchen cabinets made our list of hot trends. This year, they will remain popular but cherry and maple wood stained cabinets are making a strong comeback with homeowners who like the warm rich look of wood. Stained wood cabinets are also being combined with painted cabinetry in kitchens. You may have noticed that home decorating magazines and websites such as Houzz have been featuring wood stained cabinets. We recently introduced Elmwood Fine Custom Cabinetry to the Central New York market to provide our customers with new and innovative cabinet designs and options.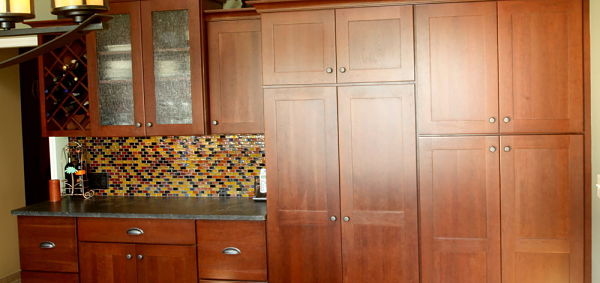 4. Shaker-Style Cabinets
Shaker-style cabinets remain popular and are a kitchen classic. Many homeowners like the simple, clean look of Shaker cabinets. Shaker cabinets can be stained, painted or distressed and finished with a variety of glazes. A line that we carry, Jim Bishop Cabinets (made in Montgomery, Alabama) manufactures Shaker-style cabinets in maple, cherry, oak, hickory and alder.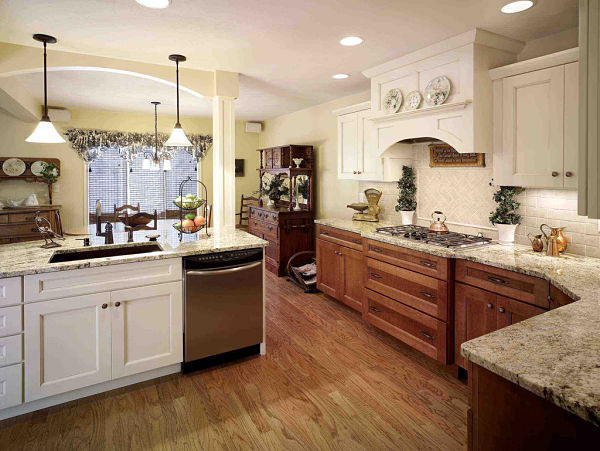 5. Crown Molding
Crown molding adds architectural interest to a room and in a kitchen it can do two things. First, it can create an illusion of height, which may be important in a small kitchen. Second, crown molding can make a kitchen appear upscale and add value to a home. Our Project Consultants can advise you about the type of profile that would enhance your home based on the architectural style, ceiling height and size of the room.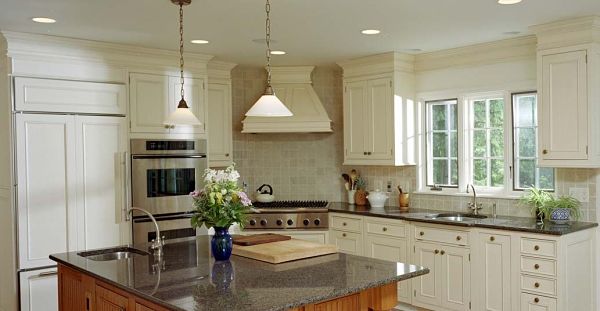 6. Pullout Shelves, Carousels, Organizers, Full-Extension Glides, and Self-Closing
Drawers and Doors
The inner workings of cabinets and drawers are an important feature in modern kitchens where homeowners need organization and easy access to items they use every day. Convenient, full-extension drawer glides and quiet, self-closing drawers and doors are an asset in any kitchen.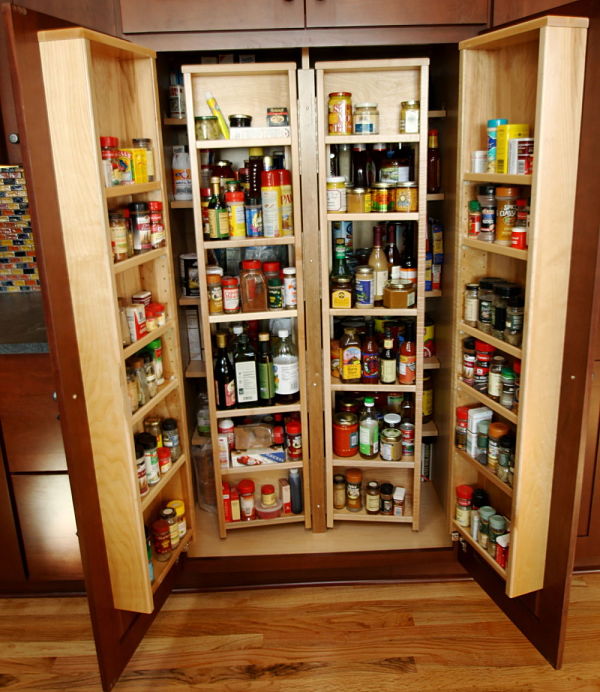 7. Beverage Centers
One of the hottest trends in today's kitchens is a bar, console or area set up for serving beverages. Homeowners are adding glass-door cabinets for glassware, a bar sink, under-cabinet refrigerators, wine coolers, wine racks, and dedicated space for coffee makers and electric teapots for everyday use and entertaining. This is a feature worth considering if your space allows.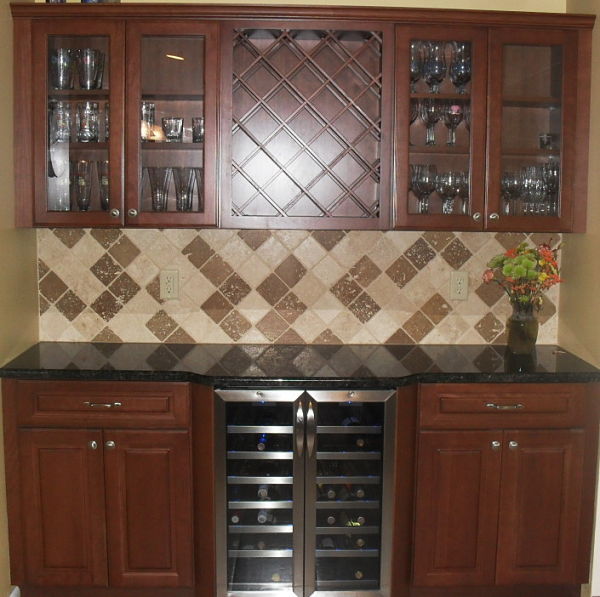 8. Universal Design Features
We saved the best for last. People come in different shapes, sizes, ages and abilities and a kitchen should be user-friendly. If you plan live in your home for a lifetime or perceive it as an investment that you will eventually sell, we recommend adding the following kitchen "Universal Design" features as you plan to remodel or build:
Wide entryways and aisles at least 36 inches in width
Uniform thresholds
Multi-level countertops
Rocker switches for lights and the garbage disposal. Install the switch for the garbage disposal in an accessible location
Lever handles on doors and faucets
Drawer-style dishwashers
Extra outlets for appliances
Bright, non-glare task lighting over work areas
Pullout shelves
D-shaped and pull-style hardware for cabinets and drawers