During the holidays many people open their homes to family and friends. Hospitality is an important part of our lives. A kitchen is often the place where hosts and their guests gather.
We thought we'd share some of the kitchen projects we've worked on for our customers and show four features that make homes more "hospitable".
Open Kitchens and Dining Areas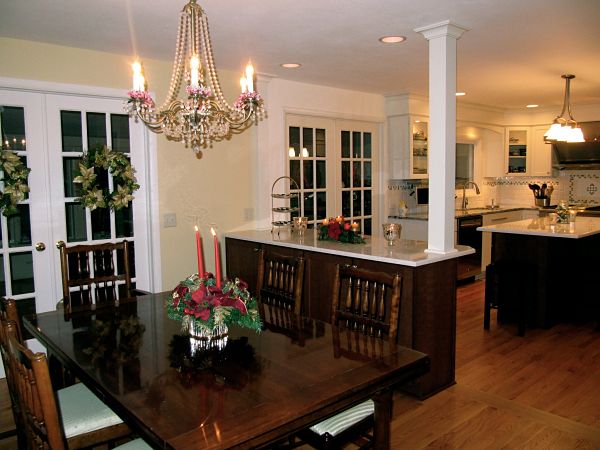 Creating functional space is a major trend in today's homes, both in new construction and remodeling to address the busy lifestyles of homeowners. An open floor plan links food prep, dining and living room areas of a home rather than separating these spaces. People can easily move about in the space which is more accommodating for a crowd.
In the photo above, we tore down a wall that originally separated the small kitchen and narrow dining room to create an open floor plan important for homeowners who enjoy entertaining.
A custom-built buffet serves both rooms and provides overflow seating in the kitchen and china storage for the dining room. The counter of the buffet can be used for food prep, meal set up or dining. There are electrical outlets on the buffet for crockpots, coffee makers, and other small appliances. Recessed lights illuminate the buffet and are on a dimmer switch to set the mood for entertaining.
There was no additional square footage added. Changes in the layout of the rooms changed the function of a kitchen that was originally designed for one cook and a dining room that did not allow room for seating a crowd or storing special occasion dinnerware.
Beverage Centers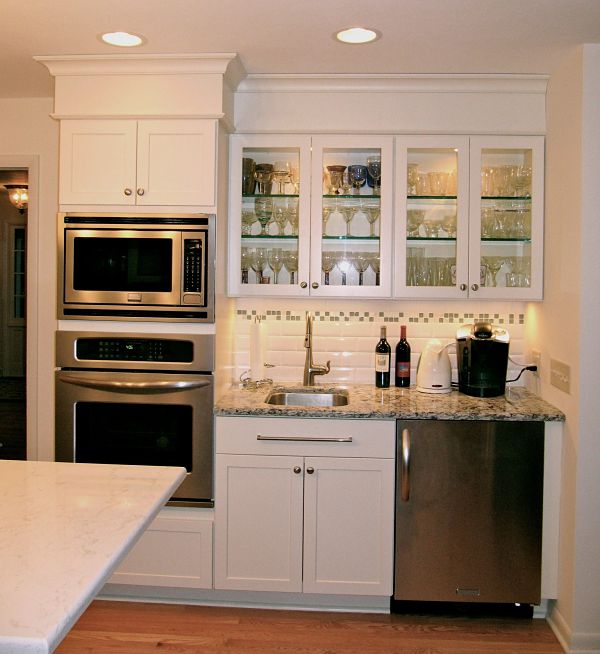 More homeowners are adding a beverage center to a kitchen, dining area, family room or living room. This is a place for an additional refrigerator, wine cooler or bar sink. Cabinetry to store wine bottles, stemware or coffee cups can be incorporated into the design.
The beverage center in this home is located in the kitchen, near the dining room area. It has a bar sink and glass doors on the cabinets. Puck lights in the cabinets are on a dimmer switch, as is the under-cabinet lighting. There are outlets for coffeemakers and an electric teapot. The base cabinet provides storage for supplies. There in an under-counter refrigerator for drinks.
Tiered/Multi-Level Kitchen Islands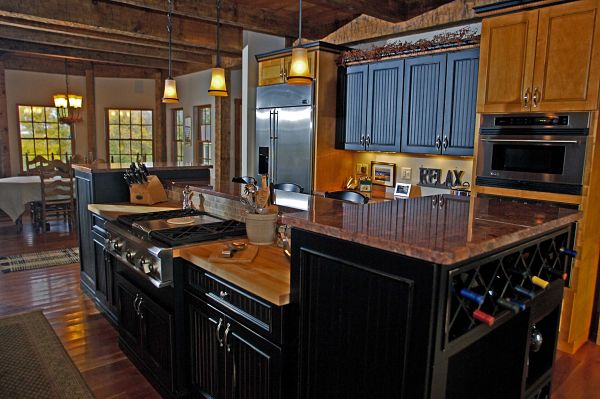 Islands are the heart of many kitchens and can be designed for a variety of functions with a tiered configuration. Heights to consider in designing an island are 36", which is the standard; 28"-30" is table height; and 42"-48' is bar stool height.
This kitchen island is multifunctional for cooking, dining and entertaining. It includes a range and butcher block counters for preparing meals. It has granite countertops for seating, a wine bar and buffet. There is base cabinet storage for cookware and storage on each end for dishware.
Multi-Purpose Kitchen Additions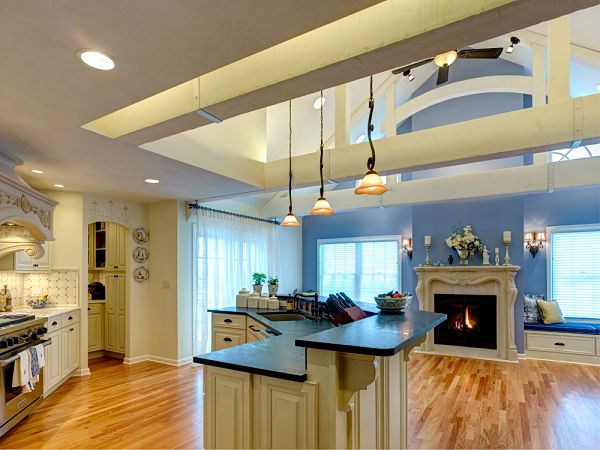 Many of the home additions that we design and build are geared for entertaining and casual living. Spaces are designed for the specific needs and décor tastes of the homeowners.
This home had a small kitchen that did not adequately meet the needs of a young family of four. The homeowners have a large extended family that regularly gathers at their home for special occasions. They needed more space and built this beautiful addition that includes a large food prep area for the couple to prepare meals and interact with guests. When they're not entertaining, the children do their homework and enjoy informal meals at the counter.
The addition does not include a flat screen or other electronic media equipment. The homeowners wanted a space where people could converse and enjoy the panoramic view from the home. There is window seating and a fireplace where guests tend to congregate. A long dining table seats up to 12 people.
The addition has a coffee bar/café corner and a desk area for the homeowners. French doors open to a deck and more seating for guests during summer days.
The architectural elements reflect the homeowners' love of Country French decor. Trusses, beams, wood flooring and natural stone used in the addition were essential to the design.
" src="//d1n2i0nchws850.cloudfront.net/portals/75190/3afb3382-3f40-41d8-80f5-d943d771068f-1311689769672/download-our-whitepaper.png?v=1311689769.97">