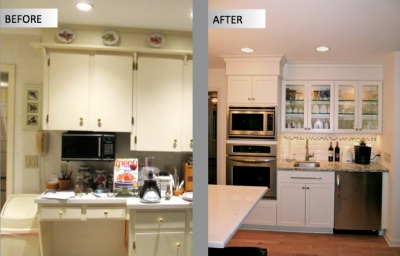 We don't often write about financing home remodeling projects, nor do we provide financing, but the current availability of low interest loans presents consumers with a unique opportunity to invest in their homes. In our 34 years of business we have never seen interest rates as low as they are now. Interest rates under 4 percent were unheard of. Today's rates have fluctuated to the point where banks are offering loans under 3 percent.
We thought we'd share some information from the National Association of Home Builders (NAHB) to make you aware of financing options for remodeling your home.
NAHB notes that people pay for their remodeling projects in one of five ways: cash, a home equity line of credit, a home equity loan (a second mortgage), cash-out refinancing of your current mortgage, and a home improvement loan. Here are the pros and cons of each option:
1. Cash.
Many people use their savings to pay for improvements to their homes. It's great to pay for a home remodeling project and not incur debt.
Pros
Avoiding the banks and bank fees.
No debt for the project.
Cons
Reduced savings.
Investment earnings on funds used for the project could be greater than loan interest payments.
Interest payments for a home remodeling project may be tax deductible. Paying in cash cannot be written off.
2. Home Equity Line of Credit.
Home equity is just that. The lender will consider the equity in your home as collateral for a line of credit, as well as your employment and credit history. The credit line is usually set at 75-80 percent of the appraised value of the home, minus the mortgage balance.
Pros
You can access these funds when you need them and can use the line of credit for future home projects.
The interest you pay may be tax deductible.
Cons
Lines of credit usually have a variable interest rate, which may work to your advantage but can also work to your disadvantage.
There may be costs involved in setting up a line of credit, depending on the lender.
While you can draw funds up to the maximum, it is important that you don't go over budget with a line of credit.
3. Home Equity Loan.
A home equity loan is a second mortgage on your home with a fixed rate and fixed term based on the equity you have in your home.
Pros
It may be a good option if you are financing a one-time project since the borrowed amount, interest rate and terms of payment are fixed.
The interest you pay on the loan may be tax deductible.
Cons
You may have to pay fees and closing costs.
4. Cash-out Refinancing.
If today's interest rate is significantly less that the current rate of your mortgage, refinancing would allow you to use the equity in your home to take out a new loan to pay off the existing mortgage and use the balance for your remodeling project.
Pros
If you have a large project and interest rates are low this may be a good option.
Cons
As with any mortgage there are closing costs and fees.
5. Home Improvement Loans.
The Federal Housing Administration (FHA) administers two programs that help homeowners make improvements to and rehabilitate existing homes, Title I and Section 203(k) loans. A Title I loan from an approved lender allows you to borrow up to $25,000 to improve a single family home. These are fixed-rate loans insured against default. The Section 203(k) program is available to people who are looking to purchase a home in need of rehabilitation or in foreclosure. Homeowners must apply to a FHA lender to qualify for the loan.
Pros
Title I loans do not require that you have equity in the home.
Cons
There are limitations on how Title I and Section 203(k) loans are used. Title I loans cannot be used for non-essential items.
When considering how to finance a home remodeling project consider the cost of the project and what you can afford. NAHB advises budgeting 80% of what you can afford for the project and putting 20% aside to cover unforeseen costs that can occur during the course of a remodeling project.
If you're thinking about remodeling, do the math and take the time to discuss your needs with several lenders to obtain the best rates and terms. You also may want to talk with your financial advisor about the best option for you.