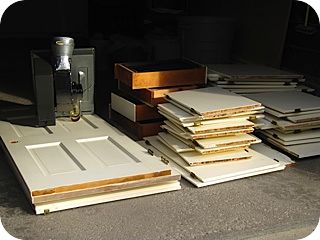 Each year we do hundreds of remodeling and home repair jobs both large and small. Frequently, our customers ask us what we do with construction waste materials and potentially reusable items removed during demolition. This question is asked so often that we felt it would be a good topic to share in our blog.
We are concerned about the environment and adhere to high standards in handling and disposing of construction waste materials. Construction waste includes bricks; concrete; wood, including painted, treated and coated wood and wood products; drywall; plaster; plumbing fixtures; lighting fixtures; insulation; roofing shingles; glass; plastic; switches and sockets; wiring, piping, rugs, linoleum, and much more. We include the cost of demolition and disposal of construction waste materials in your project estimate.
Salvaged Items
We salvage everything we can. Some items may be reused by the homeowner, such as old kitchen cupboards that could be repurposed in a garage or basement laundry room. If the homeowner has no use for the items, especially if we a doing a big renovation project, we contact Syracuse Habitat for Humanity and let the staff know what might be available for pick up.
Salvage items include:
Cabinetry

Doors-both interior and exterior

Windows

Light fixtures

Good faucets

Sinks

Appliances-if they are in good shape

Left over tile or other surplus materials that can be sold in Habitat's ReStore
Habitat for Humanity will provide a receipt for a tax deductible donation to the homeowner. Items sold are made available to the public for a fraction of the price charged by retail stores and the proceeds are used to support Habitat projects and help local families.
Recycled Items
Another organization we contact when we are doing home demolition is Finger Lakes ReUse in Ithaca. ReUse is a not-for-profit organization that reclaims building materials and resells them in the interest of green building methods.
We recycle scrap metal such as old plumbing. We gather up these items and take them to a scrap metal salvage facility. We also recycle cardboard and paper packing material and have a "paper-only" dumpster at our facility.
We are VERY CAUTIOUS about disposing of chemicals we use. We do not want to allow anything toxic to seep into ground water. We hold these items for disposal and take them to a private waste management facility and pay for disposal to assure that toxins do not go into the environment. Before putting latex paint cans into a dumpster, small amounts of paint are dried out. We use cat litter to speed up the process.
Disposal Items
We try to keep materials that go into a dumpster at a minimum. In other parts of the country there are salvage operations that recycle sheetrock, roofing and other common construction debris. Unfortunately, we do not have a business that does this in Central New York. Any demolition material that cannot be salvaged or recycled, we dispose of at a licensed waste management company.

Sadly, in this business there are some contractors who do not dispose of construction waste properly and resort to illegal dumping, burying debris onsite or burning debris. While this allows them to reduce their costs, it is at the expense of everyone else.
It is always a good idea to ask your contractor what he plans to do with construction waste materials.