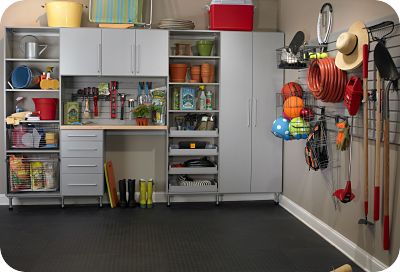 Fall is approaching and it'll soon be time to put away all of the summer gear – deck or patio furniture, pool supplies, bicycles, athletic gear, lawn mowers, gardening tools and much more. If you have enough room on your property, a shed can be a great solution. But if you don't have the space, or a shed just doesn't fit with your landscape or architecture, the garage often becomes our winter storage place for these items. And, when you're trying to park cars there, too, it can seem like there's just not enough space for everything.
We usually discover that garages do have adequate space for all that a homeowner wants to store there, but it needs to be converted into practical work and storage space. If you wish you could get more out of (and into) your garage, here are six garage storage ideas you definitely should consider:
1. Adding cabinets and lockers specifically designed for garages.
Often a garage is one of the last places we organize in our homes. Fall presents an opportunity to reorganize and add storage systems to get more use out of your garage. Shelving, cabinets and workbenches help contain the clutter and keep essentials organized. For more tips see our blog article "12 Great Garage Storage Solutions".
2. Using the wall space in your garage for storage.
This is the perfect time to clean out the garage and assess your storage needs.
You can add wall storage systems for hanging yard tools (remember to keep leaf rakes and a snow shovel in a handy location), athletic equipment, pool gear and other items.

Pegboards are also useful and will hold a variety of items on hooks.
3. Creating loft storage space.
A loft could provide a solution for many of your storage needs. Due to weight load, you will want to consult your contractor. You also may want to consider options for accessing the loft including pulleys and ladders.
4. Storing garden tools and supplies in a designated area of the garage.
Functional storage is the key to storing garden tools and supplies during the winter and keeping them organized when you're using them. Add a hooked hanger to the wall for rakes, spades, shovels and trimmers. Mobile carts can be used to store other supplies and a mobile hose caddy will keep a hose coiled year-round. Check out this HGTV video to view storage items you can purchase.
Be sure to read the information on fertilizers, fungicides, herbicides and other chemical products you may use in your garden for information about how to store these items during winter months. Some products may freeze or lose potency if exposed to temperature extremes.
5. Using garage rafters to store bicycles.
Bicycles can be hung vertically or horizontally depending on the space in your garage and the weight of your bike. Hooks to hang bikes can be installed on rafters. When storing your bicycle for the winter inflate the tires, wipe down the frame, seat and tires, lubricate the cables, and clean and lubricate the chain to prevent rust.
6. Protecting outdoor furniture.
Many people will store outdoor furniture in a garage or basement. Before you bring your furniture in for the winter, it should be cleaned and dry. Read the manufacturer's instructions for cleaning, and check for mildew and mold.
If you're planning to store the furniture outside over the winter, you may want to invest in protective covers. Surefit, Sears, and Plow & Hearth are a few of the sites you will find online that sell covers for outdoor furniture. Measure your furniture before ordering to obtain the best fit. There are also covers for fire pits. Covers can also help to protect your furniture if you are storing it in the garage or shed. If you are leaving your furniture outside, you may want to take the extra precaution of tying down the covers and periodically brushing snow off the covers over the course of the winter.