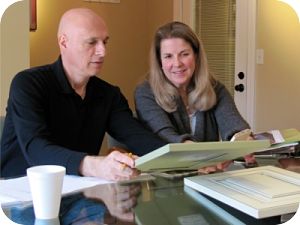 A kitchen remodeling project can add value, function and enjoyment to a home. Yet it is one of the most expensive and detailed construction projects. When I talk with homeowners about remodeling their kitchens we discuss the way they use their kitchen, what they like about the current layout and what they want to change. Design is critical to the success of the project, as is the selection of durable cabinets, countertops and appliances. And cost is almost always a consideration.
Based on my many years experience as a kitchen remodeling consultant, here are five common mistakes people make and some tips on how you can avoid them:
1. Not taking the time to do some research before starting a remodeling project.
Before you talk with a contractor or kitchen designer, make a list of the things you want to change in the kitchen. Look at photos in magazines or spend some time online looking at cabinet styles; learning about appliances and fixtures; exploring products for counters, backsplashes and flooring for your kitchen. Clip photos as a reference to share with a kitchen designer. Plan ahead before your first meeting and make a list of questions. Your contractor should be able to help you assess the advantages and disadvantages of products and ideas on your list, and offer suggestions to meet your needs.
2. Not consulting a certified kitchen designer.
Do-it-yourself television shows make remodeling a kitchen seem like it's a simple project. Believe me it's not. Home improvement stores may offer free design services but their designers are often trained by the store and may not be certified by the National Kitchen and Bath Association. NKBA designers must meet both course and experience requirements for certification, as well as continuing education credits. Why is this important? If you're remodeling a kitchen, you're making a significant investment in your home. NKBA designers are trained to address functional and aesthetic issues. They are also up-to-date on products and can help you in making choices that will be practical in your home and may help you save on costs. A clear, defined design plan will also be helpful when hiring a contractor.
3. Acting as your own general contractor.
Most people have undertaken small home projects where they may have done some updates. Have you ever had new appliances installed or replaced countertops or flooring? A kitchen remodeling project is much more complicated. It usually involves updating mechanicals such as plumbing and electrical and filing for appropriate permits. In an older home there may be lead paint or asbestos to contend with. Thinking about removing a wall? There may be structural issues to deal with. This is a job best left to an experienced professional.
4. Hiring a contractor based on the lowest bid.
Remodeling a kitchen is costly. According to REMODELING Magazine the average cost of a minor kitchen remodel in our area is $20,067. The cost of a major kitchen remodel averages $59,731 and an upscale kitchen project averages $114,041. Most of us want to get the best value for our investment so take the time to find a reputable contractor for your project. Check references, ask about certifications and insurance, and ask to see completed projects. Your contractor should have an experienced team of professionals to assure that your job is done right.
5. Over-customizing.
Your dream kitchen could become the next owner's nightmare. Build a kitchen that works for you and your budget but don't over-customize if you consider your home an investment. Features you may add for the kids today may not be practical tomorrow. That bright colored tile you admire may turn a prospective buyer off to your home and may not provide a return on your investment. Personal design preferences are important in your home and reflect your lifestyle. Paint, fabric and accessories can be used to personalize your kitchen and are easy to change.