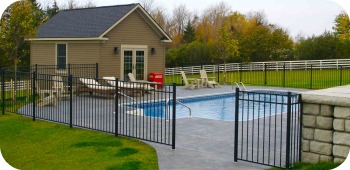 Summer is almost here in Central New York and it's time to get ready for outdoor living!
As you're hauling out the patio furniture, prepping the deck or opening the pool, are you thinking about how to keep clutter in these areas under control? Deck and patio furniture often have cushions that may need to be stored on stormy days. If you have kids, there are always outdoor toys that need to be put away at the end of the day. If you have a deck, patio or pool there undoubtedly is a hose nearby. Pool areas need storage spaces for supplies and toys.
Here are 6 great outdoor storage ideas to keep these areas clear of clutter:
The storage bin.

A simple idea, but on a deck, patio or pool area a plastic box can be an eyesore. Rubbermaid has a line of outdoor storage bins and benches if you don't need much storage space but the color options are limited. Deck manufacturers also offer storage solutions for their products. Sites to check out include Azek and Trex. Storage boxes can be made of their products to blend with decking. Many people customize storage bins based on their needs.

Storage benches.

Think outside the box. Storage benches are an asset. They're attractive and functional. You can buy fabricated benches or have them custom built to complement your deck, patio or pool area. If you purchase ready-made benches, be sure to check the hinges, particularly if you will use the bench to store children's toys. Look for safety hinges that hold the seat when opened and do not collapse to cause injury. Look for benches and materials that are water-resistant and rot resistant, especially if the bench is made of wood.

Hooks and grids.

Consider adding hooks for storage if your outdoor living space has a wood fence or adjacent wall. Martha Stewart always has great ideas. One idea we like is using rubber coated hooks to hang hoses and to create upright storage by adding small bungee cords for pool items such as skimmers and "noodles". Installing a grid with hooks near a pool can provide a solution for hanging pool skimmers, towels and baskets for storing pool toys.

Sheds, pool cabanas and detached structures.

A garden shed or pool cabana is an optimal solution for outdoor storage. A shed can be integrated with a deck. If you're thinking about building a shed you will want to review a previous blog we posted "6 Things to do Before Adding an Outdoor Storage Shed". A cabana can be customized to be used for a variety of functions, including a bar area for entertaining, a dressing room for pool users, storage of pool supplies and winter storage for outdoor furniture. One of the most interesting projects we built was an outdoor boat house on a lake to provide functional interior space, as well as storage and docking.

Use the area under your deck for storage.

If you have an elevated deck, consider using the area below for storage. You could add doors to provide access to and protect the contents. If you're building or replacing a deck, discuss storage options with your contractor.

Covers for grills, fire pits and outdoor furniture.

Some people will leave their deck and patio furniture outdoors during the winter or store it in a garage. If you want to protect this furniture for future use, consider purchasing protective covers. You can find outdoor furniture covers at Pottery Barn, Plow & Hearth, Target and other on-line resources. If you've thought about ordering covers, now is the time! If you wait until fall you may find that the suppliers are out of stock.