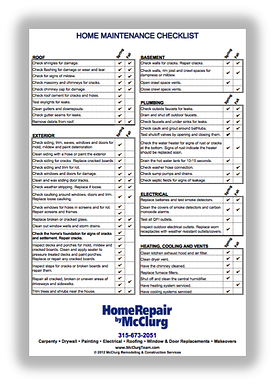 Homes are like people. In order to be in the best shape possible, you have to pay attention to the signs that something may be wrong. For our homes, we do this each spring and fall with a home maintenance check-up.
In response to customer questions about how to keep their home "in shape", our HomeRepair by McClurg experts have created a handy, one-page "Home Maintenance Checklist". The checklist guides you through what to look for inside and around the exterior of your home including the foundation and basement, exterior, roof, plumbing, electrical, vents, and heating and cooling system.
As the saying goes, an ounce of prevention is worth a pound of cure. Neglecting small problems around the house, coupled with the constant wear and tear our homes receive, can lead to major repair costs later on and may diminish your investment.
We hope you will use this checklist and would welcome your feedback.
Have a home maintenance question? Please post it below and we'll be glad to answer.