For more than a year we've been involved with Syracuse firefighters in planning an "extreme home makeover" of the home of Dave and Diana Johnson. We nominated the Johnson Family for the ABC television show "Extreme Makeover: Home Edition" but the show was cancelled last fall. We knew that bringing the show to Central New York would be a long shot and committed ourselves to renovating the Johnson home if they were not selected.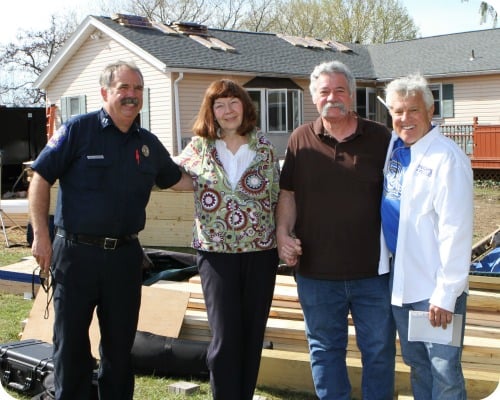 Captain Bob Whitehead, Diana and Dave Johnson, Scott McClurg
The Johnsons are a very special family and Dave and Diana an extraordinary couple. They have three "homegrown" daughters and have expanded their family by adopting 14 children in need of a permanent home and provided a haven for 12 foster children who in their young lives faced extreme adversity. Their home is as special as they are. It has seen 29 children grow up within its walls and also a lot of wear and tear. The adult children visit often with grandchildren in tow and eight children still live at home.
The Johnson home is a ranch with 1230 square feet of living space and a full basement that was converted to provide bedroom space and an extra bathroom for the family. Initially we had planned to remodel the kitchen and basement areas and change the living space to better meet the family's needs. The goal was to make the changes within the current framework of the house.
The project evolved into a community-wide initiative of neighbors helping neighbors. More than 200 people have volunteered their time and talents to the project and about 150 local businesses have contributed supplies and services. With their help we have the resources and manpower to do a total makeover of the home.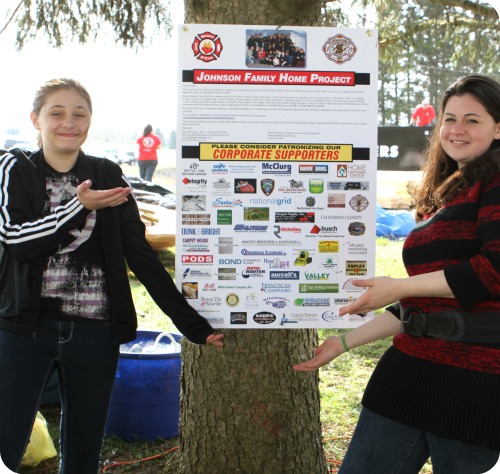 Madisson Brown and Rachel Johnson with list of business donors.
The home will have a new roof, patio area accessed by a door from the lower level, open floor plan, a new kitchen with custom cabinets made by firefighter Dave Skardynski, a new staircase to the lower level, reconfiguration of bedroom space, landscaping donated by the CNY Landscape and Nurseryman's Association and some new furnishings, including a dining table where all those in residence can enjoy a meal together.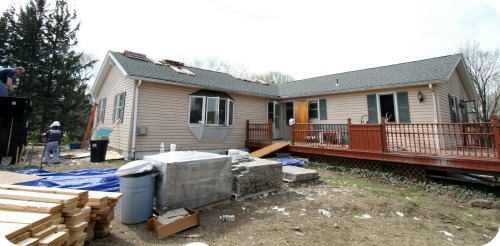 Johnson's house at start of construction.
Work began on April 16th with a launch ceremony. If Diana and Dave were nervous (since they have not seen the plans) they did not show it as they turned over their keys to the home to the volunteers. Members of the Syracuse Fire Department completed the demolition work on the first day.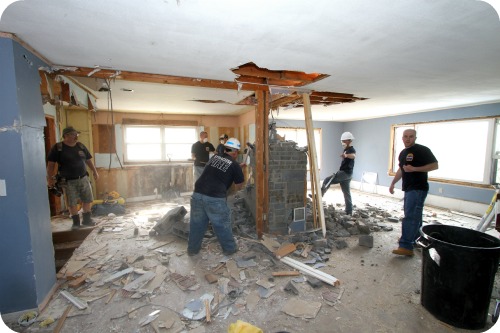 Syracuse firefighters during main floor demolition.