Does your home seem crammed and confined? Are you planning to buy a smaller home but wondering how you will adjust to less space? We find that more homeowners are downsizing these days and choosing ranch, split-level, cape, cottage, or craftsman style homes as opposed to "McMansions". Smaller homes have many advantages. Remodeling the interior can help you create an illusion of space without changing the footprint of the home.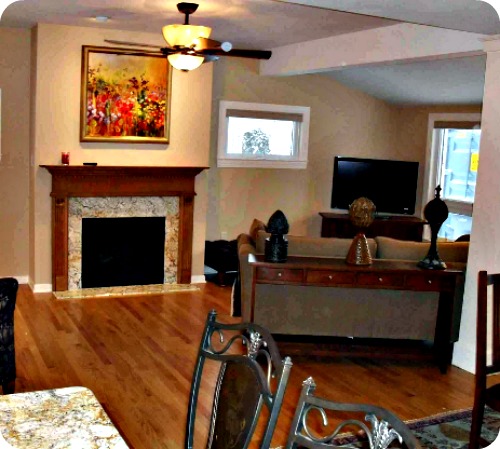 Here are 11 ways to make your home feel larger.
1) Use paint to create the illusion of space.
Paint can work wonders. It's amazing how a neutral palette and light colors can make a room seem more spacious. In a small home think about painting doors and trims white and using a common neutral paint color in the main areas of the home to unify these areas and create a flow from room to room.
2) Create an open floor plan.
It may make sense to remove walls that separate a kitchen from a dining room or a dining room and living room to open up the space especially if these rooms are small. Segregated dining rooms are used infrequently and can be "tight" for entertaining if you have more than 6 people in the room. Before you tear down a wall, talk with a remodeling contractor to determine the pluses and minuses. If the wall is load-bearing the process of removing it is more complicated. Generally load-bearing walls run parallel to the front entry of a home. A solution to dealing with a load-bearing wall that separates a kitchen and dining room is to cut a large rectangular opening into the wall and install a counter in the space to serve both rooms. This strategy could provide extra seating and a buffet area for serving food when entertaining. It also unifies the rooms and creates the illusion of an open floor plan.
3) Ceilings can make a small home seem larger.
If you have been looking at new construction of condos and townhomes you will notice that architects have created a feeling of space by building homes with high ceilings. This is true of craftsman style homes where the home may have 1200-1300 square feet but seems much larger. Raising the ceiling may not be a solution for your home but adding crown molding around the perimeter of the ceiling can create an illusion of height.
4) Widen doorways and window openings.
Widening a narrow interior doorway will make a room appear larger and can be an asset for a person who is wheelchair bound or uses a walker. Consider expanding interior doorways to 32-36 inches. Are the windows of the home small? Larger windows provide an illusion of space by bringing more natural light into a room. If it's time to replace the windows of the home, choose large ENERGY STAR rated windows.
5) Rework bedroom spaces.
In some small homes, bedrooms are tiny and can barely accommodate a dresser and a full-size bed. Master bedrooms are an asset in a home, but can be tight spaces if a small home boasts four bedrooms. If you need more bedroom space consider removing a wall to create a larger master bedroom. Convert bedroom closets into more efficient spaces for storage by adding multiple rods for hanging clothes, shelving and drawers. If a closet door swing presents a problem in the room add a bypass door or widen the opening and add a sliding door.
6) Reduce furniture and add built-in cabinets and shelving.
Furniture can occupy a lot of precious floor space in a small home. In a dining room replace a free-standing china cabinet with a built-in corner cabinet. Add built-in shelves to a living room for books and media equipment. Some built-in cabinets and shelves can be recessed into a wall to create more floor space and less clutter.
7) Install uniform flooring throughout the home.
Hardwood flooring works well in a small home to unify the space. Avoid using area rugs that might break up the space. If you decide to use carpeting or tile, use the same product throughout the main areas of the home.
8) Use window treatments strategically.
Window treatments can create a feeling of space in a home if they are minimal or hung to make a room seem larger. If you are hanging drapes or valances, install the rod or brackets high over the window just under a crown molding or an inch or two below the ceiling. The window below will seem larger and more natural light will enter the room. The placement also impacts occupants of the room by making the space seem larger because it can create an illusion of a longer wall.
9) Remodel the basement.
If you need an extra bedroom for guests or a bathroom, a basement can provide extra living space. Basements can be used for media rooms, play spaces for children, hobbies and laundry.
10) Convert a porch into a 3-season room, sunroom or mudroom.
Adding insulation, windows, lighting and heating to a porch can provide extra living space in a small home.
11) Rethink the garage space.
In the 60's and 70's, owners of small homes often converted their garages into summer living spaces by placing screens over the opening, pulling porch or lawn furniture out of storage and plugging in a television to escape the heat. Not many people use their garage as a summer room today, but a garage can be turned into a year-round living space if you need an extra room and can find another place for your car. Garages are an asset for storage and can be organized to get clutter out of the house by adding overhead storage, shelving, storage cabinets and lockers.
What have you done to make your home feel larger?