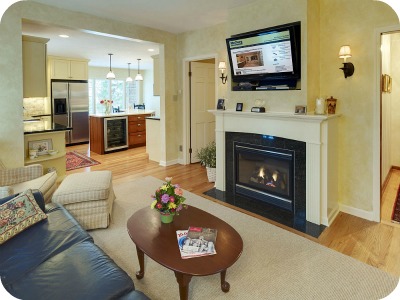 People look for smaller homes and quarters for a variety of reasons. First time homeowners find that a small home is an affordable option to paying rent. Empty nesters may need less space once the kids have moved out. Changes in family life and finances are often the incentives for people to sell a large home and to seek a smaller house with less of a tax and mortgage burden. Other advantages of a smaller home are less upkeep and often reduced heating costs.
If you're making the transition to a smaller home here are some tips to consider in your move and decorating choices to optimize your space.
1. Clear out the clutter.
Over the course of time people tend to collect a lot of items that they don't use or need. If you're making the move, sell some of the old furnishings to purchase items that will fit better into your new space. A smaller home will also mean that you will have less storage. Do a clean sweep and give yourself and your new home a fresh start.
2. Lighting is essential in a small space.
When purchasing a smaller home, pay attention to the lighting. If there is not enough natural light, consider adding recessed cans, floor lamps and table lamps to brighten small rooms. Lighting and the use of wall mirrors will make a room appear larger than it actually is.
3. Use moldings to create an illusion of space and height.
Craftsman style bungalows use trims and high ceilings to create a feeling of space in a small home. If your home is a ranch or cape style you can create an illusion of height by adding moldings to a ceiling or painting all moldings on ceilings, floors, windows and walls white.
4. Uniform flooring and wall color choices enhance the feeling of spaciousness in a small home.
Limit the color pallet in a small home to make it feel larger than it actually is. Select common flooring for the house. Wood flooring can be used in most rooms, including the kitchen. If you choose carpet, use the same color throughout the home. Do the same with wall color to create a "flow" from room to room and an illusion of openness.
5. Neutral wall colors can add light and create an illusion of space.
Books on design often recommend neutral colors like whites and beige for small rooms and homes to make them appear larger. It makes sense to use soft neutral colors to reflect light in a room and as a background for more colorful accents.
6. Choose furnishings strategically.
In a small room or home "less is more". An oversized couch can be more functional than a seating group that includes a couch, love seat, chair and ottoman. Be aware of the scale and shape of furnishings you select. A couch with a curved back or an oval coffee table can reduce the boxy feel of a small living room. Use a common fabric or fabrics within the same color palette on furniture. In a small dining room a glass-top table and sleek chairs will optimize the feeling of space.
7. Hang window treatments and drapes close to the ceiling.
This is a designer's trick to create an illusion of height and space and an element of interest to a room. Hanging drapes high over windows (instead of on or just above the window moldings) draws your eyes upward when you're in the space and when the drapes are open and the window is not obscured by a window treatment natural light is optimized.
8. Add color with fabric, artwork and rugs.
Accents are important in a small space to add warmth, interest and color. A small room can be enhanced by a single large painting. If you decide to follow our tips on using neutral colors on the walls of your home, your choice of fabrics and area rugs will help to distinguish each room. Colorful throw pillows can make a big statement in a small space.
9. Create clever storage.
Storage is often a dilemma in a small home. Built-in shelving and closet units are great for keeping items organized in a small home. Built-in shelves don't compromise precious floor space and add an architectural element to a room. Closet units are a must to optimize limited storage space. Also consider floating shelves, which can be particularly useful in a small bathroom. Create under-bed storage for bedrooms. Assess the storage in the garage and entryway. These are areas to add built-in shelves, cubbies, hooks, baskets, coat racks and bins to keep clutter under controls.
10. Small bathroom tips.
To optimize space in a small bathroom start by paring down bathroom fixtures. A pedestal sink will help create more room as will a scaled down toilet. As for color, this is the place to break the "neutral rule" and to create a distinctive room in your home.
What are your tips for downsizing?