If you're planning to remodel a bathroom, consider adding a walk-in shower.
Walk-in showers are one of the hottest trends in home design due to busy lifestyles and a home market dominated by baby-boomers. What makes this type of shower popular is the creative use of space and ease of access and maintenance.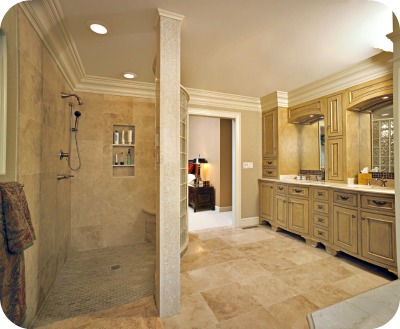 When planning your project, consider the options for a shower stall, which include pre-fabricated stalls, pre-fabricated shower pans with a separate surround and custom shower stalls. Your choice of a shower stall is the starting point for your project. As you make that decision also consider the following design ideas in your plans to add style and function to a bathroom:
Add a shower seat and built-in shelf for shampoos and soaps. You will find portable shower seats and benches in a variety of materials - teak, acrylic, metal and plastics. We prefer built-in seats and benches for both the function and aesthetics. Built-ins won't shift and are made of materials that are easy to clean such as tile, solid surface, quartz and granite. Built-in seats can also be scaled to the space in a shower stall and can be placed along a wall or in a corner.

Built-in shower shelves and niches are a plus in a shower stall. Unlike caddies or pole shelving that will shift due to the weight of bottles, require frequent replacement and are difficult to clean, built-ins are sturdy and can be placed where access is optimal.

Include a hand-held showerhead. Hand-held showerheads are great for their maneuverability and massage features and can be used in combination with rainfall showerheads or standard fixtures.

Add a grab-bar for safety. Grab bars have changed over the years and are now incorporated into the design of bathrooms for function and safety. If you've travelled recently you may have noticed (or not noticed them because they look like towel bars) in hotel bathrooms. Grab bars come in a variety of shapes and sizes. One interesting use of a shower grab bar is to install a small bar about 6 inches off the floor for foot care or shaving legs.

Forego the doors. Do you really need shower doors that require frequent maintenance due to build up of soap or mineral deposits? Eliminating doors helps to maximize space in a small bathroom because you don't have to factor in the door swing in determining the placement of other fixtures or sizing for sliders, which are difficult to clean. In a large bathroom, the shower location becomes a "shower room", when separated by a partition wall of tile or glass.

Create a stunning tile design. A stunning tile design doesn't have to be complicated. Classic white subway tile is still popular among homeowners and will stand the test of time. At the moment, glass mosaic tile is being shown in contemporary bathroom design as an accent or a field tile. Glass mosaic tile looks great when paired with travertine, glazed wall tile, porcelain tile or even river rock tile. Black and white tile in a bathroom is also a classic design trend.