When we meet with homeowners to discuss a remodeling project they're planning, one of the first questions they ask is "How long will it take"? Generally they're asking about the construction phase. However, we also advise them that it takes time to plan a project and order materials.
Planning, depending on the complexity of the project, can take anywhere from 1 to 6 months. It is important to have a good plan in hand that defines the scope of work to be done and the supplies needed to complete the project. We think it is important to spend time planning upfront. That way the construction schedule is shorter and there's less disruption to the client. While it's impossible to plan for every possibility, we know from experience that our 3-step planning process, which we use in all of our remodeling projects, simplifies planning and gets your project underway and completed as soon as possible.
Ordering materials, especially custom cabinets and unique items, can take up to 2 months depending on the supplies required. Materials are ordered as soon as a plan is approved and the contract is signed.
Based on our experience, you can expect the construction phase of projects to fall within the following timeframes: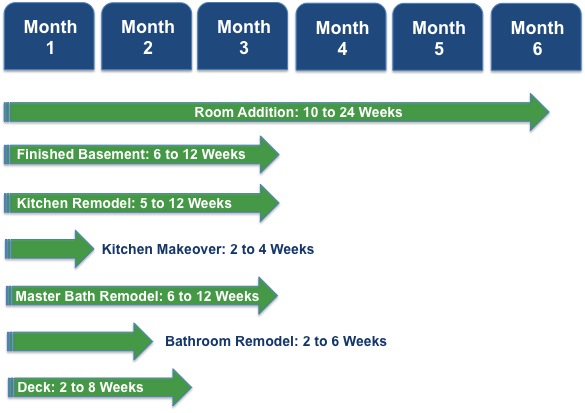 The construction schedule is customized for each project we do. We know how disruptive a remodeling project can be for homeowners and we try to work within the estimated timeframe to minimize the impact. At the end of each day, we clean up debris and assure that the work site is secure for residents.
A typical timeframe can change if something unexpected should occur. The most common delays occur after demolition if a structural or mechanical problem is revealed. Addressing these types of problems can add a week or more to the schedule. The time to complete a project is also extended if a homeowner requests additional changes to the original work plan.
To help you get started, we have developed four guides that you can download from our website: