Tile backsplashes are often a focal point in a kitchen. If you are planning to remodel your kitchen you will find a range of tiles in various shapes, sizes, colors, finishes and materials including stone, glass, porcelain, marble, ceramic and terra cotta.
Here are three suggestions for creating a stunning kitchen backsplash:
1. A great kitchen backsplash starts with the right tile selection.
Choices for a kitchen backsplash can be personal but using universally appealing tiles, such as simple and clean lines of subway tile, will add value to your home. If you want to add personal touches, like a relief tile of a fish or hand painted tiles of a chicken or fruit, keep in mind that if you sell your home these elements may not appeal to all buyers. Removing tile is difficult and can be costly. If you still want to add these tiles, consider mounting then onto a board and hanging them like a piece of artwork in your kitchen.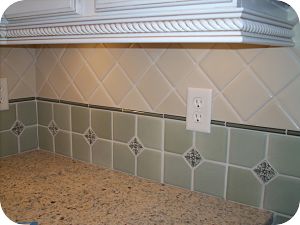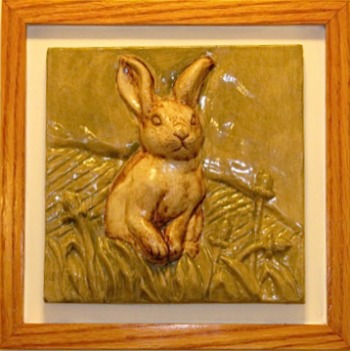 When selecting tile consider the function as well as the decorative elements. Some kitchens have a single row of tile to frame a countertop, but a fully tiled backsplash behind a sink or stove area helps contain staining from water or food. Also, consider a concave mold trim where the tile meets the wall for an easy-to-clean joint rather than a sharp crevice.
Relief tiles have more crevices and are harder to clean, especially behind a stove where you sauté or fry food. If you select an intricate tile for this area, be prepared for a little extra care and maintenance. Look for tile that is heat resistant. Installing a large format tile will reduce the number of grout lines and is easier to maintain.
When selecting tile also consider covers for electrical outlets and light switches. Some lines of ceramic tile have faceplates that will match the tile.
2. Proper tile layout is essential.
The most prominent areas of tile layout in a kitchen are behind the sink and stove. Tile design is artwork and should be seen. Consider the view of the tile in planning the layout. Keep the areas behind the counter where you plan to keep canisters, racks, cooking supplies, bowls etc. simple because the tile design will be obstructed. The backsplash areas behind the sink and stove are natural focal points. Measure these areas and lay the design pattern out before installation.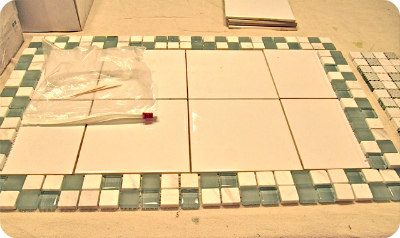 When planning the layout, also consider where the outlets and light switch plates are located in the design.
3. Use the right materials.
You may want to talk with a tile retailer about the right materials to use for installation or ask an experienced kitchen design professional about products that are right for your project. You will also want to ask about care and maintenance of both the tile and grout. Using the right grout product for your backsplash is crucial. In a kitchen you will want to use a grout that is water and stain resistant. We recommend a grout sealer even if the product has additives to repel water and stains.
Keep these simple tips in mind when visiting a tile retail store. Remember "proper selection, layout and materials."